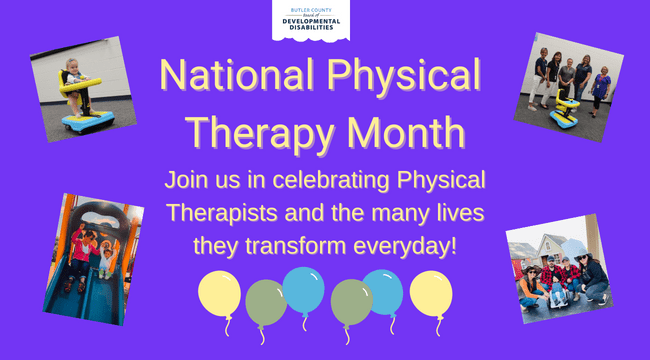 October Brings Physical Therapy Awareness Part 3!
October is one of the most beautiful and festive times of the year where many friends, families, and loved ones come together to celebrate Fall. In addition to all the Fall fun there is another reason to celebrate in October as it kicks off National Physical Therapy Awareness Month!
The Butler County Board of Developmental Disabilities (BCBDD) has so many individuals within the organization that make a difference every single day in the lives of those with developmental disabilities (dd). Our dedicated Physical Therapists (PT) not only focus on what individuals with dd can do, they also help them gain or keep function, develop or improve movement and social skills, and prevent injury. A PT is vital in the lives of so many individuals with dd especially those that have motor-coordination difficulties due to Cerebral Palsy, Down's Syndrome, Autism Spectrum Disorders, or Gross Motor Dyspraxia.
With National Physical Therapy Month in full effect, we asked our PT's to share with you why they are so passionate about what they do in a series of QA's!
Meet Cathy Zeiger, a passionate BCBDD PT, who in June helped orchestrate a special delivery in the form of a custom built helicopter playset for 2-year-old Julius Issa. The playset was built by Butler Tech's Hamilton High School Carpentry Program with elements that directly support positive development for Julius who has Cerebral Palsy.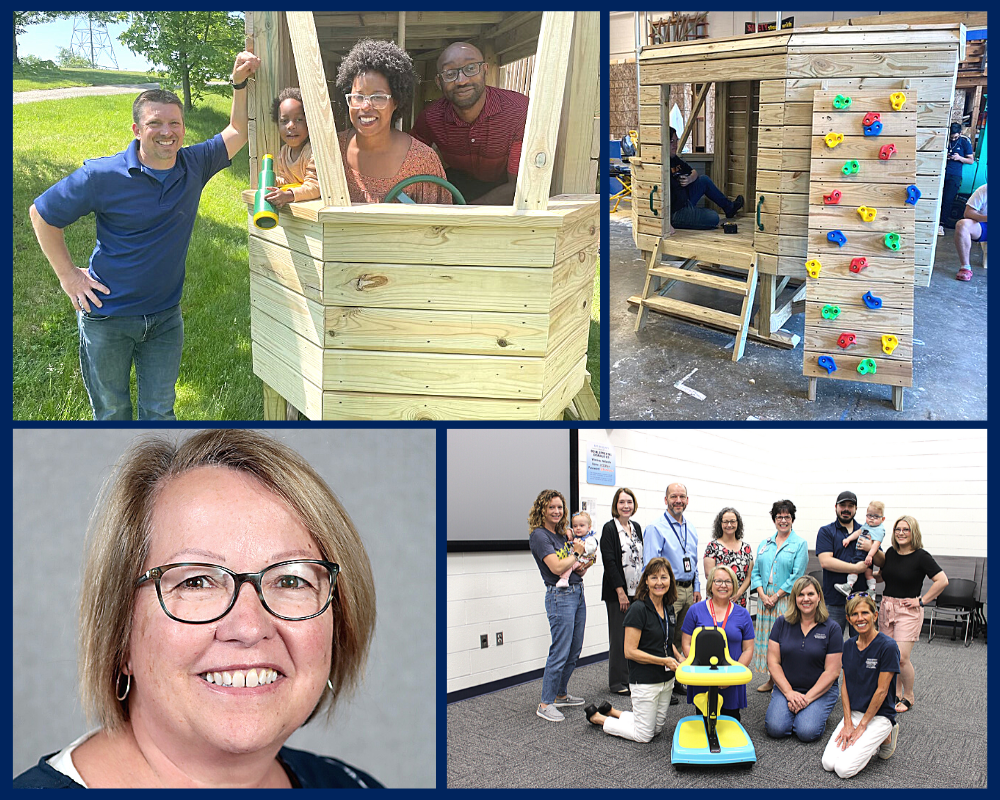 Cathy graduated from the Ohio State University in 1982 and expanded her degree, receiving her Doctor of PT with a focus on Pediatrics from the University of Texas medical branch. Cathy has been with the BCBDD since 2016. Check out Cathy's heartfelt responses to our PT QA's series!
Cassie – "Why did you decide to take on PT as a career?"
Cathy – "My mother thought I would be good in a medical profession. When I heard about physical therapy, I checked it out and thought it would be a good fit."
Cassie – "What do you love the most about being a PT?"
Cathy – "What I love most about being a PT is seeing people do well and having them trust me to be a part of that journey."
Cassie – "If someone came up to you and said, 'Why I should become a PT,' what would you say?"
Cathy – "Physical Therapy is a healthcare profession that serves others and provides many different facets for the professional. You can work in a variety of settings from home health, nursing homes, schools, sports medicine, hospitals/NICUs, early intervention, etc. If you find you need a change in clientele or want to try a different aspect, physical therapy provides many opportunities to serve the public."
Cassie – "Name 1 favorite moment you have had in your career."
Cathy – "Just recently, I had a little girl that I started seeing when she was a baby. She is now turning 3 years old and is doing great. On our last visit, I hugged her mom then I hugged her. She looked up at me and said 'I love you!' I looked at mom and just grabbed my chest, I was so moved. She proceeded to yell 'I love you' as I walked away. It's all about connection and making a difference."
Thank you, Cathy for all that you have done and continue to do for those with dd! Your PT expertise and passion are truly responsible for changing the lives of so many!
To read about Cathy's efforts in helping Julius Issa and his family reach Julius' highest development goals click here!
Did you miss Part 1 and Part 2 of our PT Awareness Month series? Click here to read about Kathy Fleenor! Click here to read about Jenny Snyder!
Thanks for tuning into our Physical Therapy Awareness Month QA's Series!