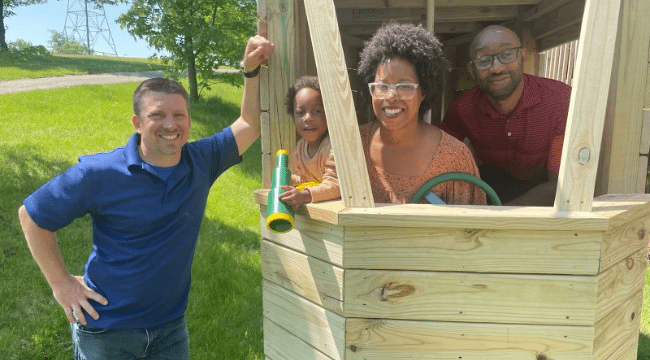 HHS Carpentry Class Builds Custom Playset for Child with Cerebral Palsy
What could possibly be more exciting to a child than to have a custom-made helicopter playset delivered directly to their home?
Butler County Board of Developmental Disabilities (BCBDD) Physical Therapist, Cathy Zeiger, was overjoyed when she caught a glimpse of just how happy 2-year-old Julius Issa was when she made her first home visit after a custom-made wooden helicopter playset was delivered to Julius' home by the Hamilton High School's (HHS) Carpentry Butler Tech Program.
The playset was built with elements that directly support positive development for Julius who has Cerebral Palsy.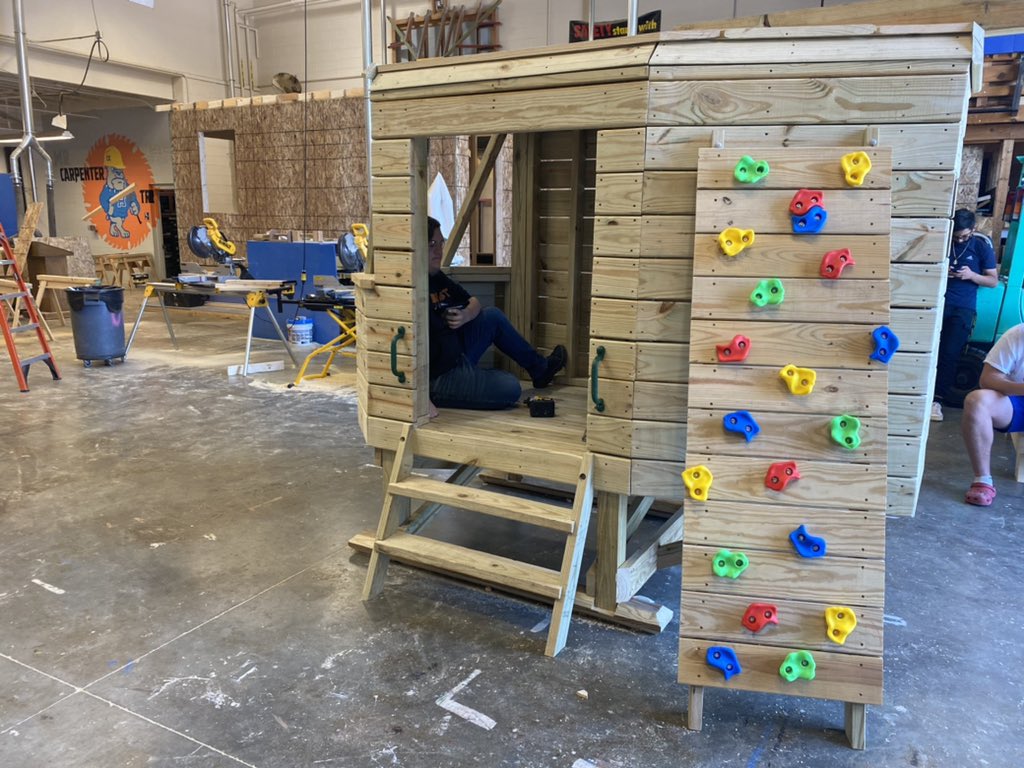 "The playset was an idea I got from Michele Price, supervisor of service coordinators at the Butler County Educational Service Center," Zeiger explained. The Hamilton High School carpentry class was looking for a custom project and she knew just who could benefit from it. "Julius came to mind immediately," she said. "One of Julius' goals was to walk to the playground but how fun would it be to have the playground come to him?"
Julius' parents, Tamara Thompson and Idris Issa, collaborated with Zeiger and the HHS Butler Tech Carpentry Program to come up with ideas on what would help Julius play and be challenged at the same time with the addition of the new helicopter playset.
"Julius loves a challenge so it was great to hear his parents' ideas. It was a team effort," Zeiger said.
Julius' mother, Tamara Thompson, said she was more than happy to help navigate the playset project because she knew it would inspire creativity in Julius and improve his gross motor skills.
"Julius is a bright and enthusiastic 2-year-old! He loves hanging out with his family, bouncing on trampolines and swinging at the park," Thompson said. "Julius is a big fan of music and colors and he has an impeccable sense of humor. Julius also has Cerebral Palsy so he is working on building his balance, coordination, and strength every day."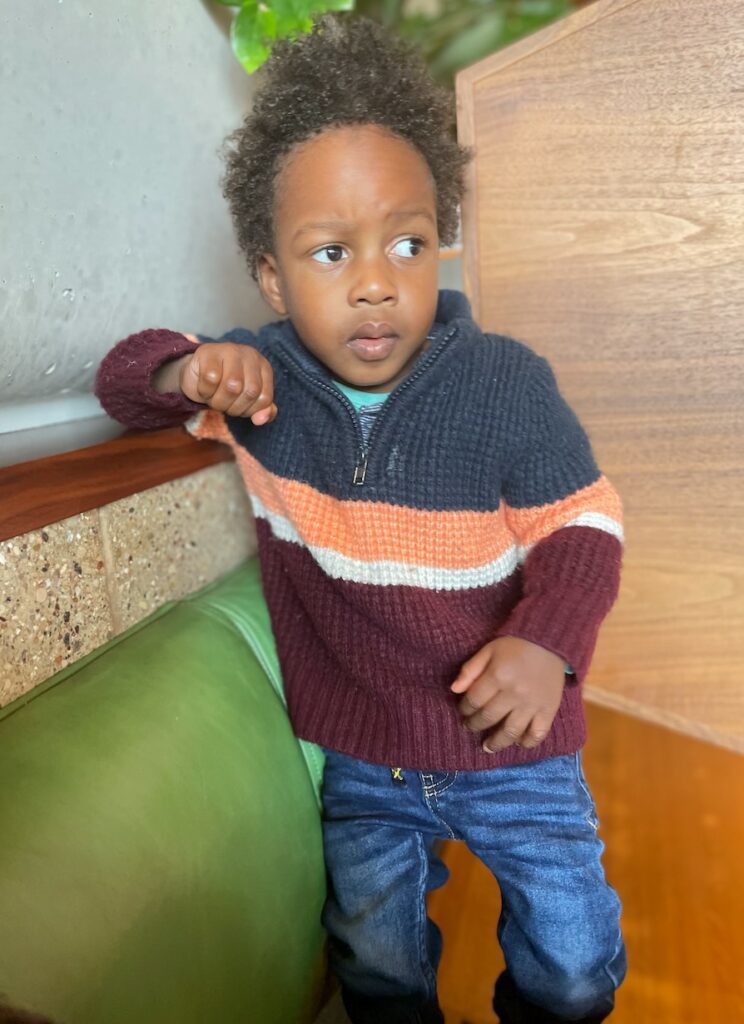 The helicopter playset, Thompson says, has many customized features that add a new challenging element to Julius' weekly therapy in their own backyard!
"The structure is contained, so Julius won't easily tumble out if he loses his balance moving around. There are additional handholds to give him extra support. Julius uses the center pole to walk around the interior all by himself and can fit inside the helicopter with his stander," Thompson explained. "There are ledges for him to pull up onto the stand with ease. There are features like the swings and the rock wall that can be easily modified once he reaches new levels with his balance and coordination."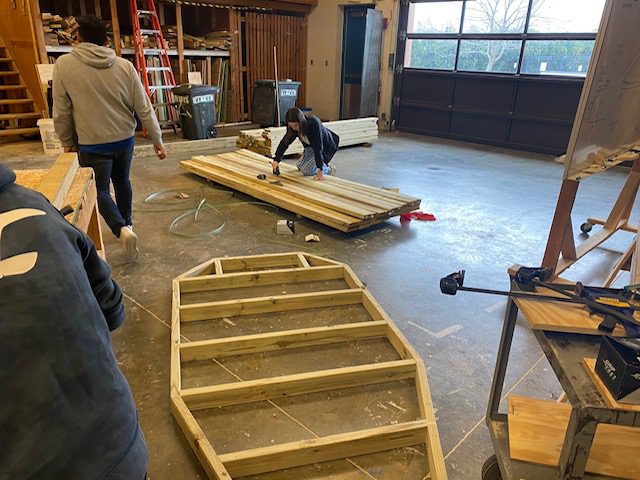 Tim Carpenter, the aptly named instructor for the HHS Carpentry Butler Tech Program, was thrilled to have the opportunity to once again be involved in a project that would positively impact a family within the community.
"Hamilton High's Carpentry program was asked to help with building the helicopter project because of the connection that was made a few years back when we built the Amazing Grace project for, then 2-year-old, Grace who has Down syndrome," Carpenter explained. "I accepted the invitation for a few reasons. First, community service and character is a big part of our carpentry program. Secondly, our students enjoy building projects with a purpose and end result. Third is the Atta-boy or Atta-girl praises that our students receive that provide them with lifelong positive memories. Finally, I just can't say no to putting a smile on a child's face. That's the memory that sticks with me."
When developing Julius' helicopter playset Carpenter and his students made sure they installed several accessories to Julius' playset so that he could practice his bi-manual exercises.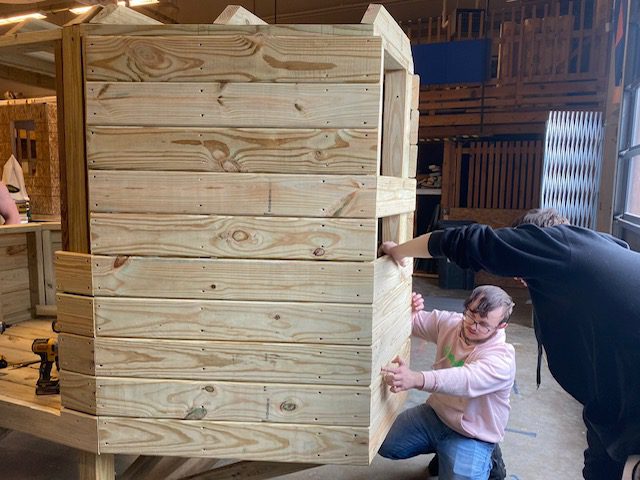 "Julius loves answering the phone as well as looking through the telescope (and pretending that it's a microphone). And as a really neat surprise, Tim and his students built a propeller that actually spins when Julius uses both hands to twist the center pole," Thompson said.
Julius' parents were so thankful that such an enthusiastic team of people were willing to help build something so special for Julius.
"We are so grateful to Tim Carpenter and his amazing woodworking class at Hamilton High School teaming up with the Butler County Board of Developmental Disabilities for this project," Thompson said. "The students provided the labor and Butler County covered the materials. It was a great collaboration that resulted in this exciting and beneficial tool that we will use to propel Julius further through play! A very special thanks to our BCBDD Physical Therapist, Cathy Zeiger, for introducing our family to Tim Carpenter and coordinating with everyone involved from start to finish," Thompson added. "Julius turns three this month and will be aging out of this program, but we are filled with such gratitude for the support and guidance Cathy has provided since we moved to Butler County."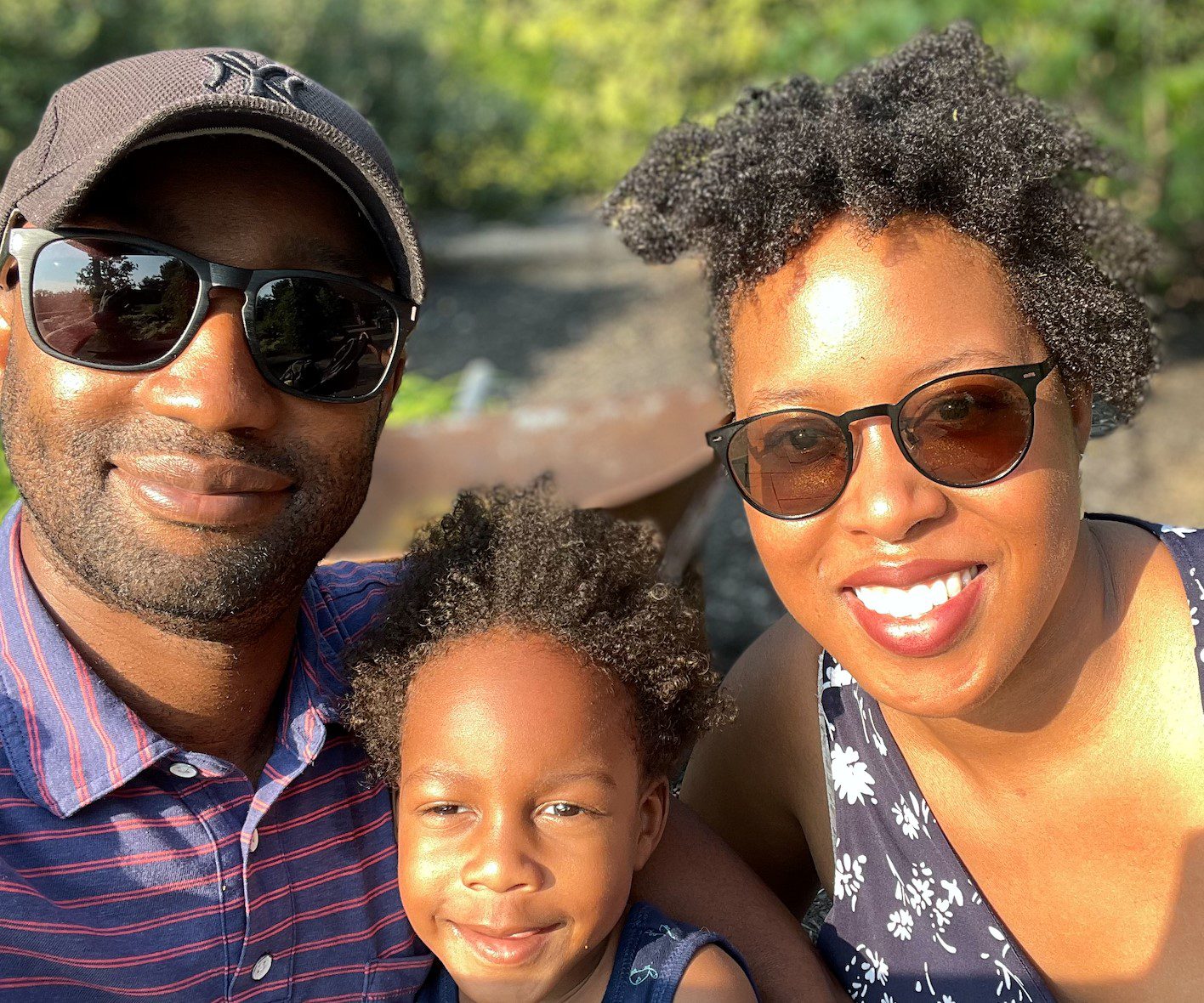 Zeiger attested to Julius' parents not only being incredibly supportive but always striving for Julius to be the best he can be!
"It has been an absolute honor to work with and to team up with them. Julius is an intelligent and charming young boy! He never ceases to amaze me how hard he works, but more importantly, how much he loves his family and the joy he finds in life," Zeiger said.
Thank you to all those who made the helicopter playset a reality for Julius! The support and love from the community for those we serve has been unbelievable! We appreciate you!
To stay up to date on all things BCBDD follow us on our Facebook, Twitter, Instagram, and Youtube!