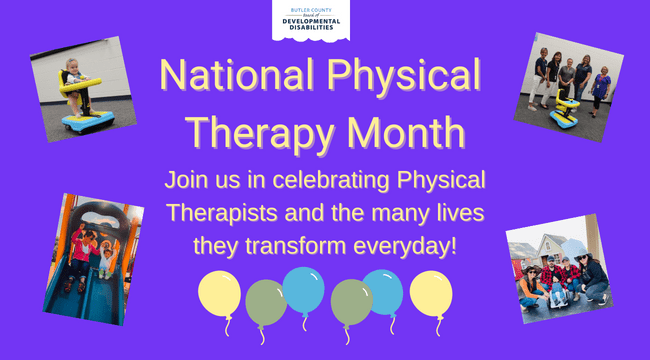 October Brings Physical Therapy Awareness Part 2!
October is one of the most beautiful and festive times of the year where many friends, families, and loved ones come together to celebrate Fall. In addition to all the Fall fun there is another reason to celebrate in October as it kicks off National Physical Therapy Awareness Month!
The Butler County Board of Developmental Disabilities (BCBDD) has so many individuals within the organization that make a difference every single day in the lives of those with developmental disabilities (dd). Our dedicated Physical Therapists (PT) not only focus on what individuals with dd can do, they also help them gain or keep function, develop or improve movement and social skills, and prevent injury. A PT is vital in the lives of so many individuals with dd especially those that have motor-coordination difficulties due to Cerebral Palsy, Down's Syndrome, Autism Spectrum Disorders, or Gross Motor Dyspraxia.
With National Physical Therapy Month in full effect, we asked our PT's to share with you why they are so passionate about what they do in a series of QA's!
Meet Jenny Snyder, a dedicated BCBDD PT, that has had a passion for Physical Therapy since she was teenager working in the aquatic program at the Fairfield Center.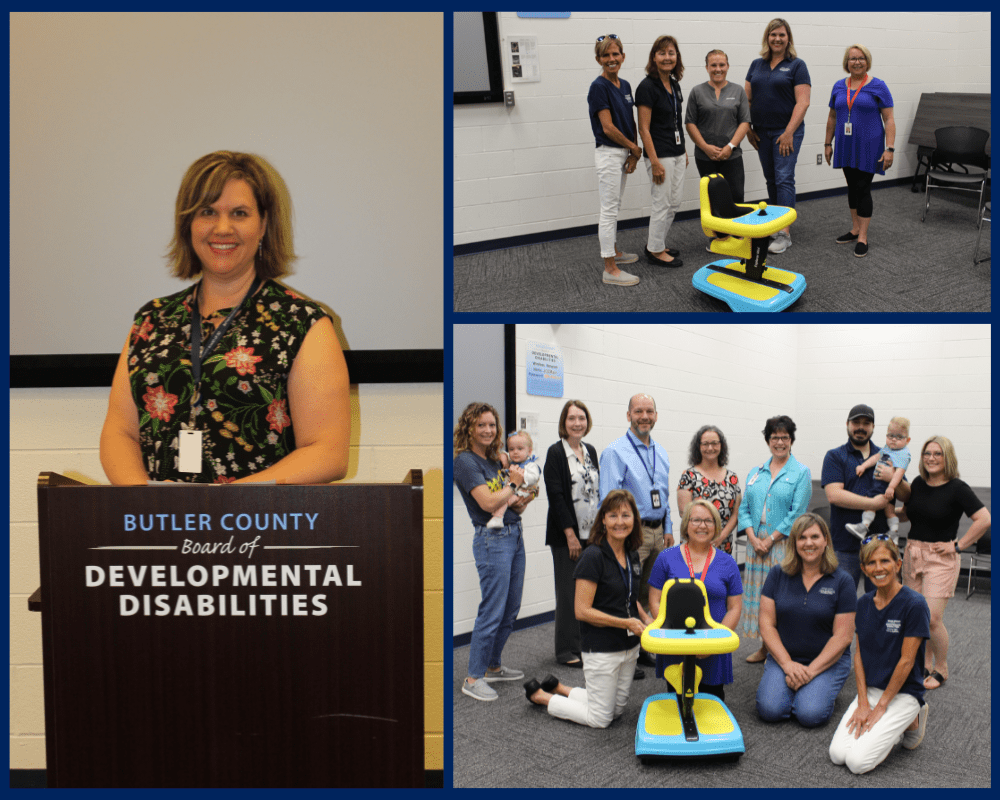 Jenny has 29 years of experience as a PT and has spent 18 of those years with the BCBDD organization. Check out Jenny's heartfelt responses to our PT QA's series!
Cassie – "Why did you decide to take on PT as a career?"
Jenny – "I wanted to be a physical therapist because I love finding solutions for challenges and I wanted to work in a profession where I could make a difference in people's lives!"
Cassie – "What do you love the most about being a PT?"
Jenny – "The thing I love about being a PT is being able to help a family feel confident and empowered about all the ways that they help their child do things that they had not been able to do before."
Cassie – "If someone came up to you and said, 'Why I should become a PT,' what would you say?"
Jenny – "The reason I would give someone for being a PT is that our profession is so rewarding because of the connections that you are able to make with people, and the privilege it is to be with families during some of the most important and memorable times of their life. I would also say the PT community is very supportive, so there is always someone who is able to help you if you need it."
Cassie – "Name 1 favorite moment you have had in your career."
Jenny – "There are too many moments to name, but I have been lucky enough to see lots of children roll, crawl and walk for their very first time and that never gets old!"
Thank you, Jenny for all that you have done and continue to do for those with dd! Your PT expertise and passion are truly responsible for changing the lives of so many!
Did you miss Part 1 of our PT Awareness Month series? Click here to read about Kathy Fleenor!
Stay tuned for our final installment of the PT Awareness Month QA's series featuring BCBDD PT Cathy Zeiger!