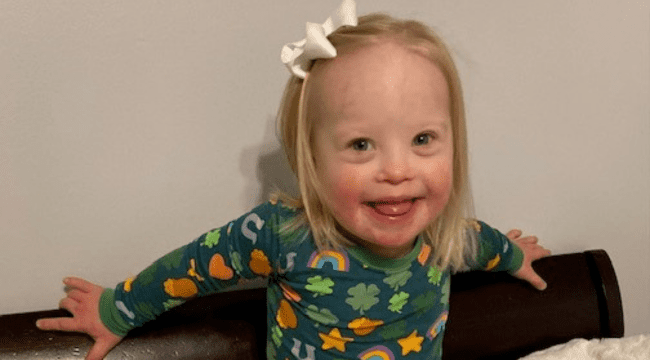 Team work made all the difference for little Reagan
Reagan's support system includes several of our Early Intervention team
By Jenny Snyder, Physical Therapist, Butler County Board of Developmental Disabilities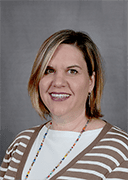 Our early intervention success story is both a story about how one of our little ones has thrived, it is also a story of how the Early Intervention department was able to adapt and succeed during the COVID pandemic.  Reagan has been in the early intervention program since June of 2020.  She was born in May 2020, just two months after we all had to learn a new way of life due to the COVID pandemic. The way our program worked with Reagan and her family exemplified how we could make early intervention successful during the pandemic.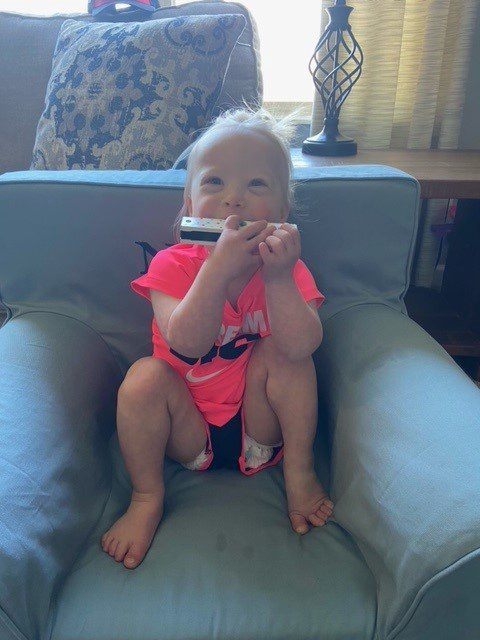 Reagan was just one month old when Christa Cooper and I met with her and her mom, Kati, virtually to do her assessment and begin early intervention services. Reagan was referred to early intervention due to her diagnosis of Down Syndrome.  From the very beginning, we could see that she was a ray of sunshine with a big personality that was going to shine even through the virtual screen. The family's earliest concerns were to be sure that she developed good movement and communication skills.
Through virtual visits we worked together to do the newborn behavioral observation and infant massage when she was a little baby.  She was very expressive and responsive even when she was just two months old, and with Kati's willingness to use her computer or phone camera, we were easily able to observe that. We coached Mom on ways to make the tummy time even more beneficial for her with some positioning adjustments including watching for frog leg positions and bringing her arms out in front of her.  As she started to work on sitting, we shared some suggestions to make her sitting the best that it could be for working on her head and body strength.  We were still working virtually as we helped coach Mom on ways to encourage rolling.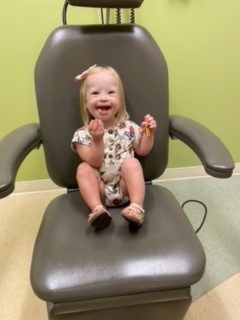 Reagan required heart surgery when she was 6 months old. At that time, our program remained virtual. We delivered a feeder seat for the family to borrow, making it easier for them to pick her up safely after surgery and give her a safe place play while she recovered.  After her heart surgery, Reagan really started to thrive – eating more, becoming louder and more vocal, and really showing her personality. Christa coached the family on communication with her siblings and family, communicating everything that they would be doing so she would start to know her routines. This proved to be really helpful when Reagan first experienced stranger danger at her doctor appointments.
By the time she was 8 months old, we were continuing with virtual visits. She was rolling all over the place now and it was time to start working on standing. We gave suggestions and ideas to help her bear weight through her legs. Mom did a great job of placing her computer or phone so we could see exactly how she was doing it. We were even able to coach Mom to do exercises with Reagan using a therapy ball and a balance box to help stand with support.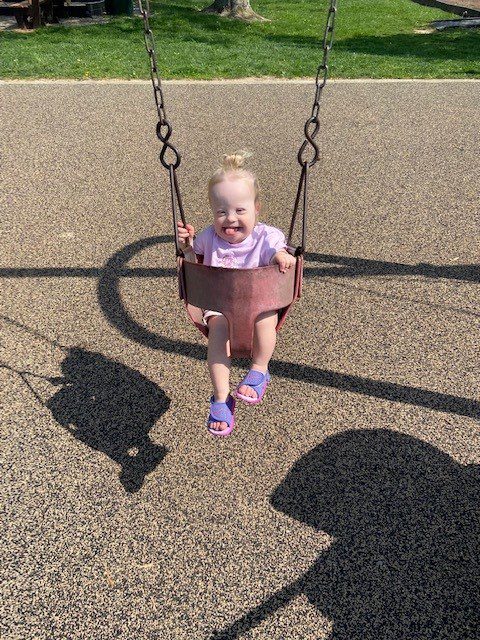 Reagan turned 9 months old and we were still working virtually.  She began eating food from a spoon.  We coached her family on using straw cups and honey bears for drinking. We talked a lot about imitation activities – imitating facial expressions and movements.  Christa does an amazing job demonstrating how to be animated and silly. Even though we were still virtual, Christa was definitely able to catch Reagan's attention.
Finally by April of 2021, when Reagan was 11 months old, we were able to visit her at her home. Reagan was still working on standing and we began using treadmill training to help Reagan learn the movement patterns for taking steps for walking. She also used a Go Baby Go car to help her learn that she could explore her surroundings independently.
Now able to do visits in the home, we used a hybrid model for our visits, alternating between in-person and virtual because it worked best for the family. Reagan continued to thrive in her development and her mom, Kati, always did an amazing job with her, following through on activities and sending us videos and pictures so we could see all the great progress that she was making.  One of our favorite observations with Reagan and Kati has been watching them read a book together. Kati has demonstrated how sharing a love of books can really be passed on at a very young age.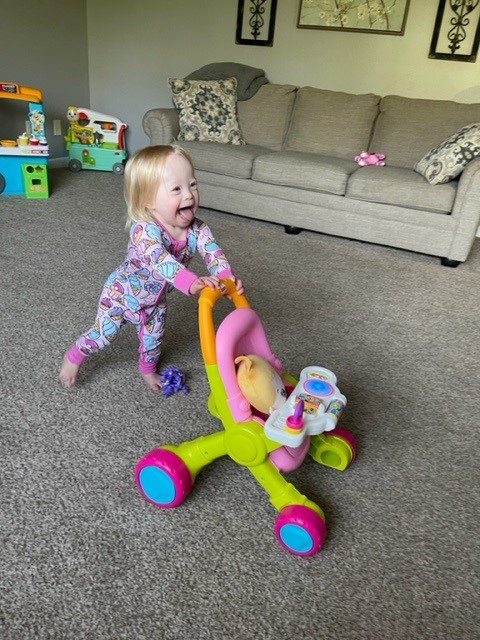 We coached the family as Reagan progressed from walking with a walker to walking independently. The hybrid visit model worked well as she moved from pointing to using sign to using words. We were able to watch her as she grew from the baby of her family, with her sister and brother doting on her, to Reagan becoming a playmate for them and eventually becoming a big sister herself.
Reagan will turned three in May and we can really say that we grew along with her family through all the phases of the pandemic, and they helped us to make our program successful and gave us the confidence to continue with other families during the pandemic.  Reagan's mom Kati shared the following quote:
"From hip helpers to treadmills and every intervention in between, Reagan is thriving thanks to her team with Help me Grow and [Butler County Board of Developmental Disabilities] Early Intervention. Being born in the beginning of COVID we had to have all therapy sessions virtually until well after her heart repair, but Jenny and Christa were still able to coach me to get Reagan walking. She's now running and keeping up with her siblings and communicating with us to make sure her needs are being met. Help Me Grow and Butler County Early Intervention have been a part of Reagan's life from the time that she was 4 weeks old, and her success shows what great things they have done for her."