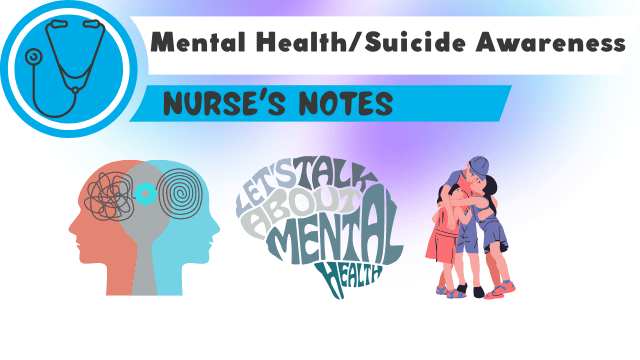 Nurse's Notes: Mental Health and Suicide Awareness Month
Every month, our staff nurses share important health updates. This month, our nurses are talking about Mental Health and Suicide Awareness.
Since 2012, there has been an increase of Ohioans with developmental disabilities served by the Ohio Department of Developmental Disabilities (DODD) who have attempted suicide. It was reported that 208 individuals attempted suicide in 2021.
Individuals with developmental disabilities are at a higher risk for suicide due to several different risk factors.
These factors can include:
Disability status
Mental health diagnosis
A history of trauma
Recent stressful life events
Chronic pain
Impulsive actions and agitation
Knowing the warning signs and ways you can help suicidal behavior is beneficial!
What behaviors may be a sign that someone is thinking about suicide or is struggling with mental health?
Talking about wanting to die or kill themselves
Talking about feeling empty, hopeless, or having no reason to live
Making a plan or looking for a way to kill themselves, such as searching for lethal methods online, stockpiling pills, or buying a gun
Talking about a feeling of great guilt or shame
Feeling trapped or a feeling that there are no solutions
Feeling unbearable pain (emotional pain or physical pain)
Talking about being a burden to others
Using alcohol or drugs more often
Acting anxious or agitated
Withdrawing from family and friends
Changing eating or sleeping habits
Showing rage or talking about seeking revenge
Taking great risks that could lead to death, such as driving extremely fast
Thinking or talking about death often
Resources available for help include:
The Crisis Text Line – text HOME to 741741
The Suicide Prevention Line – call or text 988
Seek out a counselor or medical professional
Be sure to check in OFTEN with individuals that maybe struggling with mental health as well their families!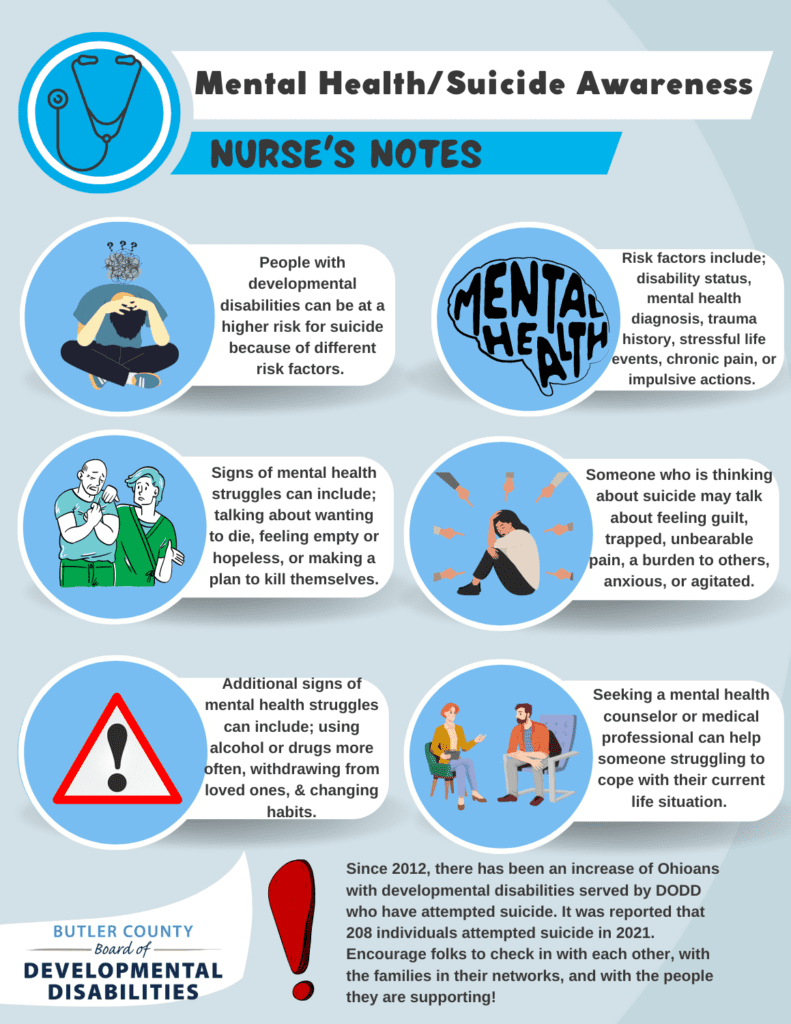 Stay updated with new information and useful tools using the Mental Wellness resource featuring Dr. Julie Gentile at Mental Wellness | Department of Developmental Disabilities (ohio.gov). You can also visit the DODD website to access the health and welfare alert at DODD Health and Welfare Alerts or the Crisis Text Line at Crisis Text Line | Text HOME To 741741 free, 24/7 Crisis Counseling.