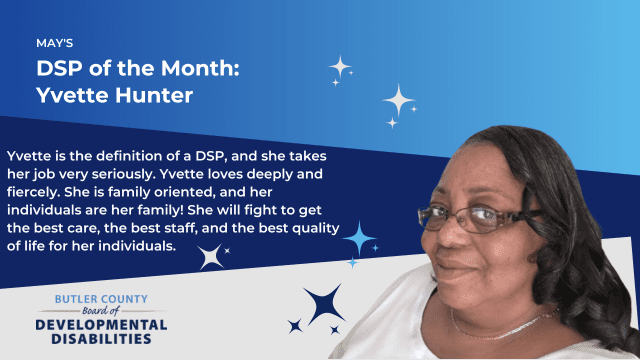 DSP of the Month – Yvette Hunter
Congratulations to Yvette Hunter, May's Direct Support Professional (DSP) of the Month! Yvette started her journey as a facility cook and shortly after began picking up shifts as a DSP. On November 15, Yvette was offered the Team Lead/DSP position at Total Homecare Solutions (THS) by her former co-worker, Amy Hutchinson. When Amy accepted the Program Manager position at Total Homecare, she said she immediately contacted Yvette to come work with her.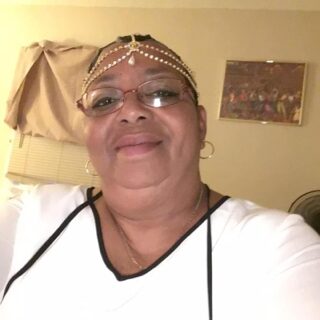 "Yvette and I worked together for over 10 years at another facility," Amy said. "Yvette left before I did, but once I took the position with Total Homecare, she was one of the first people I contacted. I have worked with Yvette for almost 20 years. She is dedicated and will pack a bag at any given moment and work. She's always willing to help and assist wherever she was needed!"
Read on below to see what else Amy had to say about Yvette:
"Yvette came to THS as a DSP and worked her way to becoming a Team Lead. She moved to a house and completely turned it around and it is now one of the best ran homes that I oversee. I worry about nothing at this home! She has created a healthy, warm, friendly, and safe environment for 2 of my individuals. She has established an open line of communication with the guardians of the 2 individuals as well! Yvette is very well known in Middletown, and she is typically with one or both gentlemen she serves, so they have become local celebrities in town. Everyone knows them and is always looking out for them. Yvette is the definition of a Team Lead/DSP, and she takes her job very seriously. Yvette loves deeply and fiercely. She is family oriented, and her individuals are her family! She will fight to get the best care, the best staff, and the best quality of life for her individuals. Her daughters get on her because she puts her individuals before them sometimes! Yvette Hunter makes my job easier. She is an all-around top-notch DSP! I need 12 more just like her! Anyone would be blessed to have her on your team. I know I am!"
Congratulations, Yvette! Thank you for changing so many lives through your passion and dedication for those you serve!
Do you know an amazing DSP who deserves to be recognized for everything they do? Nominate them below! Nominations for June's DSP of the Month are due by Monday, June 12.