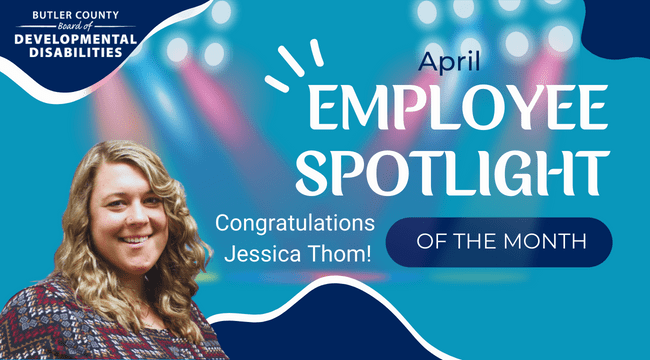 April's Employee Spotlight of the Month: SSA Jessica Thom
Join us as we pay tribute to the incredible staff, we have here at BCBDD through our appreciation series called "The Employee Spotlight of the Month!" Every month, we will spotlight a new employee so that we can share with the community the wonderful things our employees are doing every day!
Congratulations to Jessica Thom, April's Employee Spotlight winner! For the last 8 years, Jessica has been a Service and Support Administrator (SSA) for the BCBDD. Jessica's co-workers say she is not only incredibly helpful but also very dedicated to providing the utmost support to the individuals on her caseload!
Recently, a Direct Support Professional (DSP) said that he has nothing but positive feelings towards the Board and his only touchpoint to the agency is through Jessica. The DSP shared that Jessica truly listens to the people she supports and helps create an environment where they can succeed and thrive. He said Jessica doesn't back down from what she believes is right but respectfully stands firm in support of her individuals.
A BCBDD staff member weighed in on how grateful they are to work with someone like Jessica:
"Internally, I've always been grateful for how dedicated Jessica is. I've seen her rearrange her work schedule, putting in time on the weekend, just because it created an opportunity for one of her guys. She is fun, friendly, and a great team player! I'm grateful to have her on our team!"
Thank you so much, Jessica for the love and dedication you spread every day to your co-workers and the individuals you serve! The BCBDD is lucky to have you!
Is there someone from the BDBDD that has changed you and your family's lives? Maybe there is someone that is doing remarkable things in our community off the clock? Please take a moment to nominate this person as we want to hear about the great work, they're doing for the DD community! Submissions for May's Employee Spotlight of the Month are due by Monday, May 8. Fill out the form below to nominate a BCBDD employee!
Employee Spotlight – BCBDD