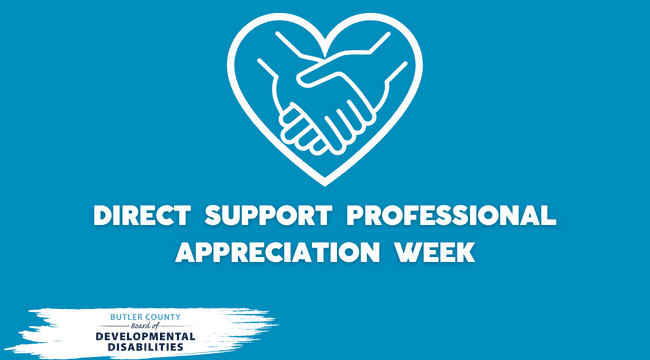 Watch our DSP Appreciation Celebration Video!
Direct Support Professional (DSP) and Caregiver Appreciation Week is one the Butler County Board of Developmental Disabilities' (BCBDD) most cherished times of the year! DSP/Caregiver Appreciation week officially began Monday, September 12 and will continue through Sunday, September 18. During this special week we get the opportunity to celebrate, say thank you, and give back to those who support individuals with developmental disabilities every day!
What is a DSP?
A DSP is someone who works directly with people who have intellectual or developmental disabilities. DSPs and Caregivers aim to not only assist individuals in realizing their full potential but to also help them become integrated and engaged in their community. Every year the BCBDD performs random acts of kindness for DSPs and Caregivers during appreciation week so that they can truly feel how special they are to us and the community they serve! In addition to our annual Honk-a-Thon, which will be held on Wednesday, September 14 from Noon to 1 p.m. in Downtown Hamilton in front of Inspiration Studios, we will also be handing out DSP/Caregiver Appreciation yard signs, mailing out personalized thank you cards, delivering cookies to agencies in Butler County, and will continue to publish inspirational stories on our website and social media about outstanding DSPs/Caregivers in our area throughout the month of September.
Self-Advocates share why they're thankful
To kick off DSP/Caregiver Appreciation Week, we decided to premiere our brand new YouTube video featuring several interviews from our last Speak Up event. During this video, you will see how much DSPs and Caregivers are appreciated by those with developmental disabilities as well as the long-lasting positive effect they have on the lives of those they serve daily! Click below to see the heartwarming DSP/Caregiver Appreciation celebration video!
Wondering how to thank a Caregiver?
Are you wondering what you can do to thank a DSP/Caregiver during Appreciation Week? Here is a list of simple acts of kindness that you can use to thank them for their passion and dedication to those with developmental disabilities!
1) Create a card and send it to them through the mail
2) Grab a gift card to their favorite coffee spot or restaurant
3) Personally deliver a bouquet of flowers
4) Create a short video about why you appreciate what they do and post it to social media using #DSPAppreciationWeek
5) Bake something special and deliver it to them with balloons!
Be sure to take photos of where you placed your DSP/Caregiver Appreciation signs and tag us on Facebook, Instagram, and Twitter using the #DSPAppreciationWeek! Don't be afraid to get creative with your photos! If you would like a DSP/Caregiver Appreciation sign visit the Janet Clemmons Center at 282 N Fair Ave, Hamilton, Ohio and grab a sign from our lawn!