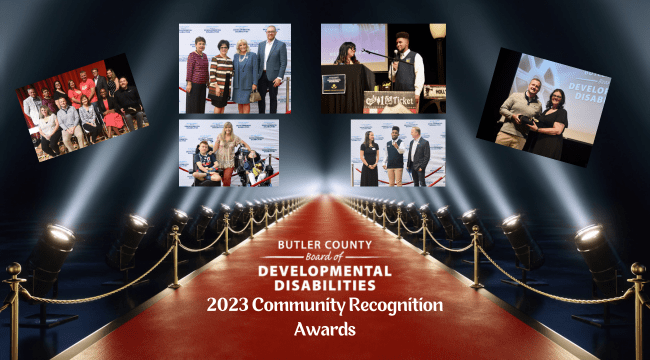 The 2023 Community Recognition Awards Brought the Community to Hollywood!
Each year, the Butler County Board of Developmental Disabilities (BCBDD) brings together the community to honor and award those that have gone above and beyond for individuals with developmental disabilities (DD). The Community Recognition Awards allows people to not only be recognized for the outstanding work they do in the DD community but also gives many others a chance to see why advocating for those with DD is so important!
On Thursday, September 28 at Fairfield High School's auditorium top advocates for those with DD and their fellow community members stepped onto the red-carpet and into "Hollywood" at this year's Community Recognition Awards! This year 82 individuals received a Community Impact Award, an award given to those who welcome people with developmental disabilities and support them to be a part of the community, and 7 individuals were honored with one of our major awards, including Representative Sara Carruthers, who received an all-new award for 2023 called the Legislative Advocacy Recognition due to her advocacy efforts for Direct Support Professionals (DSP).
The 2023 Community Recognition Awards "Hollywood-style" kicked off on the BCBDD red carpet! Guests were able to enjoy the "Walk of Fame," where each award winner had their own star, followed by a photo opportunity on the red carpet and a Facebook Live red-carpet interview conducted by Public Relations Coordinator Cassie Mattia. Several community star advocates participated in the red-carpet Facebook Live interviews giving those that couldn't attend a chance to celebrate from home! BCBDD Superintendent, Lisa Guliano, the ceremony's EMCEE Mix 94.9's Holly Morgan, keynote speaker, actor, dancer, and Best Buddies ambassador Joshua Felder, and Representative Sara Carruthers were just a few of the individuals featured on the red carpet.
After walking the red carpet, guests then made their way in to experience a "night in Hollywood!" Guests mixed and mingled all while enjoying movie theater style snacks and appetizers catered by All the Ingredients. Before the ceremony begun, DSPs were given gifts in celebration of DSP Appreciation Month, and the Community Impact Award winners were given beautiful ceramic Hollywood stars made by InsideOut Art Studio and fiber optic wands that were later turned on during the ceremony as a representation of their "light brightening the night sky!"
Superintendent Lisa Guliano opened the Community Recognition Awards ceremony thanking each and every guest for being such fantastic allies in the DD community and shortly after Mix 94.9's Holly Morgan took over as the EMCEE. Next, the SpeakUp self-advocacy group led the audience in the Pledge of Allegiance and then keynote speaker, Joshua Felder, who was one of the stars in the movie "Champions" and the first individual with a disability to perform in the Superbowl halftime show, gave an unbelievable speech that not only received a standing ovation but also included Joshua's Superbowl halftime dance that he performed with the Weeknd in 2021!
Following Joshua's Superbowl dance, Representative Sara Carruthers received the Legislative Advocacy Recognition, for not only advocating state-wide for the increase of Medicaid reimbursement rates for services so DSPs could earn a higher rate of pay, but successfully achieving the pay increase! Due to Sara's commitment and dedication DSPs rate of pay went from $13.76 an hour to $18 an hour.
Following Sara's speech, the BCBDD 2023 DSPs of the Month were recognized. Shortly after, the auditorium lights were dimmed, and the Community Impact Award winners illuminated their fiber optic wands while each recipient was named!
The Community Recognition Awards ceremony concluded with the presentation of 6 major awards, which included an intimate video featuring each of the award winners. Each major award winner was given an opportunity to speak after they were given their award. Below are the recipients of the 6 major award winners:
Community Inclusion Award – Mandy Goodpaster
Young Pioneer Award – Katie and Justin Sexton
Partner of the Year – Brandy Sigler
Volunteer of the Year – Joe Wiesman
Community Advocate Award – Jim Foliano
Lifetime Achievement Award – Michelle Barnes Davis
Thanks to all of those that attended, presented, and supported our 2023 Community Recognition Awards! It was by far one of the best awards events we have ever thrown! If you didn't get the chance to attend this year, in addition to watching the videos throughout this story, enjoy the photos below taken by Loveland Magazine that captured the essence of our Hollywood themed Community Recognition Awards!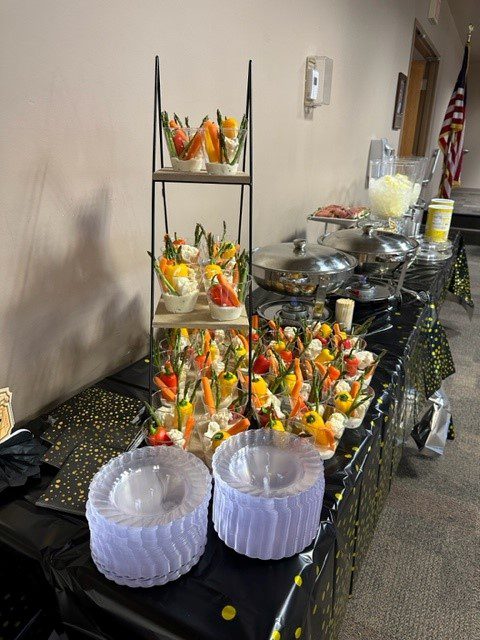 If you would like watch each major award recipients video subscribe to and visit our YouTube Channel!