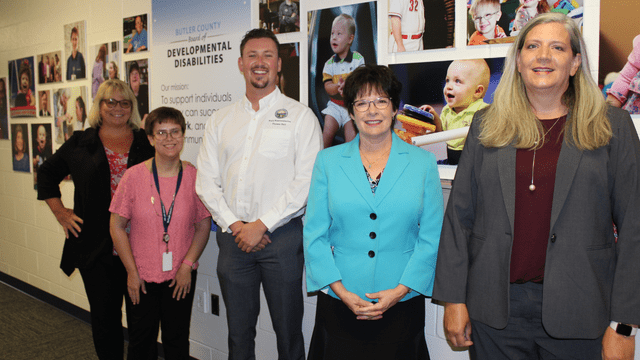 State Rep Thomas Hall learns more about the needs of constituents with developmental disabilities
Ohio Representative Thomas Hall (R – Madison Township) visited the Butler County Board of Developmental Disabilities on Thursday, September 8 in order to gain a better understanding of the needs faced by the population served by the Board. Hall's meeting included conversations with the Board's superintendent, Lisa Guliano, as well as Connie Mehlman, Community Connections Coordinator, and Courtney Hineman, Community Outreach Advocate. Also at the table was Gina Gehm, CEO of Inclusive Housing Resources.
Hall began the meeting by thanking everyone for their time and giving his cell number so he could easily be reached. "I want to be a friend to you," he said. Sharing that the pandemic thwarted his ability to get to know his community in the first few years of his term, Hall is excited to get out and learn more about the people he represents and the issues they're facing.
Among those issues, Gehm shared, is access to affordable and accessible housing. Partnerships for Housing's main goal is to provide quality, affordable, accessible homes for residents of Butler County with disabilities to foster and encourage independence in their community. But finding a home that fits that mold can be complicated – especially in today's tight housing market. Our region, Gehm shared, is 9th in the country for year-over-year increases in rent. Meanwhile, many people with developmental disabilities live on a fixed income. "It's not sustainable," she said, indicating that Hall's support with her upcoming projects could help alleviate the issue for some.
Hineman shared that her experience in Best Buddies, a non-profit dedicated to creating friendships between people with and without disabilities, has helped shape her personal and professional career. "It has helped me a lot with knowing how to make friends and become a leader," said Hineman. She encouraged Hall to support Best Buddies in any way he can.
Noting that Hall is on the Higher Education and Career Readiness committee, Hineman asked how he has helped people with developmental disabilities to gain employment. Hall indicated that he has not yet worked on a bill dedicated to that cause but would be happy to work on a solution in the future.
With Hall also serving on the Transportation and Public Safety committee, Hineman asked what he has done to improve transportation for people with developmental disabilities to which Hall again indicated he had not worked on a bill that focused on that cause but would be happy to consider one.
For each issue, Hall shared that he might not be able to make a difference but at the very least he can help get people connected to someone who could help. "If I'm not on a committee that deals with your issue, I can connect you," he said.
The Butler County Board of Developmental Disabilities provides services and supports to over 3,700 Butler County residents so they can successfully live, work, and learn in the community. Supports and services are available lifelong through partner agencies or directly provided by the Board. The Board's primary source of funding is from property tax levies collected annually and the Board was last on the ballot in 2004. Since 2021, the Board has given .5 mills of their 2.0 mills continuing levy back to the community through a temporary rollback.