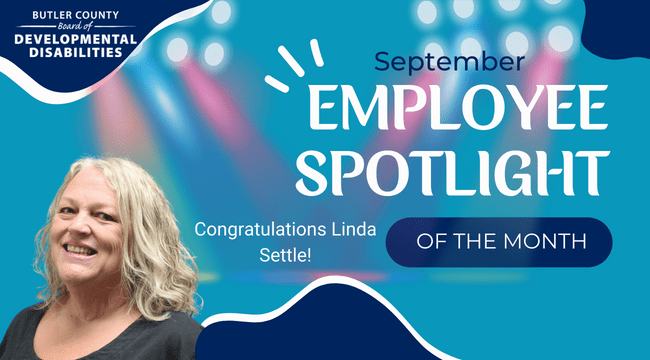 September's Employee Spotlight of the Month: SSA Linda Settle
Join us as we pay tribute to the incredible staff, we have here at the Butler County Board of Developmental Disabilities (BCBDD) through our appreciation series called "The Employee Spotlight of the Month!" Every month, we will spotlight a new employee so that we can share with the community the wonderful things our employees are doing every day!
Congratulations to Linda Settle, September's Employee Spotlight winner! Linda received her bachelors in psychology from Wright State University.
"I had never worked in the DD field before, and really had no interest in it," Linda said. "I wanted to go back to school for Counseling, but also wanted to take some time off first. I took a job as a Direct Support Professional (DSP) supervisor at an Intermediate Care Facilities for Individuals with Intellectual Disabilities  (ICF/IID) and then a day program and fell in love with this field and the individuals that I worked with. I then worked as a guardian representative at Advocacy and Protective Services, Inc. (APSI) for a couple of years. I became a Qualified Intellectual Disability Professional (QIDP) and remained at one agency for 17 years, overseeing two small Intermediate Care Facilities (ICF). I became a Service and Support Administrator (SSA) in 2017 for the BCBDD. This opened a whole new side of this field to me. I had previously worked with individuals with high medical needs and severe to profound disabilities." 
Brandi McGowan first met Linda when she was a QIDP in an ICF where Brandi worked as a DSP and later became the Home Manager.
"Linda was really missed when she left for the opportunity to be an SSA but has truly been a great partner to work with for our ICF homes in Middletown," Brandi said. "She has helped me obtain admission to a developmental center for an individual who was in mental health crisis and most recently Linda helped one of the people she supported with admission into our ICF. Where the individual lived there was no transportation, so Linda got permission to bring her on a visit to the home and met us when we helped her move so that the individual would be more comfortable. Her years of service as a QIDP has been helpful to me because she has so much knowledge about the ICF system and the things we offer."
Linda's supervisor, Ron Smith, says since Linda has joined the BCBDD she has been a great asset to the SSA department.
"She brought a wealth of knowledge with her from her previous job working in an ICF," Ron said. "She has some difficult cases, but she handles them well. She is calm and steady. She is also one of the first to always offer help to other SSAs when needed. She's great to have on our team!"
Linda says since she began her career as an SSA, the opportunity has allowed her to work with individuals with all sorts of disabilities. 
"I have always loved this field because it allowed me to help others," Linda said. "It allowed me to help others have a voice and be heard. I also love that I can help the individuals get the things they need, whether it be modifications to their home, finding ways to socialize with others, or just being someone for them to talk to. I also love the fact that everyone that I work with is always willing to help in tough situations."
Brandi added that Linda is an amazing human being who cares about the people she helps support. "She has been an amazing partner working in the field and I hope to be able to work with her more in the future," Brandi said.
Thank you so much, Linda for being such a vital part of our SSA department!
Is there someone from the BDBDD that has changed you and your family's lives? Maybe there is someone that is doing remarkable things in our community off the clock? Please take a moment to nominate this person as we want to hear about the great work, they're doing for the DD community! Submissions for October's Employee Spotlight of the Month are due by Monday, October 2. Fill out the form below to nominate a BCBDD employee!
Employee Spotlight – BCBDD