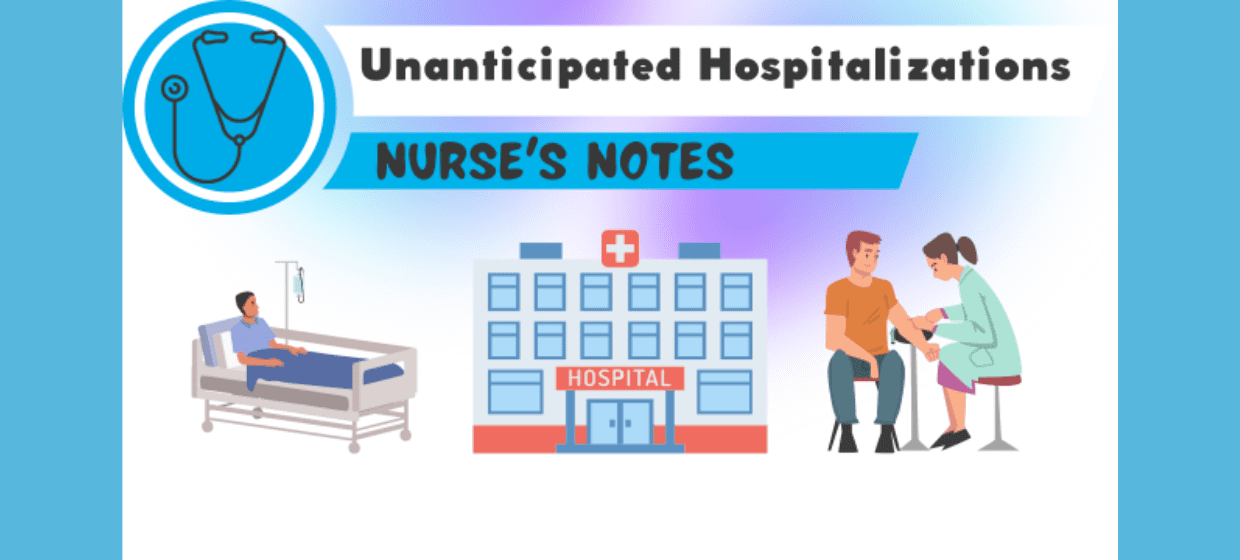 Nurse's Notes: Unanticipated Hospitalizations
Every month, our staff nurses share important health updates. This month, our nurses are talking about unanticipated/unscheduled hospitalizations!
An "unanticipated hospitalization" is any hospital admission or hospital stay exceeding 24 hours that is not pre-scheduled or planned.
Unanticipated hospitalizations is the most filed Major Unusual Incident (MUI) category and accounts for about one-third of all MUI's statewide and in Butler County.
What are the top ten reasons statewide for hospitalizations?
Infection
Pneumonia and Influenza
Observation-Evaluation-Treatment
COVID19
Seizure
Impaired Respiration
Bowel Obstruction
Heart Problems
Kidney
Altered State
Studies have shown that individuals with disabilities are more likely than people without disabilities to report:
Poorer overall health

One in four individuals 18-44 years of age have an unmet healthcare need related to cost in the past year. One in five individuals 45-64 years of age did not have a routine checkup in past year.

Less access to adequate healthcare

One in four individuals 28-44 years of age do not have a usual healthcare provider.

Smoking

21.9% (disabilities) vs. 10.9% (no disabilities)

Decreased physical activity

About 60% of people with IDD have reported this. It is also the fourth leading risk factor for death.
Persons with disabilities have twice the risk of developing preventable conditions such as:
Depression

People with IDD are two to ten times more likely to have depression.

Asthma

16.1% (disabilities) vs. 6.5% (no disabilities)

Diabetes

15.9% (disabilities) vs. 7.6% (no disabilities)

Heart Disease

9.6% (disabilities vs. 3.4% (no disabilities)

Obesity

41.6% (disabilities) vs. 29.6% (no disabilities)

Poor oral health

6.5 million Ohioans with IDD are not able to access the dental care they need.
All of the above factors result in a higher rate of unscheduled hospitalization for individuals with disabilities.
People with disabilities have unique challenges while in the hospital, so hospital staff must be prepared so that that individual gets the best care possible.
What should hospital staff know when caring for an individual with disabilities?
How to best communicate with the person
How the person expresses pain
Risks such as falls, choking, bowel obstruction, seizures, Pica, etc.
Diet modifications
Whether or not the person needs adaptive equipment
How to support and comfort the person
Be prepared for unscheduled hospitalizations by having the following available in a readily accessible place:
A current list of medications
A list of allergies
Current medical conditions
Current medical providers
Insurance information
Contact info for family members, guardian, or other important people such as their Service and Support Administrator (SSA)
Fully understand discharge orders for the individual, such as any referrals to specialists, follow-up appointments, new medications, diets, or treatments before leaving the hospital
Comfort item(s) such as the individual's favorite book, game, fidget item, etc.
Follow-up care to avoid re-hospitalization
Routine preventative health care and management of chronic health conditions are critical to avoiding hospitalizations. Visit the DODD website for health screening recommendations and other great resources!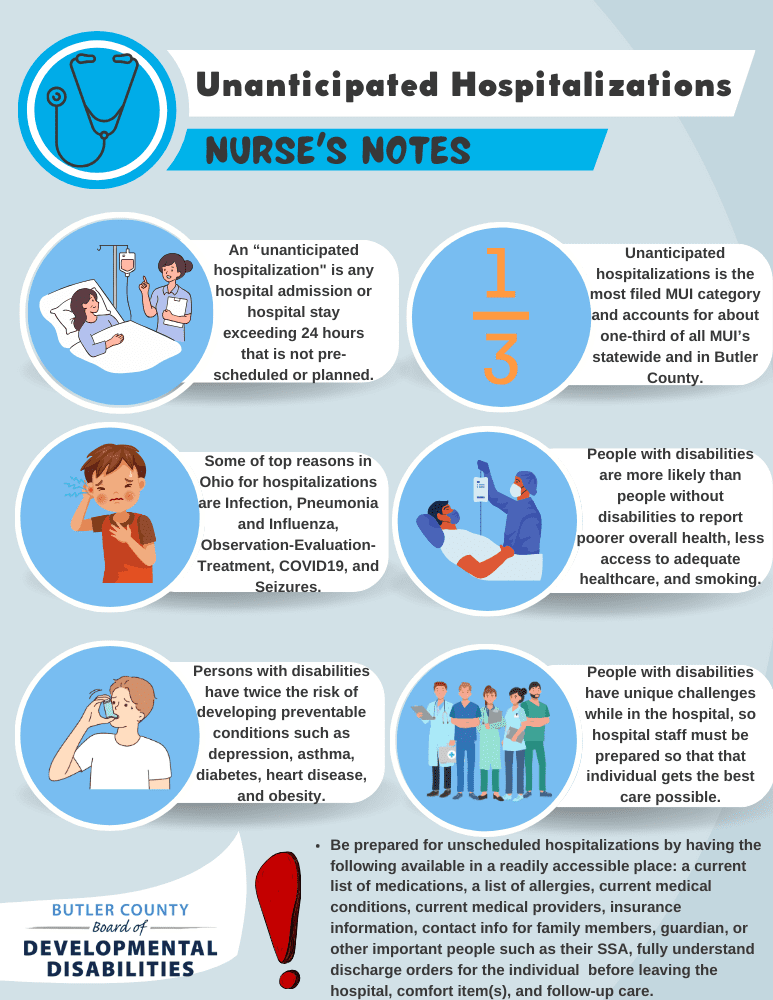 Sources
DODD Health and Safety Alert; Unscheduled Hospitalizations #60-9-18
DODD MUI training for HAC 9/13/23 by S. Phillips and D. Poore
National Institutes of Health