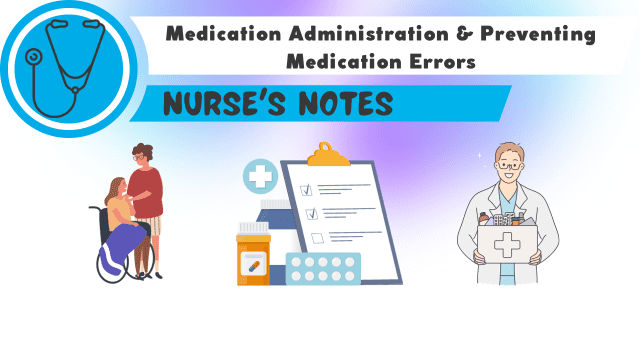 Nurse's Notes: Medication Administration & Preventing Medication Errors
Every month, our staff nurses share important health updates. This month, our nurses are talking about medication administration and preventing medication errors.
Medication administration is one of the most important services that is provided to individuals with disabilities.
Administering medications safely involves constant awareness of the risks and creating systems to avoid and prevent those risks.
What are the six rights of medication administration that people administering medications should be aware of?
Right Person. Check the name on the medication order to ensure it matches the person receiving the medication.
Right Time. Know the correct time the medication is ordered for, verify when it was last given, and be aware of how early or late the medication can be safely administered.
Right Dosage. Compare the medication administration record with the medication label three times to ensure it is the correct amount.
Right Route. Confirm you understand the correct route of administration. (oral, nasal, or inhale)
Right Medication- Compare the medication label to the MAR 3 times to ensure it is the correct medication.
Right Documentation. Document the date, time, and route of medication after it's administered and prior to administering the next individuals' medications.
What are some common medication errors?
Someone else's medication is given to the individual.
Medication is given at the wrong time.
The wrong dosage of medication is given.
A dose of medication is missed.
The medication is administered through the incorrect route.
The medication that is given is no longer ordered or has been discontinued.
It is important to get medical care if a person is showing any symptoms from the medication error or any time a person takes medications that were not prescribed to them.
What are some causes and contributing factors of medication errors?
Too many distractions or too much multitasking during medication times.
Preparing multiple medications at the same time or for multiple individuals.
Lack of training with the individual, their medications prescribed, and the side effects.
Failure to transcribe medication order changes correctly.
Poor communication between the providers and/or staff providing care and medication administration to the individuals.
Environmental distractions such as, noise, talking to other people, or a cluttered work area.
What are some tips for preventing medication errors?
Follow the six rights of medication administration.
Monitor medication changes and known side effects.
Develop policies and procedures during medication administration times to prevent distractions.
Ensure correct medication administration measuring and dispensing supplies are on hand.
Mentor new staff and ensure proper individual specific training takes place.
Ask questions! If you are unsure or do not understand, ask. No question is silly.
Alex Myers, a 20-year-old from Hamilton County, is one example of how medication errors can mean life or death. In October 2013, Alex died because of a lethal medication error at a group home for people with developmental disabilities. Watch "You Are Your Brother's Keeper," produced by Alex's family, to get more education on the risks associated with administering medications.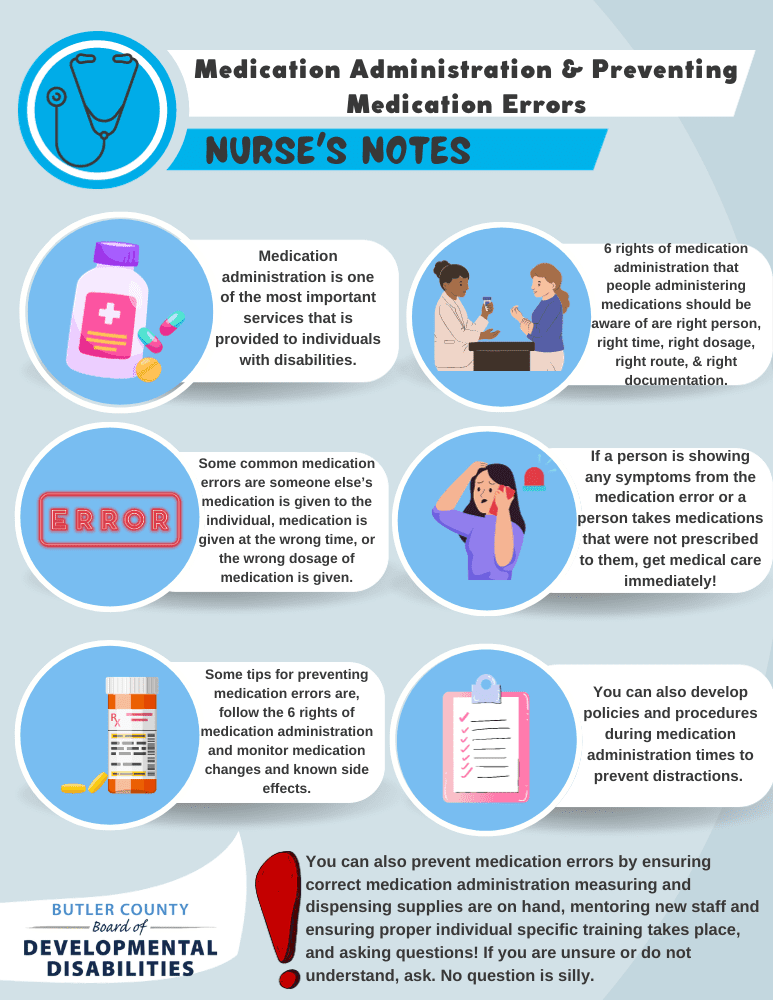 Sources