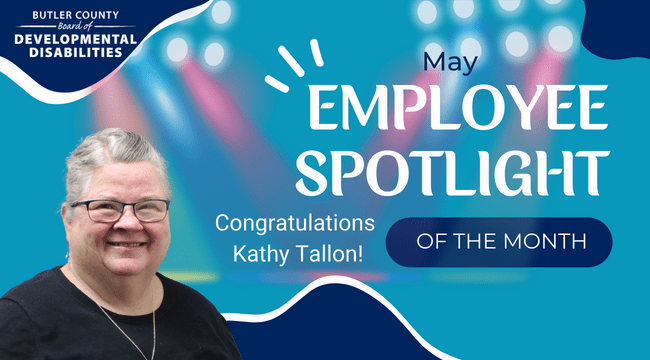 May's Employee Spotlight of the Month: RN Kathy Tallon
Join us as we pay tribute to the incredible staff, we have here at the Butler County Board of Developmental Disabilities (BCBDD) through our appreciation series called "The Employee Spotlight of the Month!" Every month, we will spotlight a new employee so that we can share with the community the wonderful things our employees are doing every day!
Congratulations to Kathy Tallon, May's Employee Spotlight winner! Kathy has been in the nursing field for over 42 years. Kathy kicked off her stellar career with the Ohio Health Department as the Compliance Surveyor for Immediate and Long-Term Care Facilities. Next, Kathy moved into the Help Me Grow Service Coordinator and Supervisor position for the BCBDD Early Intervention Department. After spending 11 years as a Service Coordinator and Supervisor, Kathy transitioned over to the BCBDD Quality Assurance Department and became a Medication Administration Registered Nurse. Kathy's current primary responsibility is to review medications administered by provider staff to those individuals the BCBDD serves. Kathy has been in her current position for nearly 12 years. Those that have worked with Kathy say her advocacy is unstoppable!
A BCBDD staff member went in depth about Kathy's compassionate nature and her extensive nursing knowledge:
"Kathy meets with individuals in their homes at their desired time, usually in the early afternoons or evenings. She goes above and beyond to acclimate herself to the individual's schedule to see how they take their medications and how staff administers their medications. Kathy makes the experience as comfortable for the individual as possible. Her compassion for the Direct Support Professionals shines when she provides technical assistance and compliments their hard work. If you have ever experienced Kathy's written medical review, you will know her nursing knowledge and care for the individual is paramount to assuring health and safety. She's the best listener, her smile is contagious and her caring nature for individuals with disabilities is a characteristic we all desire!"
After Kathy received the news about being selected for May's Employee Spotlight of the Month, she had this to say:
"I love working for BCBDD because I get to visit with and advocate for so many of the individuals we support, their families, and the providers who serve them. It's wonderful to work with an amazing team and to get to interact with so many caring professionals whose passion is to support others to live their best lives! I grew up in a marginalized community where nothing much was hoped for. Unfortunately, I was acutely aware of how to take the wrong path. Like many of our folks, I needed help setting small achievable goals until I was able to gain the skills and confidence to figure out what I wanted and to be able to achieve it. My life has always felt like a series of stepping stones with (eventually) one good decision leading to another. From a high school drop out to a nurse aide in nursing homes, to an LPN, to an RN, to a social worker and teacher. I am grateful for all of the small steps. They kept me close to what matters, helped me to stay humble, and to forever have a deep respect and appreciation for the unsung heroes!"
We couldn't be prouder to honor, Kathy for showing those we serve the dedication, kindness, and advocacy they deserve! Keep up the great work, Kathy!
Is there someone from the BDBDD that has changed you and your family's lives? Maybe there is someone that is doing remarkable things in our community off the clock? Please take a moment to nominate this person as we want to hear about the great work, they're doing for the DD community! Submissions for June's Employee Spotlight of the Month are due by Monday, June 5. Fill out the form below to nominate a BCBDD employee!
Employee Spotlight – BCBDD