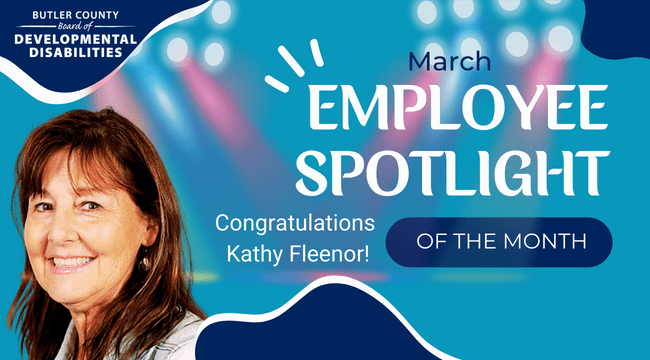 March's Employee Spotlight Winner: PT Kathy Fleenor
Join us as we pay tribute to the incredible staff we have here at BCBDD through our appreciation series called "The Employee Spotlight of the Month!" Every month, we will spotlight a new employee so that we can share with the community the wonderful things our employees are doing every day!
Congratulations to Kathy Fleenor, March's Employee Spotlight winner! Kathy is a Physical Therapist (PT) in the Early Intervention Department who, according to many BCBDD staff members, is known for inventing ways to help families even when things seem impossible! Kathy, who has more than 30 years of experience as a PT and has spent 11 of those years at the BCBDD, has many accomplishments on her resume including securing a grant to get the Explorer Mini, a new technology that helps children who are 12-36 months of age with mobility impairments. Kathy was featured on WKRC Local 12 and in Ohio Cooperative Living for her efforts with the Explorer Mini.
"I love to see progress and know I had a part in that patient's/child's journey, celebrating all the successes, and sharing my knowledge and experience," Kathy said during PT Awareness Month last year when asked what she loves most about being a PT.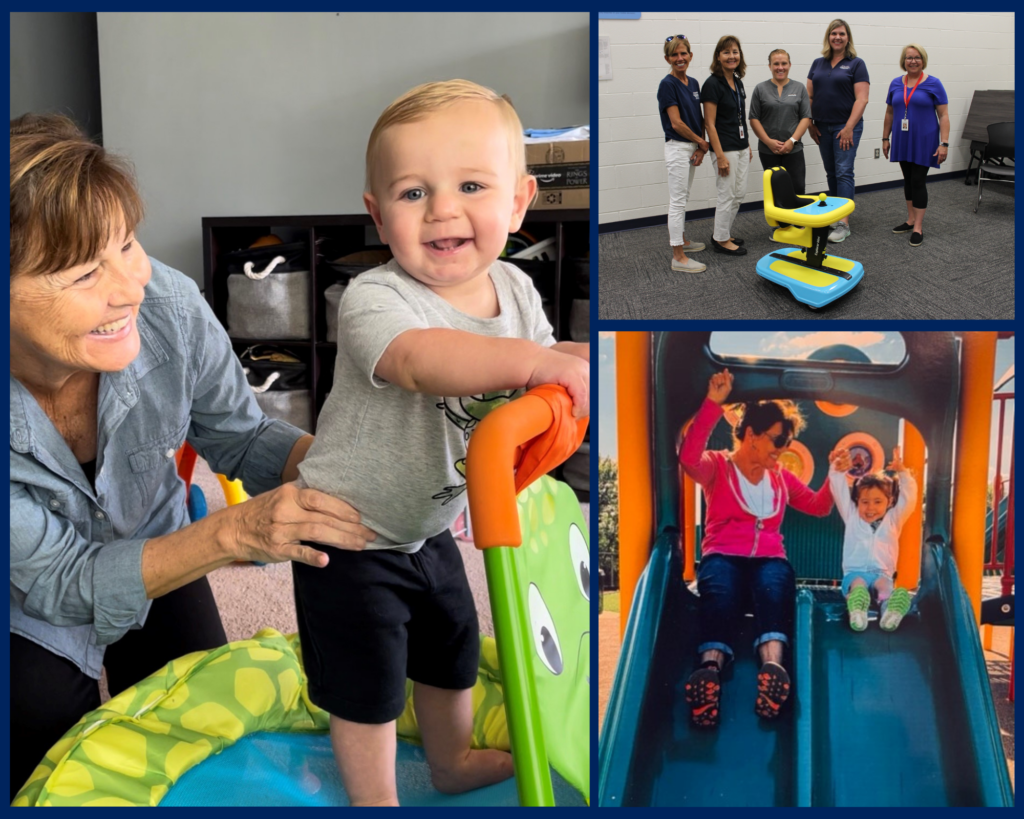 Sarah Day, BCBDD Developmental Specialist (DS), has seen the positive effect Kathy has had on those she serves and her co-workers, over the last 12 years. Sarah said that Kathy not only loves to laugh and have a good time, but she also always has a smile on her face that is contagious to all! Below Sarah talks about Kathy's ability to share her expertise and put her creative ideas into action:
"Kathy has always gone above and beyond for the kiddos she serves! Kathy always made me feel comfortable and competent when working next to her in the past and now that we are coworkers, she has taken me under her wing and continues to help me learn the ropes. Kathy is enthusiastic yet humble in sharing her creative ideas and her expertise in our team meetings for the benefit of all of the children that we serve. It is hard not to be in a good mood when you are around Kathy!"
Thank you so much, Kathy for using your creativity and innovation to help individuals with developmental disabilities reach their highest goals! The BCBDD couldn't be prouder of your achievements!
Is there someone from the BDBDD that has changed you and your family's lives? Maybe there is someone that is doing remarkable things in our community off the clock? Please take a moment to nominate this person as we want to hear about the great work, they're doing for the DD community! Submissions for April's Employee Spotlight of the Month are due by Monday, April 10. Fill out the form below to nominate a BCBDD employee!
Employee Spotlight - BCBDD