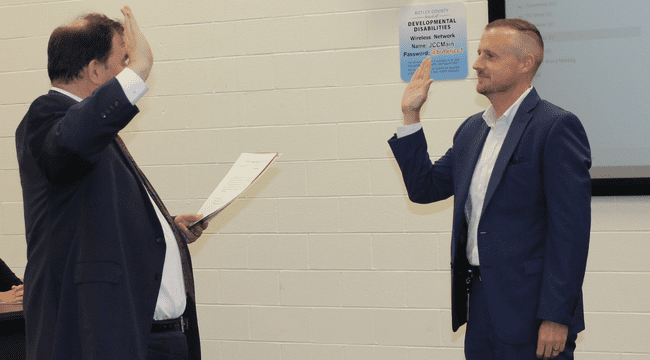 Laddie Henninger Resigns from Board, Dan Hughes Appointed
West Chester resident and nearly 12-year board member of the Butler County Board of Developmental Disabilities (BCBDD), Laddie Henninger has submitted his resignation as a board member. Henninger was just 6 months shy of his term limit with the Board. Dan Hughes, resident of Hamilton, was appointed to fill that vacancy and was sworn in by Judge John M. Holcomb of the Probate Court at the August 4 Board Meeting.
Henninger shared that he has enjoyed his time on the Board noting that this was his third experience being a board member for a county board of developmental disabilities. This, he said, was the first experience working with a county of this scale. Henninger's daughter, Mindy, has a developmental disability and because of her, he's always been passionate about getting involved. Henninger says his focus is on family and community. It was for family that he moved from The Plains, Ohio to West Chester. "It was a three-hour ride from The Plains to West Chester to see my granddaughter and give her a kiss. Well, I didn't think that was right, that was cheating her." So, in 2007, he moved and within a short period of time, got involved at the Board.
Earlier in his career, Henninger had been a founding board member of the Ohio Association of County Boards and had also served on several non-DD related boards like the Lions and Boy Scouts of America.
As a retired post-master, Henninger says his experience managing people helped him contribute in a meaningful way to BCBDD. He also had experience as an auditor for the USPS and because of that experience, he sat on the BCBDD finance committee.
Dan Hughes, who was appointed to fill Henninger's vacancy, will also be a member of the finance committee. As a commercial loan officer with LCNB National Bank, Hughes is excited to use his professional skill to fill a personal desire to help people. "My whole career has been about helping people," he said. "Anyway, that I can help someone out, I want to be involved in something like that.
That's entirely what this organization is all about; helping those that just happen to maybe need a little bit of assistance. That really spoke to me. I'm all about people."
Like Henninger, Hughes also has experience on other boards: He is a member of the Hamilton Chamber of Commerce as well as the Hamilton Rotary Club, he is a board member of the City of Sculpture Board and sits on the Advisory Board of the Fitton Family YMCA in Hamilton's West Side.
"I am so grateful for the many years that Laddie Henninger has devoted to supporting our mission," said Lisa Guliano, Superintendent of the BCBDD. "We'll miss his input as well has his joyful sense of humor.
"At the same time," she said, "we look forward to the unique skills and expertise Dan Hughes will bring to the board."