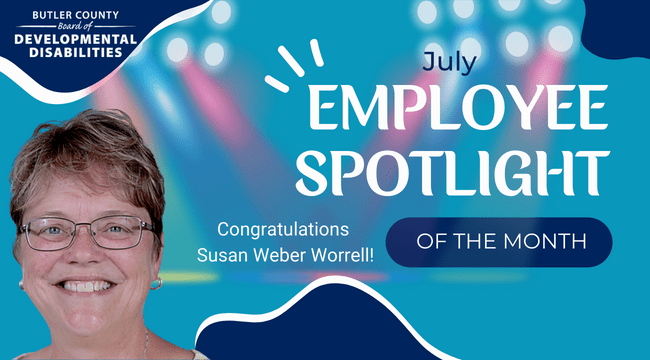 July's Employee Spotlight of the Month: Rates and Contracts Coordinator Susan Weber Worrell
Join us as we pay tribute to the incredible staff, we have here at the Butler County Board of Developmental Disabilities (BCBDD) through our appreciation series called "The Employee Spotlight of the Month!" Every month, we will spotlight a new employee so that we can share with the community the wonderful things our employees are doing every day!
Congratulations to Susan Weber Worrell, July's Employee Spotlight winner! Susan started working for BCBDD under contract with (then) the Joint Vocational School District in 1992. Susan worked as a Community Job Coach and Enclave supervisor for nearly 7 years.
"I had been filling in at Hamilton Center (one of BCBDD's former day programs) to help out during my enclave off season," Susan said. "I was enjoying my time there, so I applied to work their full time. I was hired by BCBDD in 1999 as a Trainer at Hamilton Center. In 2004, I was hired as a Habilitation Coordinator at Hamilton Center. I stayed in that position throughout all of the BCBDD day program consolidations and ended up at Liberty Center."
In 2016, Susan applied for, and was hired, as a Service and Support Administrator (SSA). She was a part of the West Hamilton Team and in less than a year, Susan was back at Liberty Center, when they consolidated the SSA offices to that location.
"During my SSA years, I was proud of the relationships I built with individuals and their teams," Susan said. "I gained a lot of knowledge outside the realm of day programs. I ended up applying for the Rates and Contract Coordinator opening and getting that position in 2021. So here I am, almost 31 years later! In my current position, I think my favorite part of the job is supporting the SSAs the best I can. I understand the SSA position and how you can be pulled in many different directions. If I can take something off their plates, I'm happy to do it!"
Beth Risner, BCBDD Employment Service Coordinator, said although she just met Susan in January of 2018, she has thoroughly enjoyed her time working with Susan because she is an outstanding co-worker who goes above and beyond to help SSAs and new providers.
"Susan is always prompt at answering calls and emails," Beth said. "She will take the time to explain processes and procedures in a way that is both kind and constructive. She has worked with the agency for many years and was a strong advocate for the individuals she supported as an SSA and now helps many SSAs as a Rates and Contract Coordinator by processing their requests both timely and accurately! She always does what she says she is going to do and has been successful in different roles over the span of her career!"
We are so proud of all your hard work and achievements, Susan! Keep up the passion and dedication to those we serve!
Is there someone from the BDBDD that has changed you and your family's lives? Maybe there is someone that is doing remarkable things in our community off the clock? Please take a moment to nominate this person as we want to hear about the great work, they're doing for the DD community! Submissions for August's Employee Spotlight of the Month are due by Monday, August 7. Fill out the form below to nominate a BCBDD employee!
Employee Spotlight – BCBDD