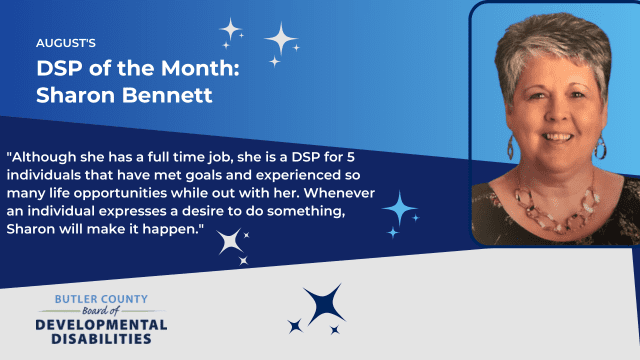 DSP of the Month: Sharon Bennett
Congratulations to Sharon Bennett, August's Direct Support Professional (DSP) of the Month!
Lisa Spicer, who is the Director of Operations at Blessed Homecare, said Sharon is one of the most involved DSPs working for the agency!
"At one time, she was a guardian of an individual and I had been invited to speak at Cookie and Connections. She liked my presentation and a year or so later looked me up," Lisa said. "Sharon works full-time for Hamilton City Schools as a librarian but still finds time to be a DSP for 4 individuals that have met goals and experienced so many life opportunities while out with her. Whenever an individual expresses a desire to do something, Sharon will make it happen. She is a huge advocate for our individual's rights and a wonderful mentor in helping the individuals to realize that they can pretty much do anything they can imagine. She is also super organized! Sharon is constantly looking for fun activities that everyone can participate in too! She heard of someone wanting to play baseball and made sure he was able to join the Joe Nuxhall Miracle League and he loves it. She accompanied several individuals to the Tim Teebow Special Needs Prom, has gone to numerous fairs, and Dayton Dragon's baseball games. She encourages outings in which everyone can make a new friend. Through her guidance, they are no longer afraid to introduce themselves to someone new and try something completely out of their comfort zone.  One young man now understands the use of manners and is a true joy to be around. Sharon has said she feels guilty sometimes when she takes a paycheck because the job is so much fun! Her positive attitude is infectious. Her dependability is amazing and genuine love for our individuals is obvious to everyone. Recently our individuals asked if we could have a picnic. Sharon was the first to say she would help to organize, found a location, and put down the reservation fee! I am blessed to have her as one of our DSPs and as someone I am proud to call a friend after years of working together." 
Sharon, we appreciate the love and passion you have for helping those with developmental disabilities achieve their goals!
Do you know an amazing DSP who deserves to be recognized for everything they do? Nominate them below! Nominations for September's DSP of the Month are due by Tuesday, September 5.