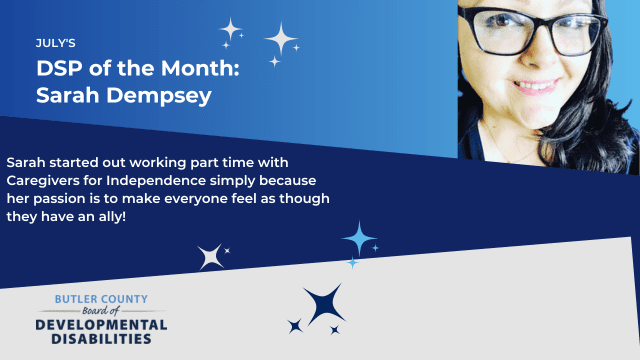 DSP of the Month: Sarah Dempsey
Congratulations to Sarah Dempsey, July's Direct Support Professional (DSP) of the Month! Sarah graduated from Miami University with both a Bachelors and Masters in education, focusing on Disability Studies. Over the past year, Sarah has worked for Caregivers for Independence, where she helps individuals with developmental disabilities become as independent as possible. Sarah also works with the University of Cincinnati in the School of Social Work and as an independent IEP Coordinator.
"I love helping these individuals find joy in everything we may take for granted as well as helping someone develop skills to thrive and shine in life," Sarah said. "I currently work with an individual that motivates me to get out to the gym and work out! We love to go shopping and she loves to sit down with me to set goals for the week. I learn more from her each week just as she learns more from me."
Sarah says her passion in life is to bring awareness to all disabilities, even invisible ones.
"I also fight for inclusivity and accessibility rights and understanding, so everyone can receive the support they need, and communities can believe in the value of all citizens and students," Sarah said. "At the University of Cincinnati in the School of Social Work, we value the idea of creating environments where we can be advocates for our communities, at-risk populations, and fight for the rights of everyone. As an IEP Coordinator for families, I create family involvement into the beginning steps of the IEP process, which can be a very confusing time for parents and caregivers. I always encourage individuals to voice their concerns and advocate for their child's rights in the classroom!"
Sarah's friend Ashley Barrett says Sarah's passion is to make everyone feel welcomed in this world!
"Sarah started out working part-time with Caregivers for Independence simply because her passion is to make everyone feel as though they have an ally," Ashley said. "Sarah sacrifices her weekends to work with her client and she works with her specifically on making goals and working on living independently. Her client loves when Sarah works and gets so excited to have girl talk, paint nails, work on basic schoolwork, learn about history and science. Her client also loves everything about Miami University which is perfect because Sarah graduated from Miami! Even though Sarah suffers from her own autoimmune disorder, she would never let it get in the way of her providing the care for her clients."
Sarah says she encourages anyone who has extra time throughout their week to volunteer or sign up to be a DSP!
Thank you, Sarah for spending so much of your time advocating for and changing the lives of so many in the DD community!
Do you know an amazing DSP who deserves to be recognized for everything they do? Nominate them below! Nominations for August's DSP of the Month are due by Monday, August 7.