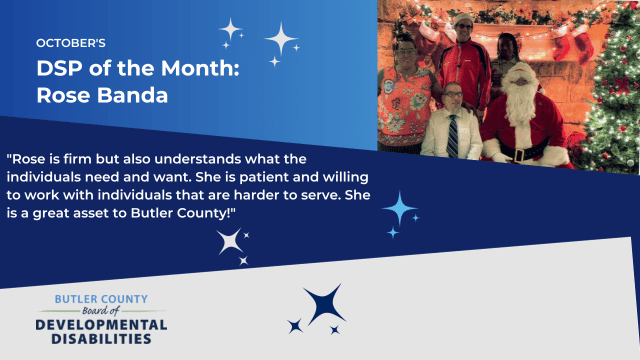 DSP of the Month: Rose Banda
Congratulations to Rose Banda, October's Direct Support Professional (DSP) of the Month!
Butler County Board of Developmental Disabilities SSA Dena Freeman and Hollie Metz both say Rose Banda and her agency, Rosebud Home Care, is a top-notch provider that truly cares about the individuals they work with.
"Rose is firm but also understands what the individuals need and want," Dena said. "She is patient and willing to work with individuals that are harder to serve. She is a great asset to Butler County!"
Rose says she has always taken on the role of a teacher because she graduated with a PhD in Educational Leadership from Miami University.
"I loved teaching," Rose said. "As a student, I did part time work in a group home. I fell in love with the idea of working with and helping individuals with a disability. I guess I would say I felt fulfilled, and I sort of discovered my purpose and calling in life."
In 2017, two years after graduating from Miami, Rose quit her job and officially opened the doors to Rosebud Home Care, LLC. Rosebud aims to not only support and empower individuals with developmental and intellectual disabilities but also help them gain some form of independence resulting in them feeling more a part of the community.
"Rosebud Home Care's main mission is to provide quality service to all those we are privileged to serve," Rose said. "We have remained a very close-knit family, and we incorporate more individuals only when we are certain we can provide for their needs in the most intimate way. Working with individuals becomes stressful and demanding if you're treating them like they don't know what they're doing. I have enjoyed working with all individuals, past and present, who have been with Rosebud Home Care. Empathy, compassion, and most of all, patience, have made me realize how understanding and eager to learn and thrive most of our individuals are."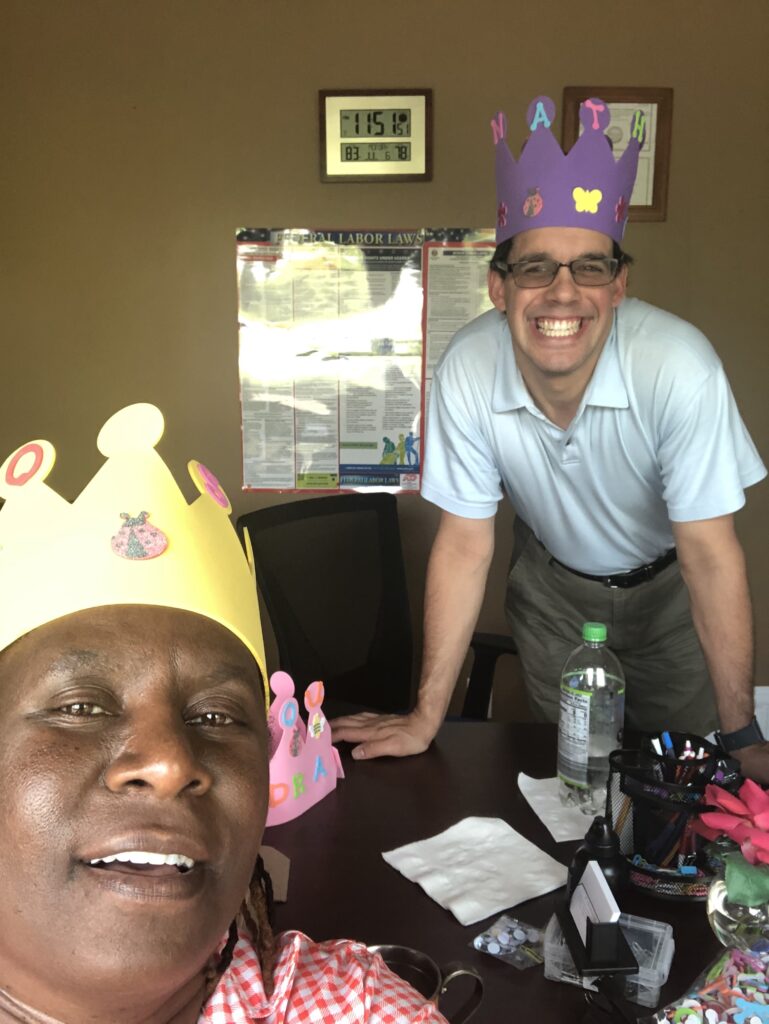 Hollie Metz says that Rose always goes above and beyond and truly believes in the potential of the people she serves and works to let that shine.
"Most recently, she has been dealing with an individual of mine who has been going through a significant mental health crisis," Hollie said. "She has been there to support her through all the ups and downs. She has staffed this individual when she could find no one else, she has provided transportation, and a caring ear to listen. I have another individual with her who used to have significant behavioral issues at home. Since being with Rosebud, she has had fewer and fewer outbursts. At this point, behavioral outbursts are a rare event at home. Rose works with all her clients, so she knows each one well. She is patient, honest, and caring. I cannot think of a better role model for DSPs."
"The passion that I carry, and the happiness I see in the faces of the individuals I work with, is next to none," Rose said. "I now believe the mantra that if you do what you love, you never work a day in your life. Sometimes I cease to see what I do as work, but helping my fellow comrades achieve their cherished goals and aspirations. As a DSP, I have seen some very difficult individuals calming down because they feel safe and comfortable that I have their best interest at heart. Some of them have gone out of their way to do activities they would normally not engage in because of my active participation and involvement with them. For instance, one individual wouldn't do any activities and preferred to sit and complain. We started playing monopoly, and gave him the position of banker, and ever since then, that is one of his favorite activities."
Rose says others should look in to becoming a DSP because the position offers an opportunity to make a difference in the lives of others.

"You get to understand the uniqueness of each individual, their needs and goals and help them live fulfilling lives," Rose said. "There is always an intrinsic satisfaction that comes from seeing a smile on someone's face because you offer them companionship, you help them through their chores, help them develop and improve certain skills, and create a safe and hospitable space for them to be who they are. In short, if one is very passionate about helping others and is driven by an ethic of care, being a DSP provides an opportunity to assuage that passion."
So, what does the future hold for Rosebud Home Care? Rose says she hopes to establish a Day Center that offers individuals a wide spectrum of activities and experiences for their own personal development and leisure.

"This might also include provision of reliable transportation to and from the Day Center," Rose added. "We also hope to enhance staff training so that they're adequately equipped with the knowledge, skills, and dispositions to best serve our individuals in alignment with our mission and goals as an organization. We strongly believe that continuing learning and staff development will produce better direct support professionals." 
We can't wait to see what the future holds for Rose and Rosebud Home Care! We are so lucky to have such great support for individuals with developmental disabilities from Rose and her team!
Do you know an amazing DSP who deserves to be recognized for everything they do? Nominate them below! Nominations for November's DSP of the Month are due by Thursday, November 2.