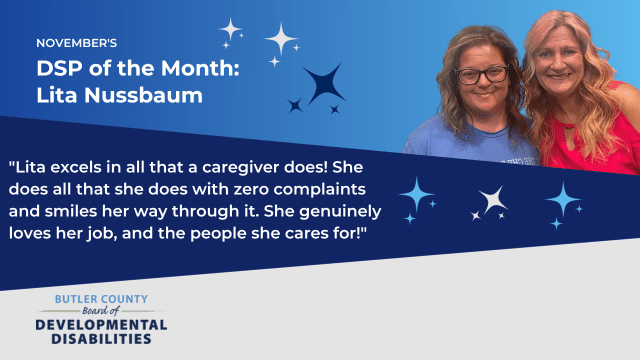 DSP of the Month: Lita Nussbaum
Congratulations to Lita Nussbaum, November's Direct Support Professional (DSP) of the Month!
Lita, who currently works at Safe Haven Home Health Care, is known by those that work with her for going above and beyond what is expected of any DSP! Lita has been in healthcare all her adult life. She spent most of her healthcare career working in a variety of medical offices, such as Obstetrics and Gynecology, Pediatrics, Urgent Care, and Mental Health and Addiction as a Registered Medical Assistant. Lita not only worked with the elderly but also cared for individuals with developmental disabilities. Lita eventually decided to change her career path and joined Safe Haven Home Health Care in January.
"I decided I wanted a more personally fulfilling and rewarding position," Lita said. "I came across the ad for a caregiver for an intellectually disabled couple in the Hamilton area. I felt this would be perfect so I applied and couldn't be happier with that decision." 
Safe Haven Home Health Care hiring manager, Heather Rohr, says Lita does so much in the day-to-day fundamentals of her clients lives and is always encouraging them to explore new adventures, try new things, and achieve their goals.
"Lita excels in all that a caregiver does; doctors, shopping, home maintenance, meals, transportation, visiting family, community outings, etc.," Heather said. "She does all of this with zero complaints and smiles her way through it. She genuinely loves her job, and the people she cares for!"
Lita says she loves her role as a DSP because it gives her purpose and enriches the lives of the ones she serves.
"It is deeply fulfilling to watch them in their journeys towards progress, growth, independence and happiness as a result of the support, care and love I give them," Lita said. "Being a DSP is so important because we offer essential support and guidance to individuals with developmental disabilities, helping them lead more fulfilling and independent lives, providing personalized care, and empowering them to overcome challenges. Our role promotes their well-being and inclusion in the community."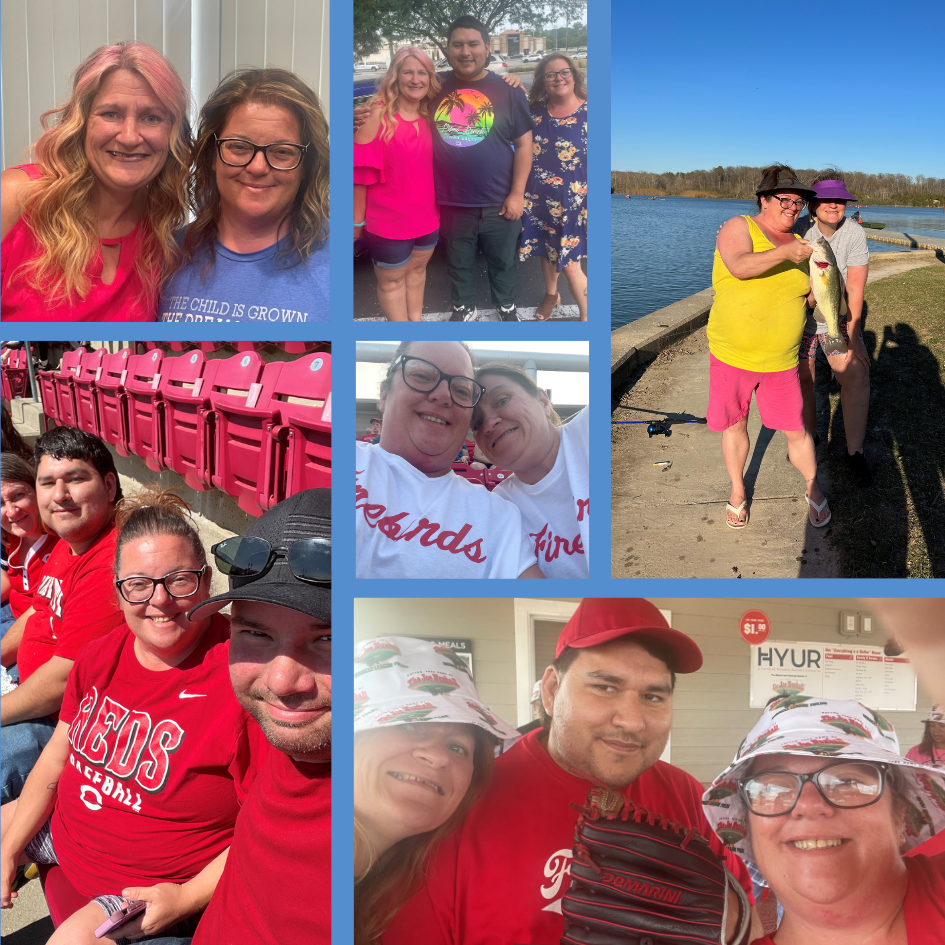 Recently two of Lita's clients got engaged, but due to fear of losing their benefits with a legal marriage, Lita's clients weren't sure if they could ever have an official wedding. Lita said that Aaron had wanted to marry Kathy for a few years but just didn't know how or where to start so Aaron asked Lita, "One day will you take me to Walmart, I want to buy Kathy a ring."
"We went to Walmart he picked out a ring, flowers, and a card," Lita said. "Later that day Kathy and I started on our evening walk, and she asked, 'Did you have a one on one with Aaron today? Do you know what he did?' She was very happy but said, 'I don't think we will be able to get married because we don't know how to plan a wedding!' That pulled at my heart strings, and I told her I would be honored to help them plan their special day if they wanted me to. Most of Aarons family is in California and the only family Kathy has is her foster mom, Barb. Barb is very busy however she was able to help Kathy with altering her wedding dress. They really don't have support or anyone to help them other than me. I knew I could do it, so I did just that along with recruiting some of family to help!"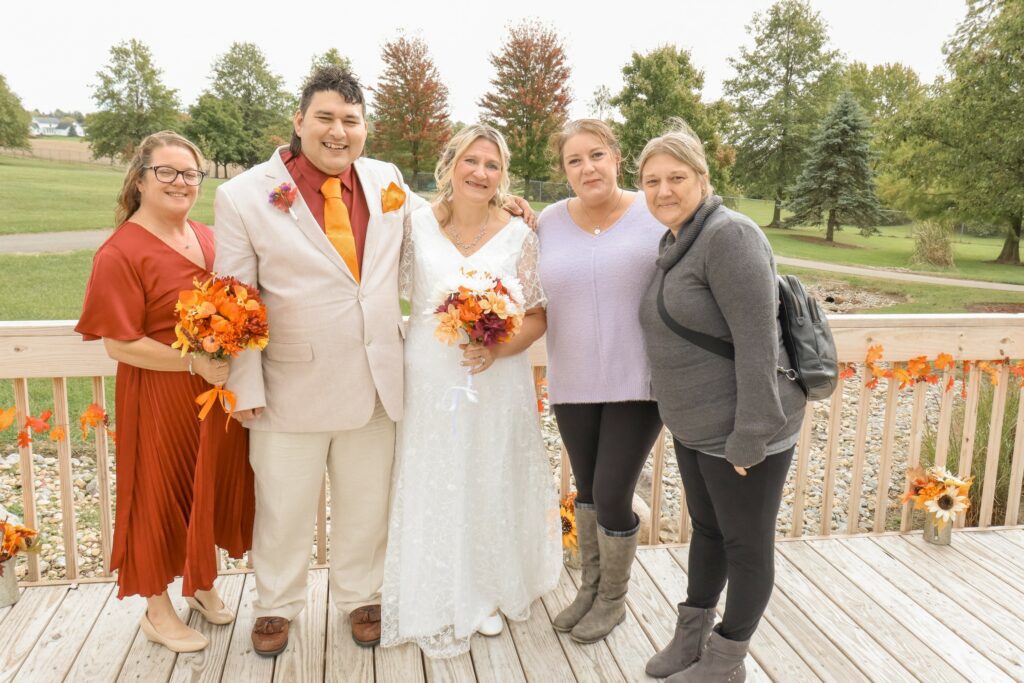 "Lita's clients disabilities kept them from understanding the work and money that comes with having a wedding, but Lita didn't let that stop her," Heather said. "She took them to every craft store in Hamilton and found the perfect things to make decorations herself. She took the bride shopping for the dress of her dreams and within her budget. She also found a great suit for the groom at a local thrift store, and had it altered to fit him perfectly. Lita arranged to have a photography student come to take pictures for free, had a family member make the cake, a co-worker to act as the officiant and florist, and even brought her mom on board to act as the day of coordinator. She was honored with the task of standing as the bridesmaid, and her husband the best man, paying for their attire themselves. She made sure the groom was taken care of and had help getting himself ready, then treated the bride to a morning of pampering with getting hair, makeup, and nails done, all on Lita's dime. She said she wanted the bride to feel like every bride deserves to, a princess. Her clients were able to invite friends to share in their magical day. The smiles we saw that day were of nothing but pure joy and love."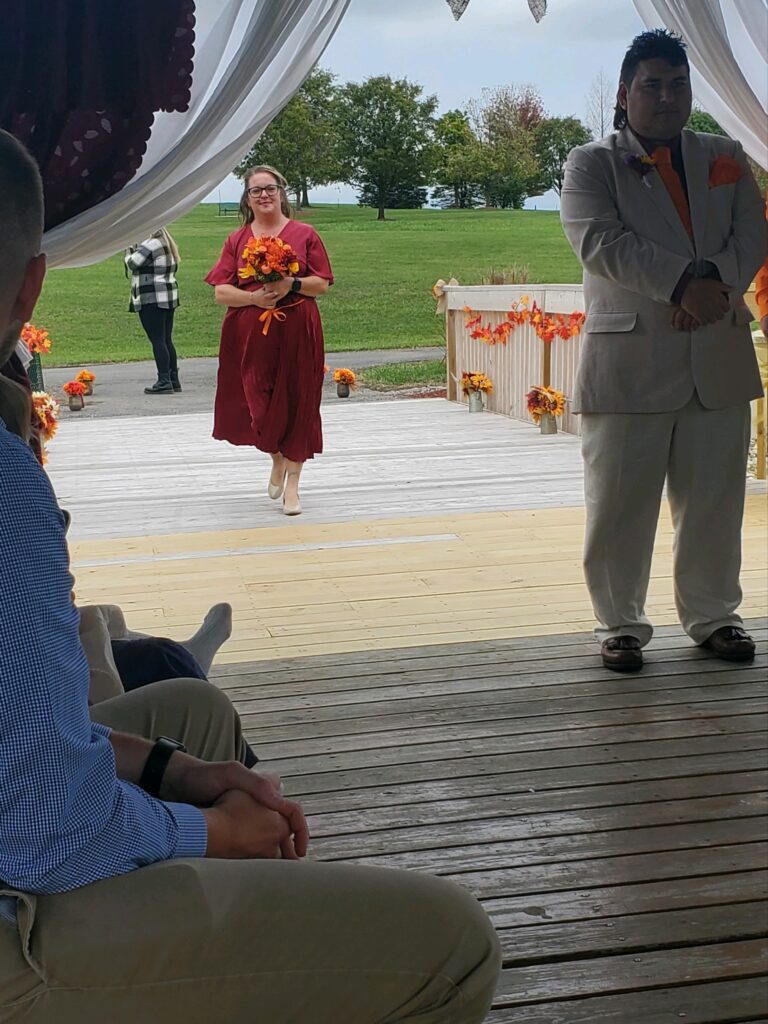 Lita said witnessing Aaron and Kathy celebrate their love in the presence of loved ones at their wedding was heartwarming.
"I am truly blessed to not only be their caregiver, but their friend and supporter in one of life's most significant moments," Lita said. "In the field of direct support, you develop special relationships and I know this experience has definitely strengthened our bond and will be a treasured memory for all of us for many years to come."
"When I tell Lita how much we appreciate everything she does for her clients, she shrugs her shoulders and says, 'I need them as much as they need me. We saved each other," Heather said. "Lita was sent to these particular clients through sheer serendipity. They were meant for each other, and now look at each other as family, and it is a beautiful sight."
After experiencing such a beautiful moment, Lita said this is why more people should look into becoming a DSP.
"Being a DSP allows you to have the opportunity to make a significant and positive impact on the lives of individuals with developmental disabilities, contribute to their personal growth, independence, and overall well-being," Lita said. "It's a highly rewarding profession. Witnessing the progress and achievements of the people you support can be emotionally fulfilling and provide a sense of purpose. The demand for direct support providers is growing due to an increasing awareness of the needs of those with developmental disabilities. You get to build meaningful relationships with the individuals you support, as well as their families and the community."
Wow, what a powerful story! We are so proud to have Lita in the DSP field!
Do you know an amazing DSP who deserves to be recognized for everything they do? Nominate them below! Nominations for December's DSP of the Month are due by Monday, December 4.