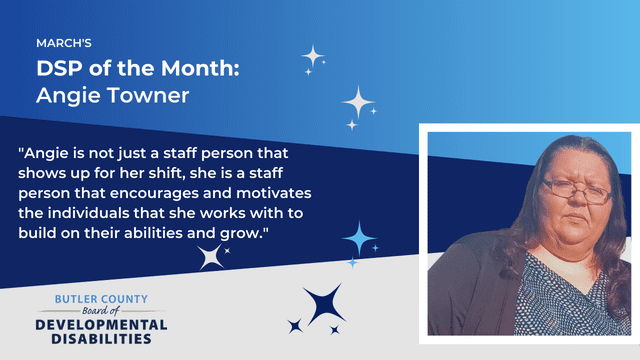 DSP of the Month – Angie Towner
Congratulations to Angie Towner, March's Direct Support Professional (DSP) of the Month! Angie has worked for Courageous Care, LLC for 8 years but has been in the DSP field for many years. Angie has not only always made a conscious effort to connect, and build repours with those she serves she has also been able to provide individualized services to meet each of her individual's needs! Kellie Kist, Butler County Board of Developmental Disabilities Service and Support Administrator (SSA), has 2 individuals that Angie has worked in home with, and according to Kellie, "Angie is not just a staff person that shows up for her shift, she is a staff person that encourages and motivates the individuals that she works with to build on their abilities and grow."
Read on below to see what else Kellie had to say about Angie:
"Angie works for Courageous Care and works in a home with some difficult situations. She works with 2 individuals on my case load, one who has intense medical needs and one who has a restrictive plan due to high-risk behaviors. During the height of the pandemic, Angie worked several back-to-back shifts to cover other staff that were out because of Covid, often working 6 or 7 days a week. Angie took extra precautions anywhere she could to keep the individuals healthy and safe and made sure that they got their vaccinations as soon as they were available. Angie continues to work overtime due to being short staffed and continues to build her relationships with the individuals to make sure all of their needs are met. Angie keeps the individuals active and engaged in their lives. Angie has also always maintained her professionalism! Whether it's making something special the individuals want for dinner, doing special craft projects to make holiday gift for their families, going on special outings (like the Casino) or taking one of the individuals to the east side of Cincinnati to spend time with their significant other, Angie does so with enthusiasm."
Congratulations, Angie! Thank you for all that you do for the community and those you serve! We appreciate you!
Do you know an amazing DSP who deserves to be recognized for everything they do? Nominate them below! Nominations for April's DSP of the Month are due by Monday, April 10.