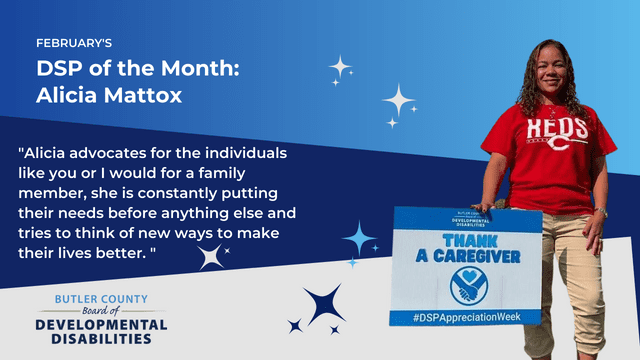 DSP of the Month – Alicia Mattox
Congratulations to Alicia Mattox, February's Direct Support Professional (DSP) of the Month! Alicia has worked for E.C.I. (Empowering and Celebrating Independence) Inc. for several years and during her time at E.C.I. she has exuded both love and dedication for the individuals she serves. Andrew McGory, E.C.I.'s Quality Enhancement Training Coordinator, has worked with Alicia for many years and says she is one of the most caring staff members he knows! Andrew had the following to say about Alicia:
"Alicia has made such a positive impact on the lives of those she provides services for. Not only is Alicia amazing with the individuals, but she is also a great co-worker who is always willing to go above and beyond to help make our team stronger and lend a helping hand. Alicia takes a lot of pride in her work, and you can really see how much she loves her job. The passion and dedication that Alicia has for this type of work is special to see. She has helped whenever and wherever we have asked her to. The pandemic has turned everyone's lives upside down and we all know the staff shortages in this field; Alicia has really stepped up to help make sure the individuals are getting the proper care and attention that they need. I think the main thing that sets Alicia apart from so many people is that she really does put the individuals first and shows how much she cares. One thing that helps Alicia is that she is very knowledgeable about this field of work, and it really shows. Alicia advocates for the individuals like you or I would for a family member, she is constantly putting their needs before anything else and tries to think of new ways to make their lives better. She is not afraid to jump right in and take on new challenges. I think in any company we have employees who we consider our 'go to' for a lot of things and I consider Alicia to be one of those 'go to' people, whether it be filling in at a home, covering a shift that another staff calls off for, working through Covid, or even a late night drive to the airport for an individual to ensure he makes it to his flight for vacation. She always steps up! Alicia's coworkers see this as well and often turn to Alicia for help, whether it be assisting with paperwork or lending a hand with an individual. Alicia is 100% a team player and is always trying to further see how us as a team (company) can grow closer and stronger for the individuals and ourselves. Our company and especially the individuals are very lucky to have a person like Alicia and I think she is very deserving of this award!"
Congratulations, Alicia! You are a such a great example of how a DSP can positively impact so many lives!
Do you know an amazing DSP who deserves to be recognized for everything they do? Nominate them below! Nominations for March's DSP of the Month are due by Friday, March 10.