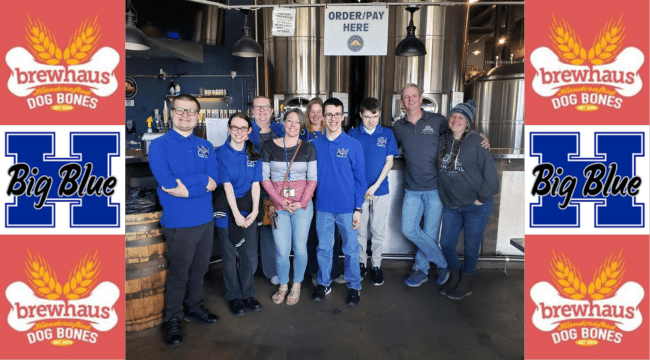 Brewhaus Dog Bones Provides Unique Vocational Training for HHS Transition Team
Many individuals with developmental disabilities (DD) and those that support them are actively seeking out employment and community integration opportunities. One of the keyways in helping provide these opportunities is by partnering with an organization that is passionate about raising awareness about the inclusion of people with DD. Hamilton High School's (HHS) Transition Team found that perfect partnership with Brewhaus Bakery and Dog Bones! Brewhaus Dog Bones is a non-profit organization that helps local young adults with disabilities who have deferred high school diplomas until age 22 and those that have graduated high school acquire job opportunities. Individuals who are a part of the organization are given the opportunity to develop vocational skills and experience project-based learning.
Brewhaus Bakery and Dog Bones was started in 2014 by Lisa Graham after a family trip to San Diego, California.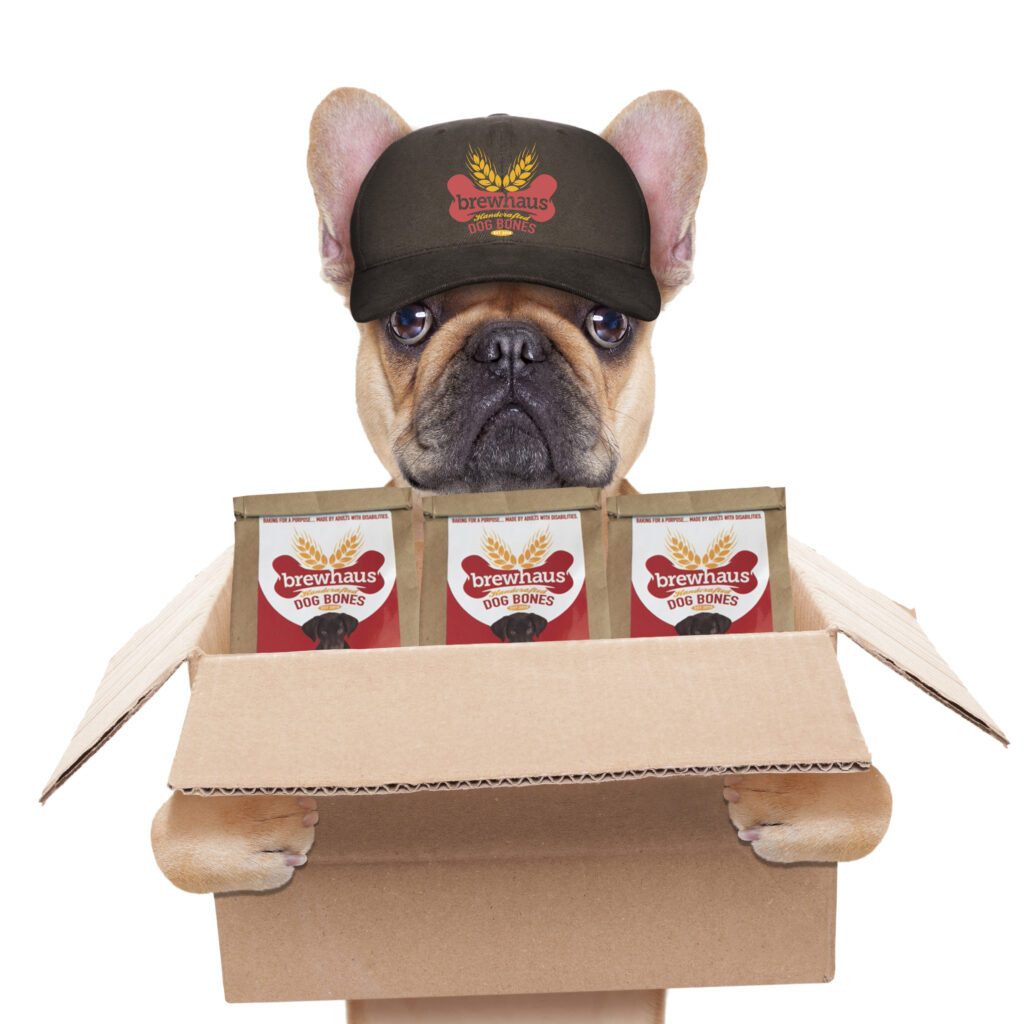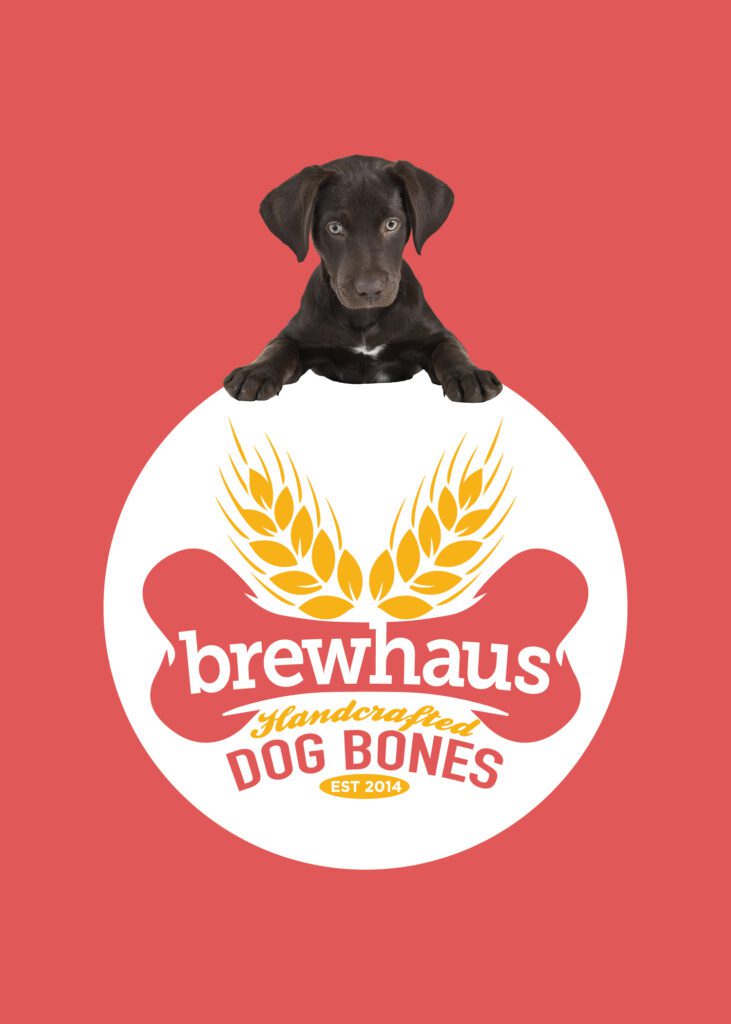 "We stumbled upon the idea of dog treats made from spent brewing grains in San Diego," Lisa said. "We knew it was a winner and what we were looking for as the concept was a combination of all things we love. My daughter, Natalie, has a rare genetic structural rearrangement and at that time needed transition services from our local school district, choosing to defer her diploma and build both job and life skills. I used to think all the time about what we could do to help create meaningful work options for her and others."
Lisa immediately got to work on creating the first commercially available dog treat made from local spent brewery grains that directly benefits people with developmental disabilities. Once she did that, she focused her efforts on creating a Brewhaus Dog Bones vocational training program that eventually grew into adult employment model that offers partnerships with local school districts.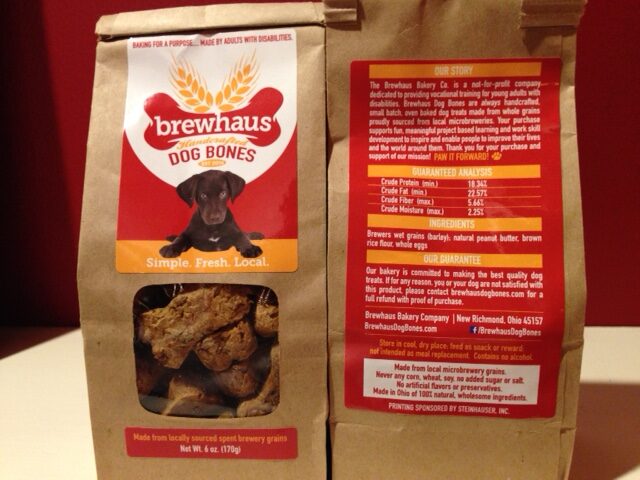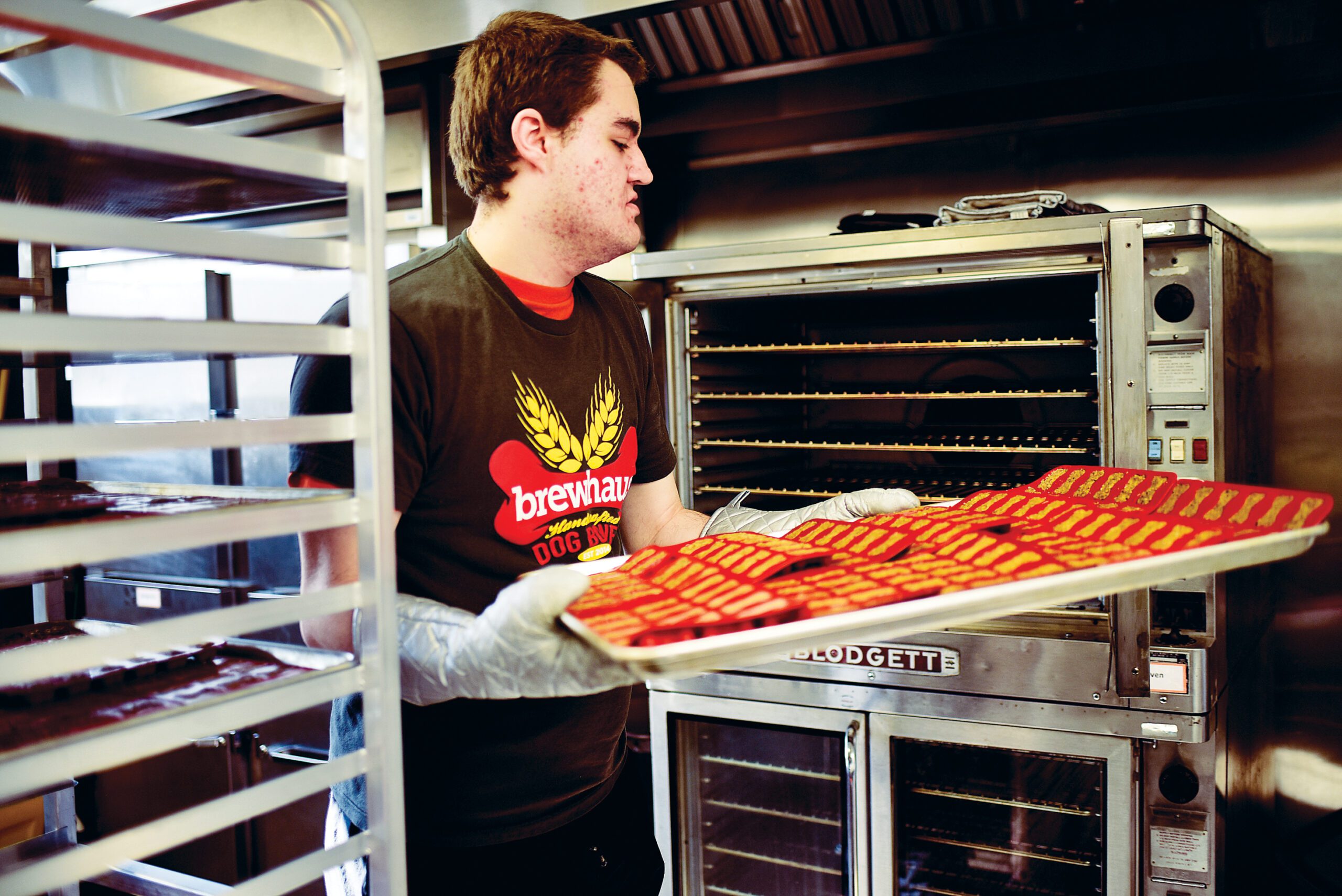 "We do both employment for our adults who are no longer connected to a school program and have graduated and continue to have a vocational training model in school transition programs led by an intervention specialist and job coach," Lisa said. "Our goal is to always help an individual with a disability have a start to finish business model where each step of the process helps reinforce academic concepts (math, reading, communication) and builds work skills for community supported employment. We also really want to inspire and help others think creatively in pursuing their own interests and business ideas. What's been left out of the conversations in the past with transition programs and dd is the idea of self-employment or entrepreneurship; sometimes that can be a good solution!"
The HHS Transition Team recognized a need for a school-based transition program like the one Lisa had created and decided to partner with Brewhaus Dog Bones 5 years ago.
"Our experience with Brewhaus has been immensely positive," the HHS Transition Team said. "We are appreciative of our partnership with Lisa Graham and Brewhaus Bones to ensure our students have this important work experience opportunity. To make this experience successful, our staff works collaboratively with many different community members. For example, we collaborate with Sean Willingham from Municipal Brew Works who provides the barley to make the bones, as well as Kerri Thompson from Mason City Schools to share information and materials when needed. We are extremely grateful for all that everyone does to support our staff and students in this endeavor."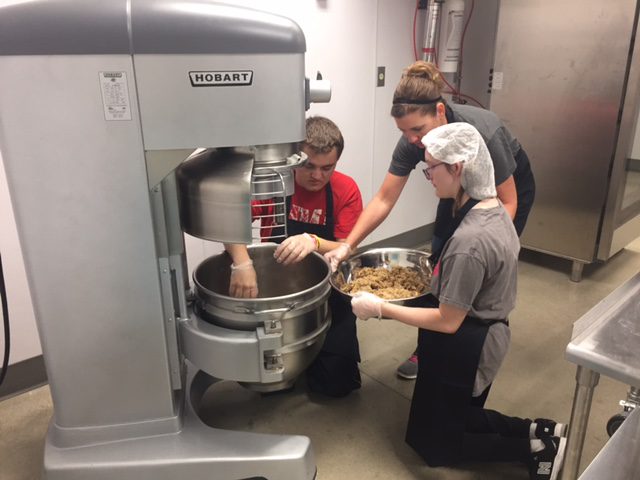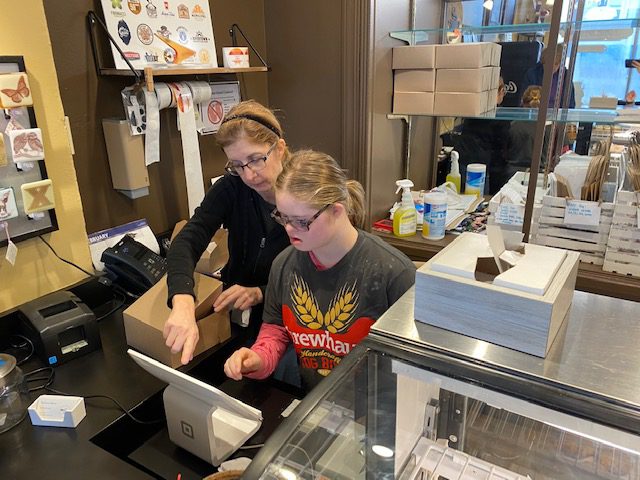 The Brewhaus Dog Bones Transition Program offers each school that partners with them the ability to tailor the program to their students' specific needs. This vocational training model has allowed the HHS Transition Team to meet each student's needs, level of functioning, and goals within the community and workforce.
"Hamilton High School has been a great partner and does a great job with their student bakers and using the program for work readiness," Lisa said. "The enthusiasm of the teachers for this unique model and the quality of instruction is what makes it a success. We truly have some of the best educators in the area who are very committed to the well-being of their students and want to help promote independence and success in the community. The breweries in Hamilton and Mason have been so wonderful to help support our bakers and programs and definitely deserve to be given credit for working so closely with us and donating grain!"
HHS's student bakers participate in all aspects of the Brewhaus Dog Bones business production from planning to sales forecasting to inventory to coordinating and obtaining spent grains from the local microbreweries. The students are also involved in the dog bones baking process using the Brewhaus recipe to make and bake the treats. After the baking process is completed, the students apply labels to the dog bone packages and process orders from the local microbreweries, school stores, individual sales, and staff community event sales. The students are heavily involved in the post selling process as well learning valuable math and customer service skills.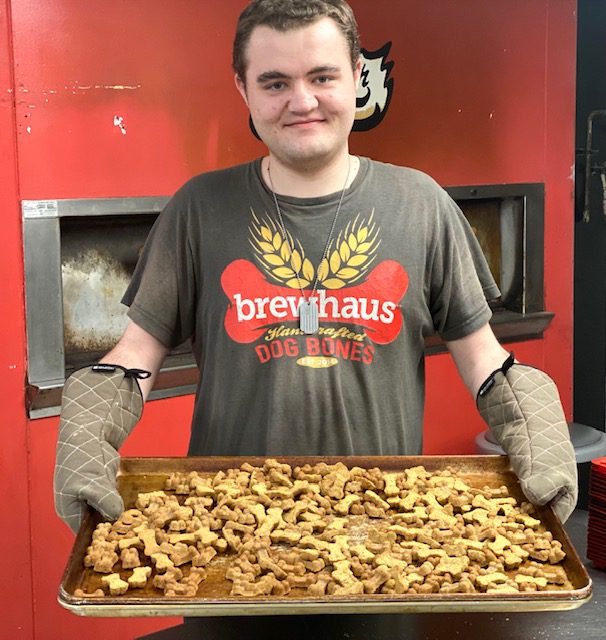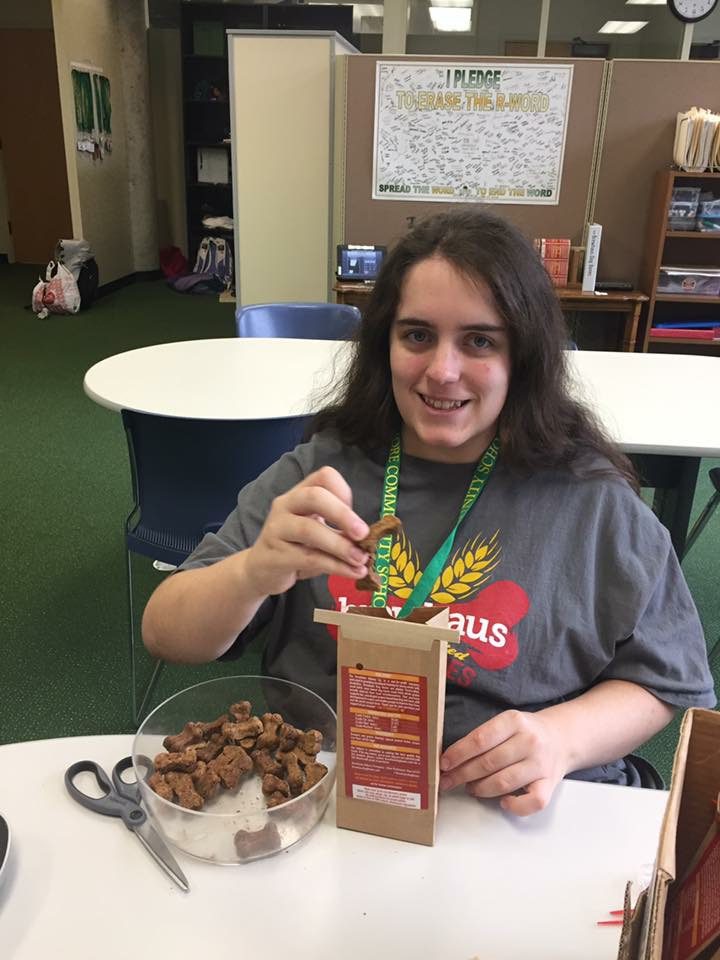 "We have seen a strong correlation in students who complete the transition-based work activities with Brewhaus Dog Bones, with increased skills in the following areas: teamwork, communication, confidence, and the ability to take ownership and responsibility for their work," the HHS Transition Team said. "Students in this program get practice counting money, working as a team to follow a process, filling orders, reading spreadsheets, depositing money at the bank, mailing products, and so much more. Working with Brewhaus Bones has been instrumental over the years in helping to prepare our students for the next step in their post-secondary goals. Students all have unique goals and aspirations for their future careers. However, no matter the goal, Brewhaus Dog Bones helps them to build the foundation for success. The skills our students acquire are transferable to other job settings."
With 15 school districts now in the Brewhaus Dog Bones transition program, Lisa says her goal is to provide lifelong opportunities in the Brewhaus Bakery while working to add a "Brewhaus Brewbus" (a food truck for dogs) that supports paid employment and can continue to be a vocational training program that partners with area microbreweries and school programs.
For the HHS Transition Team and students, the sky is the limit for the Brewhaus Dog Bones program as the students are currently selling the dog treats district-wide to all Hamilton City School staff members.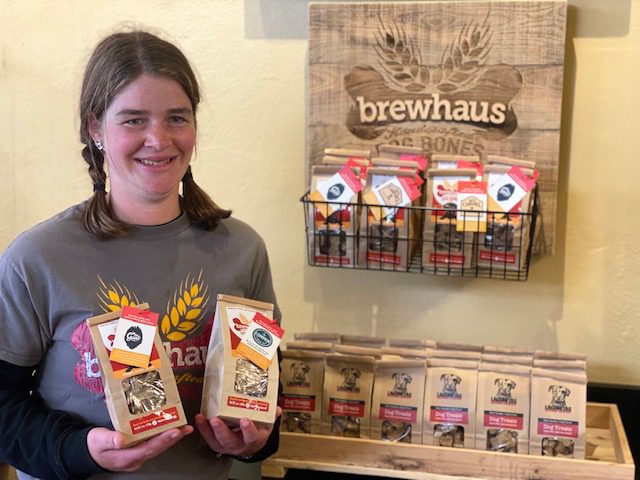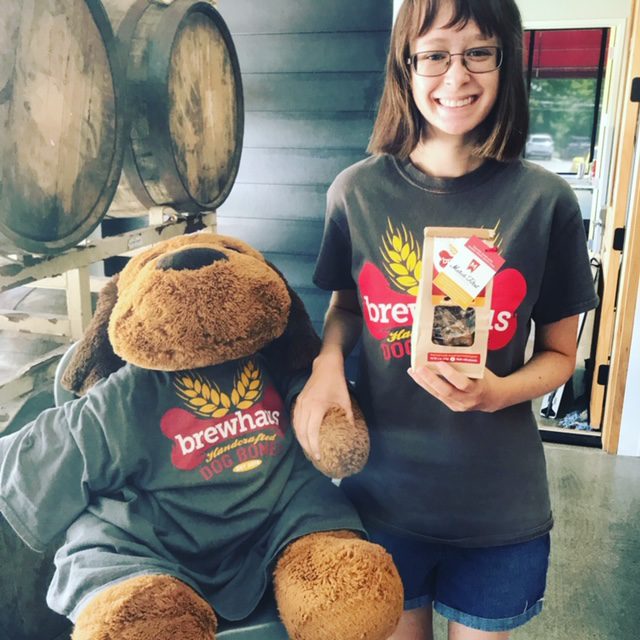 "There are many repeat customers, even standing monthly orders, as our staff is dedicated to helping provide learning opportunities for our students," the HHS Transition Team said. "In the past, we have sold bones at the HHS Football Games and other local businesses. Customers report that their animals love Brewhaus Dog Bones! Moving forward into the future we look to expand where our treats are sold."
What the HHS Students had to say About the Brewhaus Dog Bones Program:
"I like mixing the dough. I like molding and fixing bones. I like that we work as a team. It is my favorite job site!"- Austin
"I like doing bones because it is fun. I like to weigh them and put them in the baggies. I learned that working can be fun!"- Hayden
"I like that I can work with my friends and make the dough. I learned how to weigh the bones and use the scale."- Kasey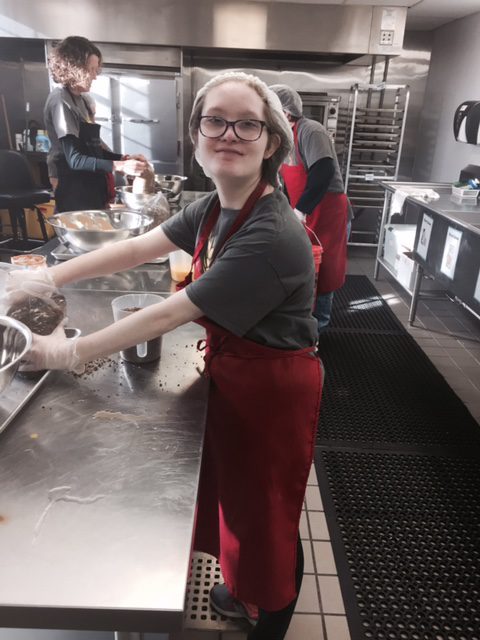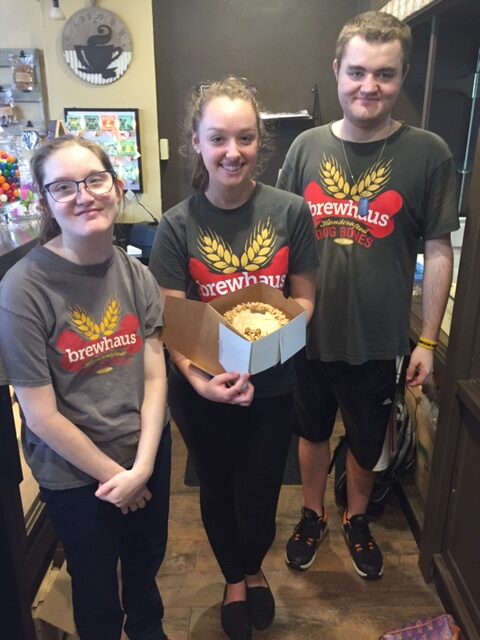 Brewhaus Bakery and Dog Bones Fun Facts
Brewhaus Dog Bones are handcrafted and slow baked using spent grains from craft breweries as the core ingredient. They are 100% malted barley with no adjuncts.
Dog Bones are made with all-natural peanut butter and locally sourced eggs with no additives or fillers.
The recipe for the Dog Bones uses brown rice flour which is healthier and less likely to cause digestive upset or allergies for dogs.
100% of all proceeds return to the program to grow for others to participate.
Brewhaus Dog Bones sells to many local vendors and private labels such as Jungle Jim's, Party Source, Graeter's Ice Cream, Lagunitas Brewing, Great Lakes Brewing, Cigar City Brewing, and Double Dog Restaurant Group.
Brewhaus supports entrepreneurship with their young adults who wish to develop their own product line whether for people or pets.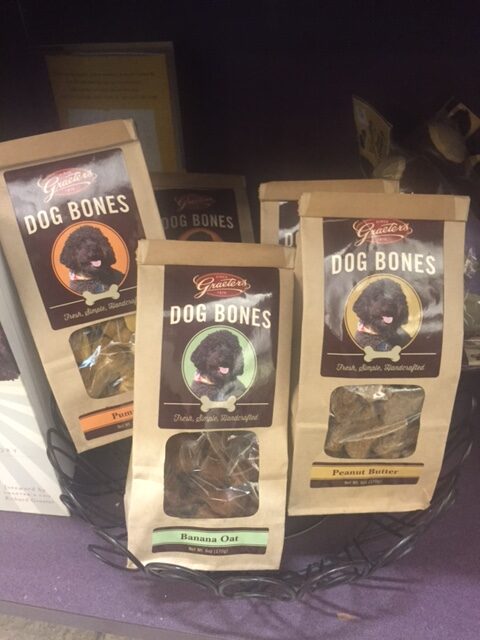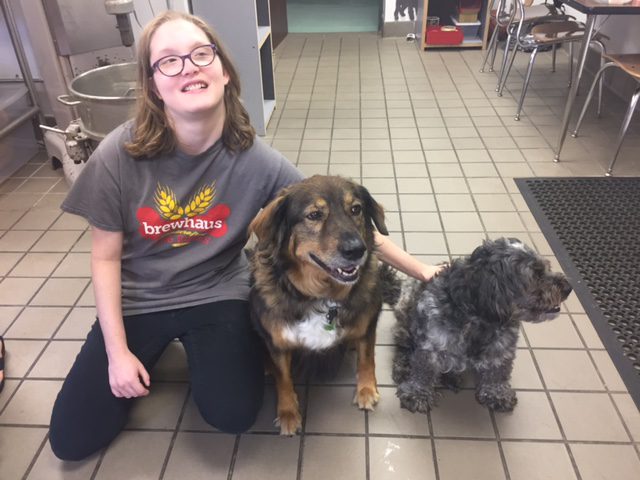 Brewhaus Bakery and Dog Bones is located at 1623 Burney Lane, Cincinnati, Ohio, 45230. Contact Lisa Graham if you or your school district would like to get involved at 513-520-0310 or lisa@brewhausdogbones.com. If you would like to get involved with the HHS Transition Team's Brewhaus Dog Bones Program contact HHS Transition Coordinator, Bridget Adams at 513-868-7700 ext. 4306 or badams@hcsdoh.org.