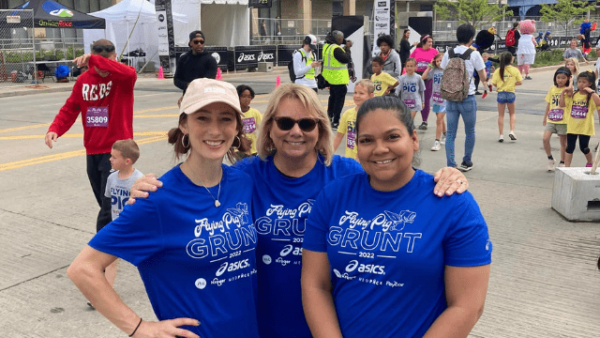 BCBDD Volunteers at the Pigabilities "Flying Pig" Race!
On Saturday, April 30, hundreds of people with developmental disabilities gave it their all in a 1-mile "Pigabilities Race" at The Flying Pig in downtown Cincinnati, Ohio! The Butler Country Board of Developmental Disabilities had several volunteers present at the race that kicked off at noon.
Many runners from across the United States come to Cincinnati just to participate in the Flying Pig Marathon as well as take in the memorable atmosphere. For the Butler County Board of Developmental Disabilities (BCBDD) employees, there is one race amongst the races that the Flying Pig has to offer that is not only the most important but also the most heartwarming; the "Pigabilities" Race.
Pigabilities is "a movement for inclusion that supports families and friends who live with disabilities." The Pigabilities races stretches out one-mile and allows participants and their supporters to run, walk or roll at their own pace with the goal being to cross the official Flying Pig "finish swine," just like everyone else. Each participant that crosses the "finish swine" is awarded a medal, a shirt, a poster, and a Flying Pig drawstring bag.
BCBDD's Community Connection Coordinator Connie Mehlman and her husband Ted, SSA Somayris Pinacho and her family, and Public Relations Coordinator Cassie Mattia volunteered for the Pigabilities Race so that they could cheer on those that inspire them every day! This year the Pigabilities Race increased participants from 76 to 476 making the event that much more special for all those involved.
There were so many beautiful moments during the Pigabilities Race on Saturday that Cassie Mattia decided to create a video so that all those that couldn't make it to the race could feel the joy our volunteers felt as each person crossed the finish swine! Click below to watch the Best Moments of the 2022 Pigabilities Race!
To catch the latest BCBDD stories and videos follow us on Facebook, Instagram, Twitter, and YouTube!