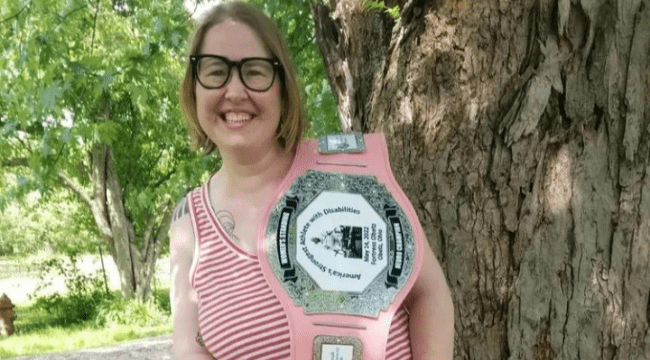 A BCBDD SSA Participates in America's Strongest Athlete With Disabilities!
Ever flipped over a tractor-tire bare-handed? One of our employees, Kelly Studebaker, has! And she's done it with one hand!
Athletes come in all shapes, sizes, and abilities! Many athletes are often forced to deal with many obstacles whether it be mentally or physically that at times can make reaching their own personal goals challenging. Butler County Board of Developmental Disabilities (BCBDD) Service and Support Administrator, Kelly Studebaker is no stranger to overcoming challenges as an athlete as she recently competed in America's Strongest Athlete with Disabilities despite the many roadblocks she has had to face.
"There was one time 9 years ago where someone told me I could not flip over a tractor tire because I only had one hand. I am full of adventure and stubbornness," Studebaker said, "I was born with a weak blood vessel in my brain. When I was 11 years old that blood vessel got tangled up in other blood vessels and I had a cerebral hemorrhage because an AVM (arteriovenous malformation) caused oxygen to be cut off from my brain which caused a stroke. After 2 brain surgeries, I was left with a right side that was paralyzed, my speech was non-existent and many learning disabilities I had to face. Now I walk with an uneven gate and my right arm just chills out."
Studebaker explained that both her spunk and sass have given her a winning perspective: "I'm going to prove everyone wrong when they say I CAN'T do it," she said. This same attitude led Studebaker to focusing on being strong enough to flip over a tractor tire with one hand.
"Now flipping over tires one-handed has become part of my lifestyle! I like to lift heavy things, and maybe it is the farm girl, Preble County running through my veins. I'm fortunate that I didn't die when I was 11, and the achievements I've achieved so far have been humbling, to say the least," Studebaker said.
On Saturday, May 14 in Obetz, Ohio, Studebaker competed in a competition she always dreamed of being a part of; America's Strongest Athlete with Disabilities!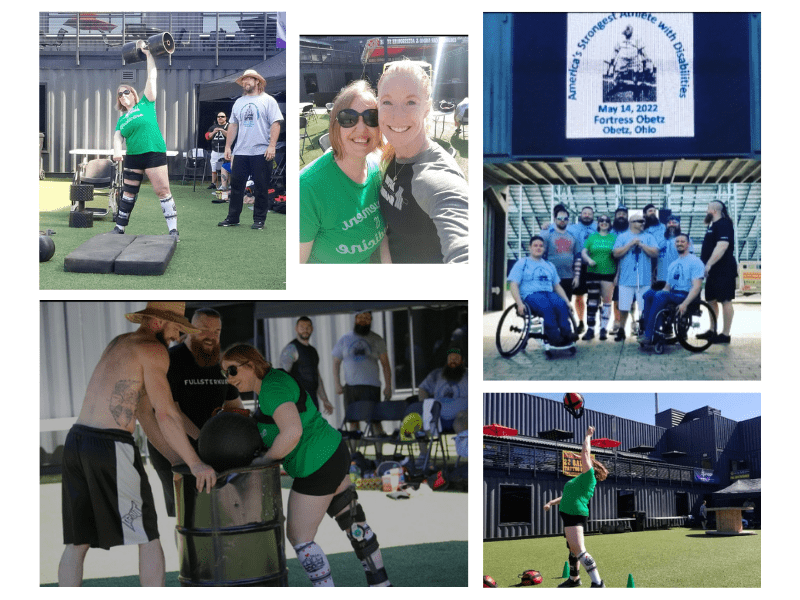 "I competed in the circus dumbbell press, sandbag throw, deadlifts, atlas stone pick up, and the truck pull. Mandi Hart was my coach through the competition. She has a background in physical therapy, and she has been my friend for nine years. I came to Eaton Barbell in Eaton, Ohio to see if the gym could make me strong enough to lift a tractor tire with one hand," Studebaker explained. "She was there to help me out and through the years of my competitive powerlifting and now strongman activities she has been there to cheer me on. Movement is medicine and I'm just thrilled that I got the chance to be with these strong competitors and friends to be in this event. I'm just delighted that I'm just a woman with adventure coursing through my veins that just picked up a 100 lb. stone for the first time with two straps as help to lift the stone onto a barrel with one arm at that competition."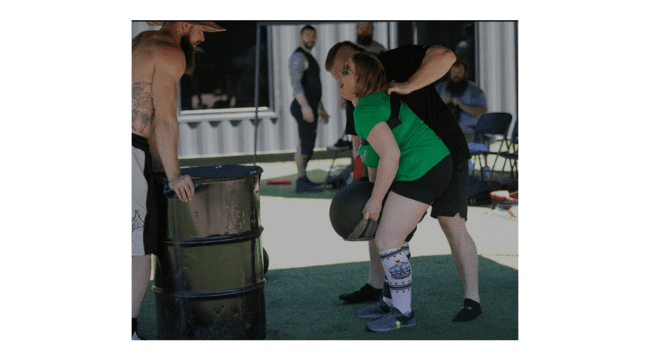 Studebaker hopes that through her example more people with disabilities will get the confidence to do what she is doing.
"If I have a weight I can't lift then I go through the process of getting to the point where I can lift the weight. This is my jam. I've failed tons of times, yet the moment I can lift the weight this makes me get a huge grin on my face and I'm loving every minute of the process. The great coach, Woody Haynes says, 'You win with people,' this is the truth," Studebaker added.
Congratulations Kelly for competing at such a high level in America's Strongest Athlete with Disabilities! We are so proud to not only have you within the BCBDD organization but also as a role model for athletes with disabilities!