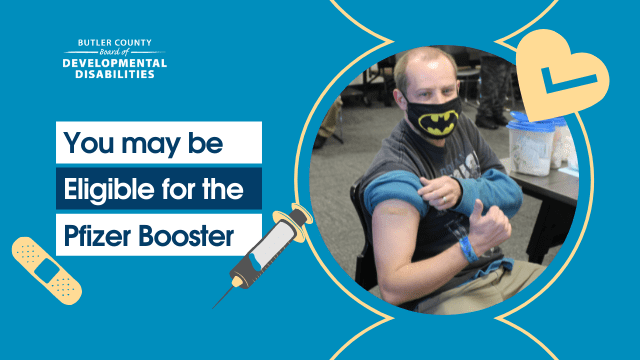 You may be eligible for a booster dose of the Pfizer Vaccine
Many people with developmental disabilities and their caretakers who are fully vaccinated with the Pfizer vaccine are likely eligible for a booster dose. You can access a booster at your local pharmacy or talk to your doctor.
The Butler County Board of Developmental Disabilities is not hosting vaccine clinics.

The Ohio Department of Health has issued guidance on the Pfizer vaccine booster dose, which has been approved for certain individuals to prevent serious outcomes from COVID-19. It is important to note, the Pfizer vaccine booster is not the same as the third dose for immunocompromised individuals who meet specific criteria. Speak to your healthcare provider to learn more about your options.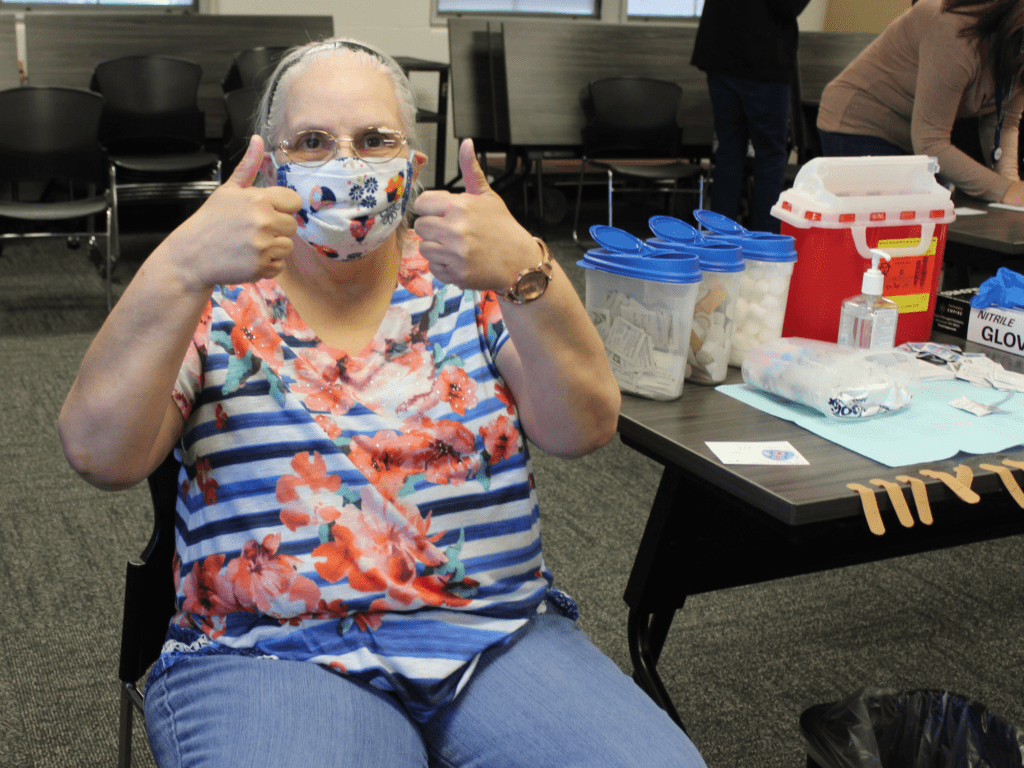 Who is eligible for the Pfizer vaccine booster:
People 65 years and older or residents in long-term care settings should receive a booster
People 18 and over who are at an increased risk of exposure/transmission because of their job or living in an institution may receive a booster.
People 50 – 64 with certain underlying medical conditions (outlined below) should receive a booster
People 18 – 49 with certain underlying medical conditions may receive a booster.
Those underlying conditions are:
Cancer
Chronic kidney disease
Chronic lung disease including COPD, asthma, interstitial lung disease, cystic fibrosis, and pulmonary hypertension
Dementia or other neurological conditions
Diabetes
Down syndrome
Heart conditions including heart failure, coronary artery disease, cardiomyopathies, hypertension
HIV infection
Immunocompromised state (weakened immune system)
Liver disease
Overweight and obesity
Pregnancy
Sickle cell disease or thalassemia
Smoking (current or former)
Solid-organ or blood stem cell transplant
Stroke or cerebrovascular disease, which affects blood flow to the brain
Substance use disorders
Your mental health is just as important as your physical health. If you or a loved one are experiencing anxiety related to the coronavirus pandemic, help is available 24 hours a day, seven days a week. Call the COVID-19 CareLine at 1-800-720-9616.