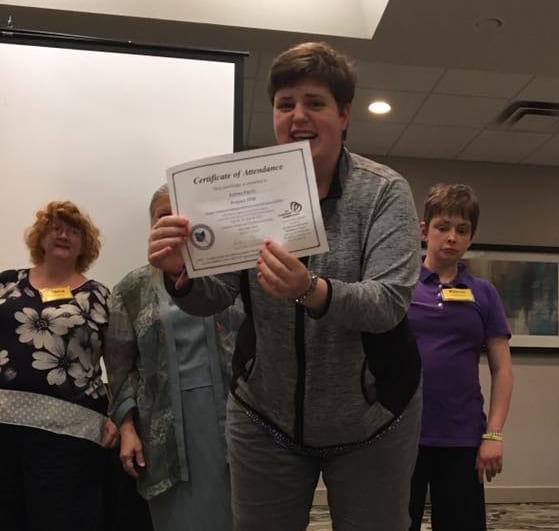 Project STIR empowers Self-Advocates
Speaking in front of a large group was something Philip wouldn't have even considered before this past summer, but the audience of BCDD board members at their September meeting would have never guessed it. He even helped lead a group of audience volunteers through a roleplaying exercise meant to showcase some of what he and his fellow Project STIR participants had learned this past July.
Self Advocates Philip, Ashley and Morgan participated in the annual leadership training program thanks in part to funds granted by the Board. Lee Ann Emmons, Community Resource Coordinator, who accompanied the group alongside Support Coordinator Darren Corns, says the results are more than she could have hoped for. "I get choked up just thinking about the progress they've made," she says.

STIR stands for Steps Toward Independence and Responsibility, as Board members learned through the PowerPoint presentation presented by the group. Topics at the 3-day conference included a broad range of valuable subjects: self-advocacy, leadership, planning in the short and long term, communication skills, self-awareness and reflection, legal rights and responsibilities, the history of disability services, and a problem-solving strategy called the Spiral Model.

While the presentation was brimming with information and an impactful tool for informing the Board about the training experience, it was a roleplaying exercise that had Board members beaming. The group involved a few Board members in the process. The exercise featured "Jane," who experienced a situation where she needed to employ better self-advocacy skills to assert herself about her employment choices. Board member Tony Yocco remarked afterward that he found the exercise relatable. "We tend to 'talk over' and 'through' people," he said, "and I think part of that is we as parents and responsible adults need to remember that respecting the dignity of others is very important."

Emmons says Project STIR was 'worth every penny.' "They not only learned a lot, but already they are demonstrating these skills," she says. "I've known them for a while, and to see their growth and their autonomy… it's truly incredible."

Reflecting on the three-day adventure, Ashley remarked on how much she enjoyed the social aspects of the conference. "We did skits, I made new friends, and we got to go out to dinner on a mini-bus," she said.

Morgan said, "I loved we were able to meet new people because of the different groups we broke into and how the presentation and the training were by people who also have developmental disabilities. I thought that was phenomenal."

The group also talked about the excitement of participating in a graduation ceremony and receive a certificate at the end of the training. "Now we are able to train others," Morgan said.

Philip said that while he was a little nervous, the experience 'wound up being good.' He said he felt comfortable during the conference, which took place during his birthday.

Darren said the opportunity for participants to develop friendships in a wider scope was a big benefit. For instance, both Ashley and Morgan are still in touch with friends they made at the conference, with plans to get together soon.

The group will join up with another group of Project STIR graduates to train the next generation of Project STIR leaders.

Lee Ann said the Project STIR experience was unlike any other she'd seen. "To watch the change over the three days, the commonality –the self advocates could see others like them, and we could learn so much from each other, like how you can share your talents and gifts and how to feel comfortable in a group."

"Where do you find that out in the world?" she asks.