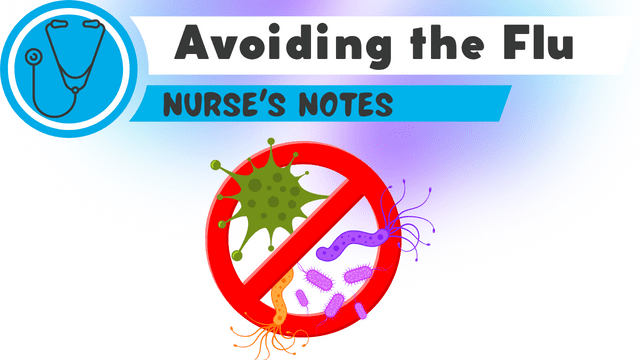 Nurse's Notes: Avoiding the Flu
Every month, our staff nurses share important health updates. This month, we'll learn about avoiding the flu!
Influenza season is underway! In the United States, the flu is detected year-round, however it peaks and is most common in the fall and winter months according to the Centers for Disease Control and Prevention (CDC).
What is Influenza?
Influenza (the flu) is a viral infection that attacks the respiratory tract including nose, throat and lungs.
How does the flu spread?
Most experts believe the flu viruses are spread by the tiny droplets made when people with the flu cough, sneeze, or talk.
What are flu symptoms?
Flu symptoms can be mild to severe and at times, can lead to death. Keep in mind, that even though flu symptoms might be similar to the common cold, it is very different. The flu usually will come on suddenly. Symptoms may include one or all of the following: fever, sore throat, runny nose, muscle and body aches, headache, and fatigue.
Tips for preventing the flu
Receiving the FLU VACCINE.
While CDC recommends getting flu shots before the end of October, getting a late flu shot can be better than not getting one at all. The flu vaccine is the single best way to prevent the flu and any related complications.
Please plan early to receive the flu vaccine if able. If you need assistance finding a place to obtain the vaccine, you can contact your medical provider, the county board QA nurses, or your local health department. Free vaccines are also offered by some health departments, insurance plans and pharmacies.
Covering up coughs and sneezes
Stay home when ill and stay away from others that are ill.
Wear a mask when ill and/or during the flu season
Wash your hands frequently
Wash your hands with soap and water for at least 20 seconds. You can sing the Happy Birthday Song while you scrub.
Clean surfaces and disinfect areas that are touched frequently
Focus on areas that are frequently touched like doorknobs, handles, and tables,
Avoid directly touching your eyes, nose and mouth
Facts
Ohioans with developmental disabilities were hospitalized 799 times for flue and pneumonia in 2020. This number accounted for 13% of all unanticipated hospitalized or MUI's.
Individuals with developmental disabilities may be at a higher risk for the flu due to chronic lung conditions like asthma, emphysema and chronic bronchitis. In fact, nine out of 10 folks hospitalized with the flu had at least one underlying health condition.
Let's all work together and do our part to stay well and help keep others healthy!