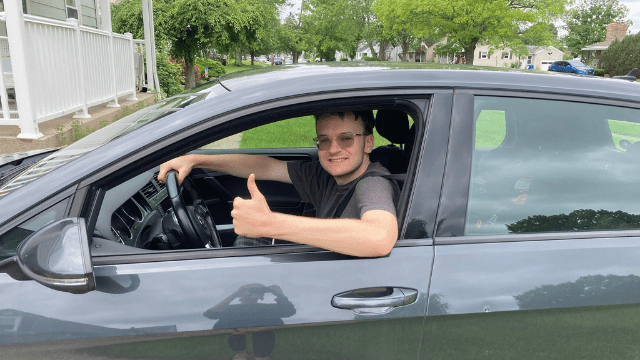 Nick's journey to getting his license
Let's hear it for Nick who just got his driver's license!!!!
His mom, Lisa, is a family focus special for the Board. She shared her perspective on Nick's journey to getting his license: Nick has been an employee of Miami University since he was 18 years old and has relied on transportation to get back and forth to work. Nicks' first attempt to get his license at 20 years old, did not pan out. Nick was very discouraged and didn't think driving was possible. As the years went on, the cost of transportation began to rise and the time Nick was spending before and after work on transportation was adding hours to an already long and hard workday.
As a parent, I didn't know what to do and Nick felt helpless and not in control of his day-to-day life.
After exploring many alternative transportation options to no avail, Nick and his team decided to try one more time to get his license. Nick was determined to make driving his goal for 2022. He rewrote the entire training manual by hand and studied it every day.
With the help of Capabilities, and their amazing staff, Nick passed his written exam and got his temporary license. His sense of accomplishment and pride was captured in his photo.
I had never seen Nick so happy.
I was told it would take many months of training before Nick would be ready for the driving portion of the exam but to everyone's amazement (even Nick's) he did quite well. The test was scheduled ahead of time and he succeeded. Nick called me and said "I got my freedom." Nick's path to independence started when he was in Early Intervention and continues to this day. I know he is grateful for all of the support he received from the County Board to make this goal of his a reality. I think about all of the people we serve that face barriers in their daily lives, who look to us for help and support. Nick is one of many and it isn't everyday that dreams actually come true. If your reading this then know that the work you do matters because the small bits we all contribute add up. Nick surely will be seen driving in his "bat mobile" and living his best life.