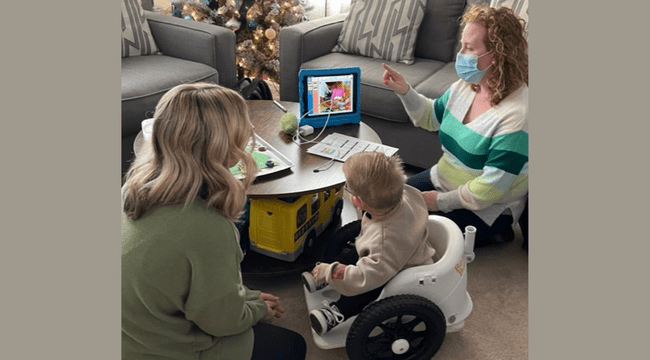 New Communication Devices Give Children a Chance to Find Their Voice
Since the inception of Ohio's Technology First Initiative, new and improved devices that help with two-way communication or provide step-by step assistance has helped many families and individuals with developmental disabilities overcome daily obstacles. For children with developmental disabilities, communication devices are often one of the most important parts of their growth and development. Butler County Board of Developmental Disabilities (BCBDD) Early Intervention Speech-Language Pathologist, Bree Lanham, began learning about Augmentative and Alternative Communication devices in college and knew that with her expertise she could implement what she had learned into the BCBDD Early Intervention program and immediately impact the children and families a part of the program.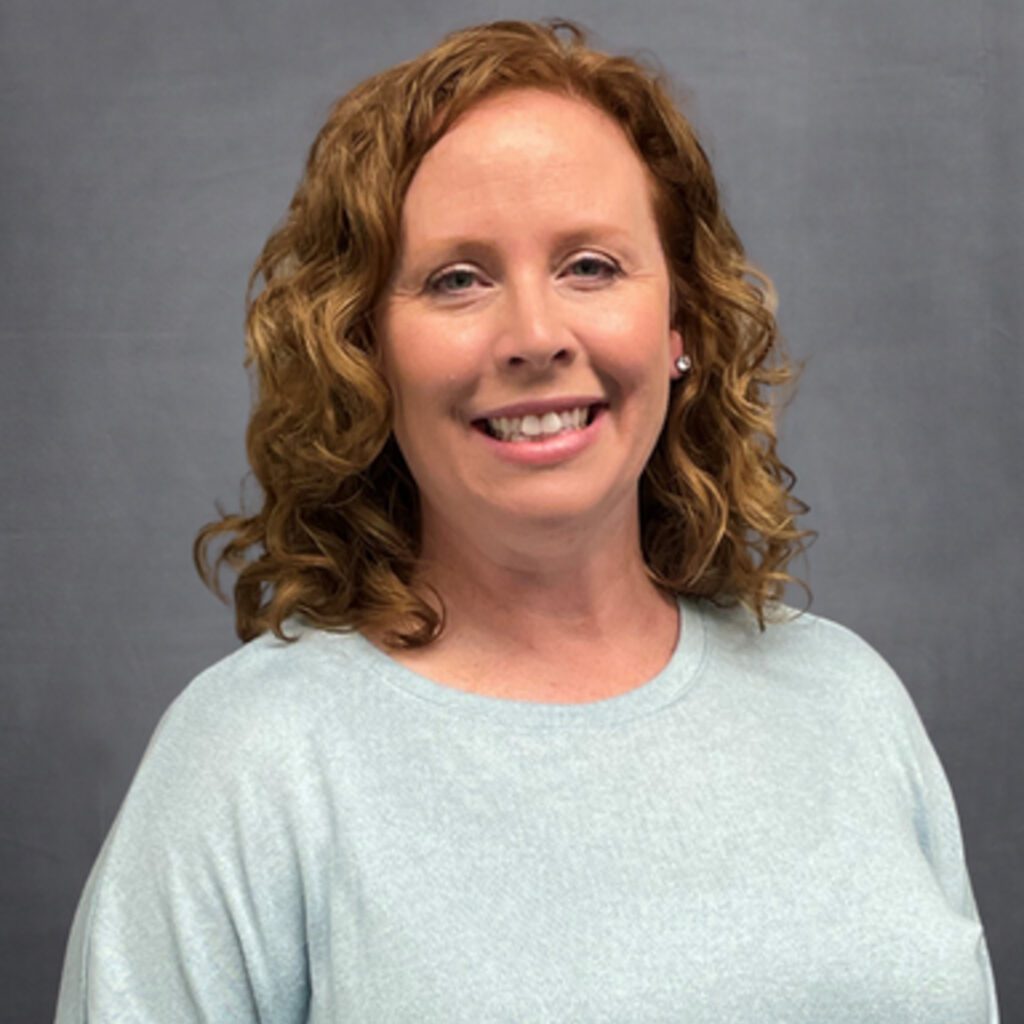 "Since joining the board, I saw an opportunity for increasing awareness of Augmentative and Alternative Communication (AAC) to be used in Early Intervention. There are many myths associated with using AAC in young populations and I really wanted to make it my mission to reveal the truth about AAC and how it can benefit birth to 3," Bree said.
Bree, who has been an Speech-Language Pathologist (SLP) for 14 years, began learning about low-tech and high-tech AAC devices at Arizona State University where she gained her degree in Communication Disorders (Speech Pathology). Bree's undergraduate degree in Special Education allowed her to explore the world of AAC devices and use various forms of the devices to give the children she worked with access to language surrounding curriculum in the classroom. "I've lived all over the US and had experience working with families and children not only in Early Intervention (EI), but schools and clinics as well. I have found that the earlier a child has access to a robust system of communication, the earlier they can begin integrating their skills with family and friends across environments and building lifelong relationships," Bree said.
What is an AAC device?
Augmentative and alternative communication encompasses the communication methods used to supplement or replace speech or writing for those with impairments in the production or comprehension of spoken or written language. In simpler terms, AAC means ALL of the ways that someone communicates besides talking. Anyone at any age can use AAC to help with speech and language skills. AAC devices fall into two categories, no or low-tech, meaning a physical aid or tool is not required, and high-tech, which utilizes technology. No or low-tech includes gestures and facial expressions, writing, sign language, drawing, spelling words by pointing to letters, and pointing to photos, pictures, or written words. High-tech most often uses an app on an iPad or tablet to communicate. High-tech may also include using a computer with a speech-generating device.
Who should use AAC devices?
AAC devices work well for children who are pre-verbal, those with developmental delays such as Autism or Down Syndrome as well as children who are difficult to understand such as those with severe phonological impairments or Childhood Apraxia of Speech. High-tech AAC devices allow children to build on their language skills; quickly going from single words to short sentences in a matter of months. High-tech AAC devices gives children a voice to request their favorite food, favorite toy or to tell their parents and caregivers about an important need or want. AAC devices can be a huge help to kids who are learning verbal speech alongside their device and promotes speech and language development.
Bree quickly recognized the need for AAC devices in the BCBDD EI program and as a result of her efforts, the EI department procured several iPads with five apps (Proloquo2Go, TouchChat, TD Snap, Snap Scene and Cough Drop) to use for expressive communication. The iPads are available through a budding lending library for EI families to now learn the possibilities of what is out there and how AAC devices can help their child develop and grow to the best of their potential. Since the introduction of AAC devices to the EI program, the Butler County Educational Service Center has provided an additional 8 iPads to help grow the lending library.
"It's great to work for an organization where employees feel empowered to reach out when they see a need. Bree approached us with an opportunity to enhance our services to the children we serve. Of course, we quickly made that opportunity a reality for our families and can now add AAC as another option for our families," said Sherry Dillon, BDBDD Community Services Director.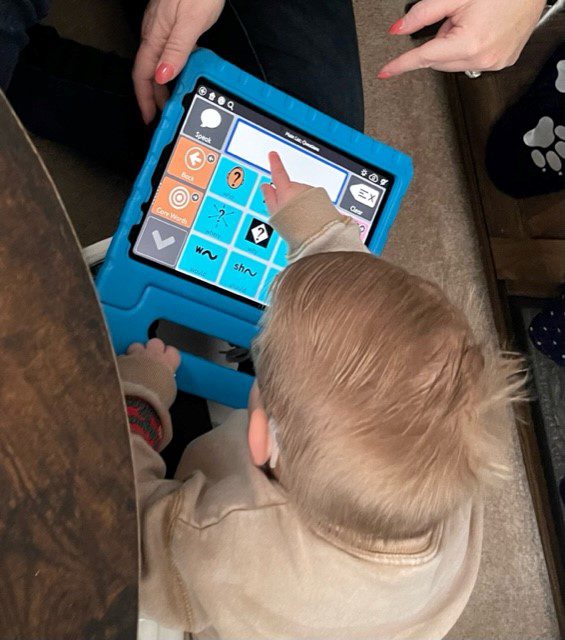 BCBDD EI Therapists are trialing the AAC apps with several kids in the EI program to use across daily routines such as playtime and mealtime. "Our plan is to figure out which app best fits their needs and work to complete an AAC Evaluation to provide these children with permanent devices to supplement expressive language. I feel that all children should have access to robust language from an early age to promote developmentally and/or age-appropriate communication skills," Bree explained.
The use of AAC devices in the BCBDD EI program has already begun to make a huge difference in Kasey Davis' life, whose 3-year-old son Connor is using an AAC device to model language.
"Having access to the device has been amazing for our family," said Kasey. "It's allowed our son to explore expressive communication in new ways we didn't think was possible. Although we are still learning the different apps, he's picking it up quickly and is engaged when using it. Having a 'tailor made' device that we can customize to our needs has made the experience even better. We're so grateful for the opportunity to work with the program and use the device as a tool for our son."
The benefits of AAC can be endless when introduced early on, according to Bree.
"Our Early Intervention program is unique. We have access to low and high-tech AAC for all children. Families will need to work with their therapists to obtain the right fit and explore all options. Typically, a child will be working with a therapist for a period of time to determine the best fit for AAC. High-tech AAC devices can and should be implemented early but are often not the first strategy or system that we use. This may be due to various factors including need or fit for the family and child. Essentially, it's a complex process of determining what is the best fit for a child and family long-term. This is why a family's Speech Language Pathologist should work together with the family to determine the most appropriate fit that meets the current need and also allows the child to push to the next level of development," Bree said.
Bree says that when working with a SLP or therapist it is critical in determining the need for high-tech devices as not all children and families will need them. "Asking your SLP or therapist questions is the best way to learn more about what we have to offer and which program on the device will fit their needs. It's also critical to work with your therapist to learn the device and how to implement it in daily routines to reduce device abandonment long-term," Bree added.
AAC devices can lead to other benefits in a child's future!
According to AssistiveWare.com, AAC devices can offer a child many social, physical, and emotional benefits including:
stronger friendships and deeper relationships
richer, more frequent social interactions
deeper social roles
increased autonomy and decision-making power over their own life
increased independence
more respect from others
greater participation in their family lives and communities
improved information sharing with physicians
improved personal safety in a variety of care settings, such as hospitals or long-term facilities
more employment and volunteer opportunities
improved physical and mental health
With the implementation of AAC devices in the BCBDD EI program and the proven success rate with families currently trialing the devices, BCBDD Superintendent, Lisa Guliano couldn't be happier about offering more assistive technology options to children and families.
"I appreciate Bree's initiative in pursuing use of Augmentative and Alternative Communication as an option for children and families being served through Early Intervention," Lisa said. "These efforts align with our statewide Technology First plan and our agency's goal to increase the number of people using assistive technology across the lifespan. I'm excited to see the outcomes for children and families as they explore the options available."
The new BCBDD AAC system in the EI program is something Bree believes all organizations that serve children with communication delays and disorders would benefit from. "All children should be provided a system of communication as early as possible, and this can range from pictures and signs to a high-tech device," said Bree. "I've always felt that my job as an SLP is not to 'make a child talk' but to teach a child to communicate and AAC is another tool in my toolbelt that can support a child in their development of communication skills."
AAC Myths vs. Facts
Myth: Using AAC or high-tech device will prevent a child from talking. Fact: Using AAC or a high-tech device can help to promote verbal speech.
Myth: AAC is a "last resort" in speech-language intervention. Fact: There are no pre-requisites for providing AAC and it can be used in tandem with traditional speech-language intervention.
Myth: Only children with certain cognitive abilities will benefit from AAC or high-tech devices. Fact: No, the opposite is true. Emerging research is showing that devices can actually promote communication and cognitive development including increasing social skills, facilitating communicative intent and aiding in learning symbolic representation.
Myth: Children need to trial low-tech devices before high-tech devices such as PECS. Fact: There are no pre-requisites for providing a robust system of communication. Each child should be evaluated independently and provided access to the system of communication that will grow with them. Speech-Language Pathologists specialize in assisting families with making these decisions.
To find out more about access to BCBDD AAC devices through the EI program contact your Developmental Specialist or email info@butlerdd.org.