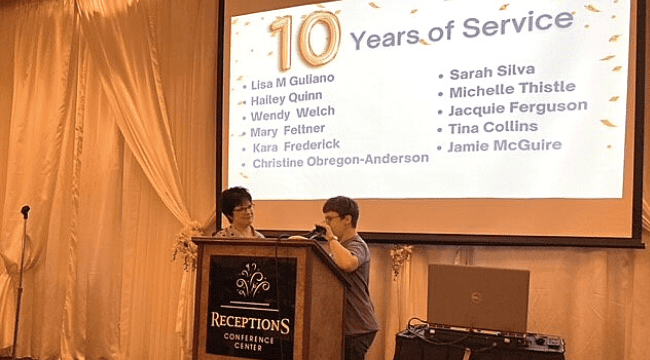 Milestone Achievements are Celebrated at the Annual All-Staff Meeting!
There is something to be said about longevity within the workplace and the Butler County Board of Developmental Disabilities (BCBDD) couldn't be prouder of creating an environment where our employees dedicate years of service to the greater good. That's why we're honoring our staff who are celebrating a milestone work anniversary in 2022. This year, we had about 30 employees to celebrate work anniversaries ranging from 5 all the way to 30 years of service!
On Friday, May 13, our entire organization came together for the 2022 All-Staff Meeting which was held at Receptions in Fairfield. In addition to all of the fun team-building activities and inspirational guest speakers, our superintendent, Lisa Guliano, announced the recipients for the Milestone Awards while Connie Mehlman, Community Connections Coordinator, presented each award winner with a beautiful piece of art from InsideOut Studio.
Each staff member that received a Milestone Award is listed in the slideshow below. You may also read a list of the Milestone Award recipients at the bottom of the page.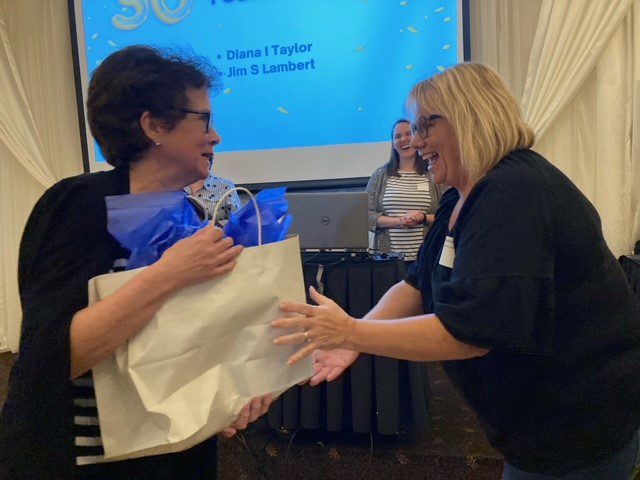 The 2022 Milestone Award Winners are as follows:
5 Years
Alyssa Smith
Amy Winkler
Elizabeth Grove
Amanda Marcum
Stephanie Lynch
Hayley Michael
Shawna Holston
Jodi Stockhoff
Deneen Trombetti
Cathy Borders
Kimberly Grimes
Linda Settle
10 Years
Lisa M Guliano
Hailey Quinn
Wendy Welch
Mary Feltner
Kara Frederick
Christine Obregon-Anderson
Sarah Silva
Michelle Thistle
Jacquie Ferguson
Tina Collins
Jamie McGuire
15 Years
Christa Cooper
Jenny Vogelgesang
Dawn Hamblin
Jeff Hamblin
20 Years
Kellie Kist
Valita Hurst
Sherry Dillon
30 Years
Diana I Taylor
Jim S Lambert
We would like to extend a congratulations to all those that received a Milestone award! We appreciate the dedication and passion that all of you bring to the BCBDD and those that we serve within the community!
To stay up to date on all things BCBDD follow us on our Facebook, Twitter, Instagram, and Youtube!