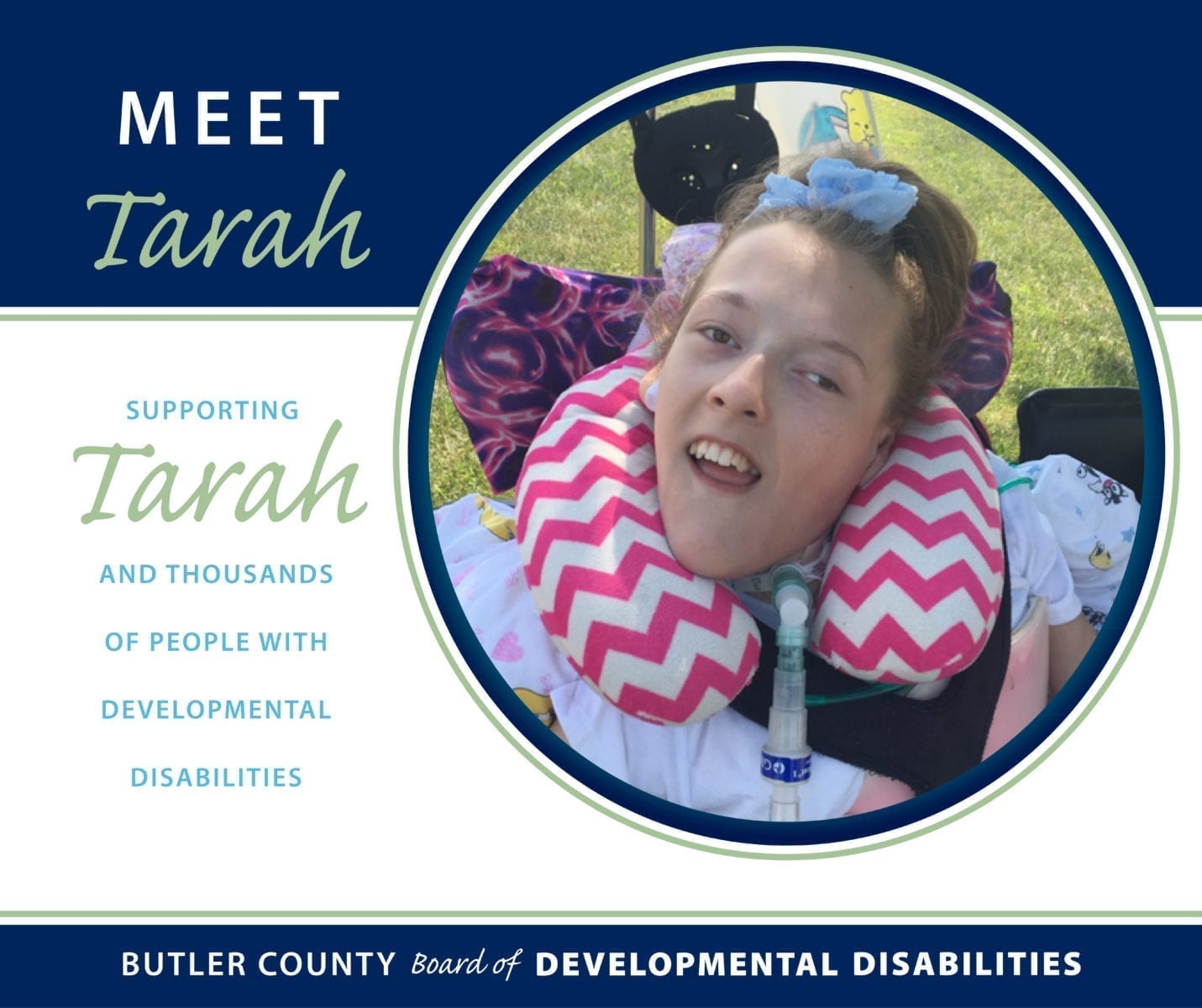 Meet Tarah!
Tarah loves to attend school, pick her own movies and she enjoys visiting local attractions like Krohn Conservatory and Newport Aquarium. She also loves to be read to, to take walks, and she holds strong feelings about her fashion choices!
She can often be found creating pictures on her Doodle Bug – her artwork is proudly displayed on the refrigerator. Mostly, Tarah is a people person. She loves to be a part of the group and treasures family time. Since Tarah is unable to speak, her parents rely on body language to determine how she is feeling.
This brings with it unique challenges, but through it all, her mom Sandy says Tarah is an extremely happy person who loves to spend time with family and friends above all else.

Tarah's family has received support from the Butler County Board of Developmental Disabilities to modify their home to aide in Tarah's mobility. A wheelchair lift allows Tarah to take part in family activities all over the house so that she can always be included.

Tarah's mom Sandy says it is important for people who have loved ones with disabilities in their families to realize the importance of advocating for them.
"I advocate for Tarah and make sure we have all the tools and equipment that she needs," Sandy said. "You can't wait for things to fall in your lap – you need to ask. Supports are available to help you take care of your loved one the way they need to be taken care of – the way we would want to be taken care of."
This story is a part of a series of Spotlight Stories we're posting here on our website and also on our Facebook page, our LinkedIn page and our Instagram account. The Spotlight Stories introduce you to some of the people we support: you can learn more about their every day lives and their successes, as well as learn about the services our Board offers. Check out the other Spotlight Stories here.