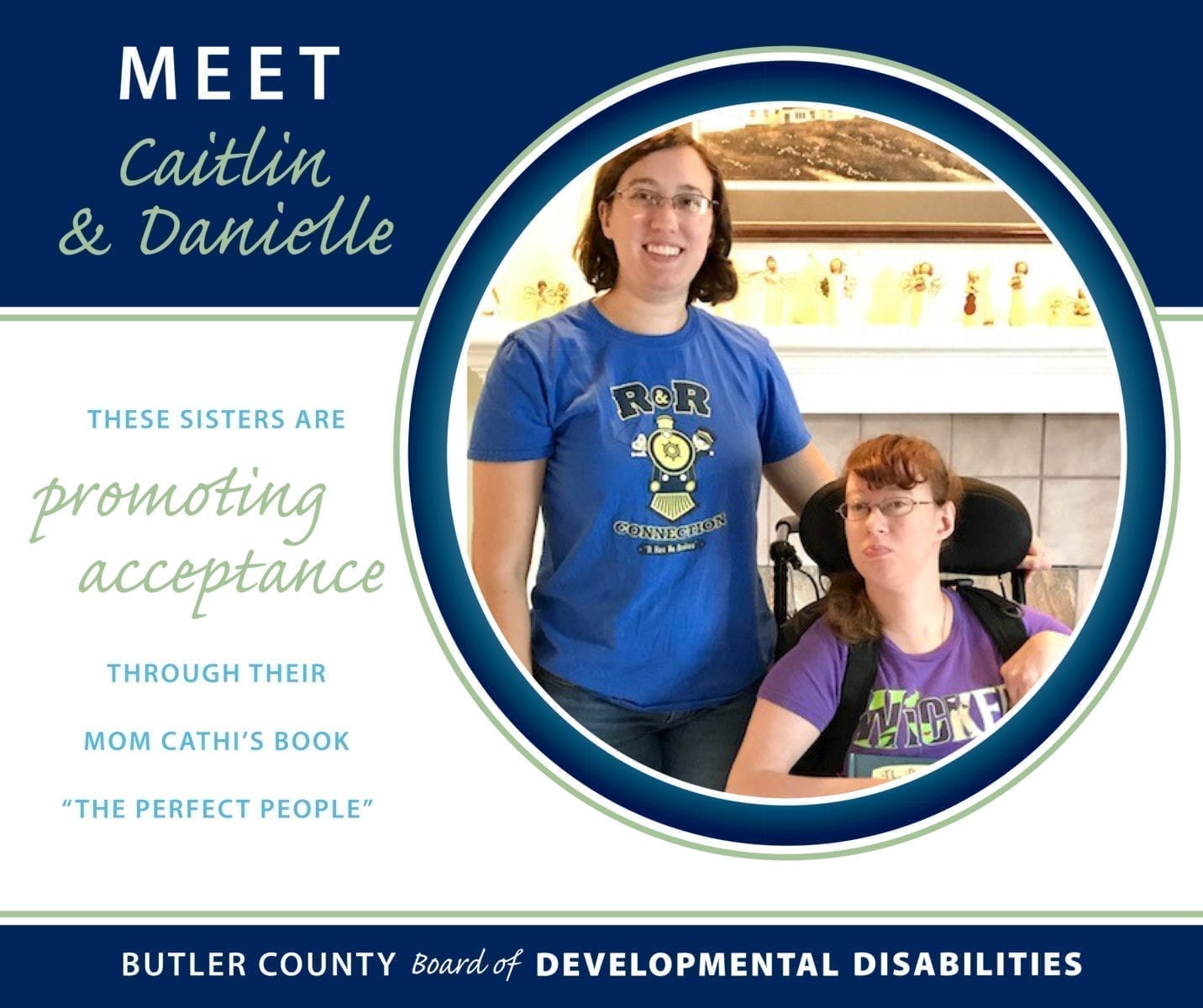 Meet Caitlin and Danielle!
Olympic bowler. Ballroom dancer. Baseball player. Horse enthusiast. Country music lover. Those are a few titles associated with Caitlin D'Avignon but, soon she may be best known as Princess Caitlin, the main character named after her in 'The Perfect People', a children's book recently published by Mascot Books. It is the story of the many talented people Princess Caitlin meets while travelling through the village searching for people to help at Castle Hamilton.
Authored by Cathi D'Avignon, the story was written for her two daughters, Caitlin and Danielle, when they were young.
"Mom started writing the book when I was born," said Danielle. "It was kind of a way to teach me to be comfortable with my sister who has a disability and not treat her differently."
Caitlin, the eldest sister, lives with Cerebral Palsy and Danielle is her primary care giver. Caitlin is as active and engaged around Butler County as the Princess is in her Kingdom.
Until this year, the story lived only among the D'Avingon family and friends. Cathi made several attempts to publish the book but was unsuccessful. She passed away in 2012 after a hard-fought battle with cancer.
"Cathi sent out about a dozen letters to publishers," says Mike D'Avignon, Cathi's surviving husband. "No one wanted to touch the book because it involved people with disabilities, and inclusion was not fully accepted yet. Today, publishers are more accepting, along with our schools and society in general."
A couple of years ago, Danielle decided to send the story to publishers, again.
"I grew up with this story," she said. "I needed to get it out."
Mascot Publishing was quick to respond with an estimate for publishing and wanted to maintain the integrity of the script.
"They were very respectable about not changing the text," she said.
That set everything in motion. Danielle set up a Kickstarter campaign raising over $7,000 for the project. She worked with an illustrator for two months and took another two months arranging the pages. The first round of printed books became available January of this year.
The D'Avignon family have plans to promote the book as a resource for teaching people about how to interact with people with disabilities. They see the story as a way to talk to families with children but also a way to talk to adults about workplace and employee equity since the story speaks to hiring people based on their skillset and ability to do a task.
The Butler County Board of DD is helping to spread the word, too. The Self-Advocacy Group Speak Up has purchased copies of the book to donate to public libraries throughout Butler County.
The D'Avignon family receives support from the Board in many ways, including utilizing the Board's Community Connections events newsletter as a way to help connect them to the community, working toward creating a strong social network for Caitlin.
"The newsletter keeps us up to date on activities within the community that Caitlin might be interested in," said Mike. "We thought we were connected but we started getting more connected through the Board."
When asked what he thought about the arc of the books progress, Mike said, "I think it was an act of love."
As the book reads in the acknowledgements, "This book is a gift of love to the world from a deep spirit…" Cathi's legacy of creating a story to teach children about how to treat people with disabilities is now being carried out by both of her daughters. It is being shared with the world just as their mother had wished.
The Perfect People can be purchased on Amazon – click here.
To sign up for the Board's Community Connections Events Newsletter, send an email to: info@butlerdd.org
This story is a part of a series of Spotlight Stories we're posting here on our website and also on our Facebook page, our LinkedIn page and our Instagram account. The Spotlight Stories introduce you to some of the people we support: you can learn more about their every day lives and their successes, as well as learn about the services our Board offers. Check out the other Spotlight Stories here