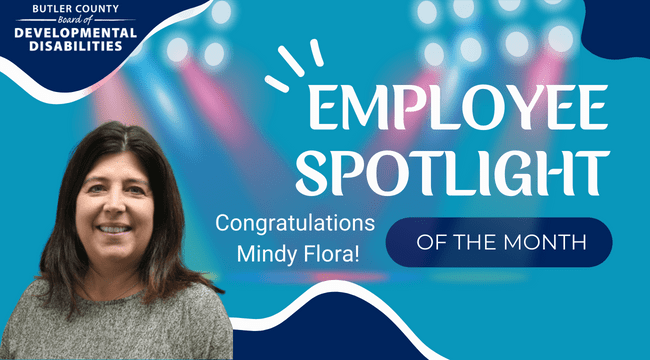 February's Employee Spotlight Winner: DS Mindy Flora
Join us as we pay tribute to the incredible staff, we have here at the BCBDD through our appreciation series called "The Employee Spotlight of the Month!" Every month, we will spotlight a new employee so that we can share with the community the wonderful things our employees are doing every day!
Congratulations to Mindy Flora, February's Employee Spotlight winner! Mindy is a Developmental Specialist (DS) in the Early Intervention Department who goes above and beyond for the BCBDD every day. Those that Mindy work with often refer to her as "phenomenal" because of the lasting impact she leaves on the families and individuals she serves. Danielle Norman's family began working with Mindy in 2009 when Danielle's mother decided to foster a young girl with Developmental Disabilities (DD). After realizing that the young girl may have DD, Danielle's mother was "lost and not quite sure where to start or who to ask for help." That's when Danielle's mother took a chance and called "Help Me Grow," after coming across a billboard displaying the number. Below is what Danielle said about the impact Mindy has had on her family that she will never forget…
"Mindy began working with my family in 2009. My mother fostered many children with Developmental Disabilities. During that time things were changing so much due to the Marcus Fiesel Tragedy. She had received a placement for a little girl (who is now my sister). She was not the typical little baby. She had a lot going on, but no one seemed to know anything. She took a chance and called a number she saw on a billboard for HMG (Help me Grow). Mindy Flora walked through our doors and impacted our family in such a way that I will never forget. Mindy made sure that my mom was equipped with not only the support she needed, but tons of information and wait for it….a phone number! 12 years later, I gave birth to my son, and after formal testing, we learned that he is completely deaf. Would you believe the same Mindy Flora walked through the same doors she walked through in 2009? And would you believe the support she is giving to me and my son is the same as I remembered it. Mindy made such an impression on my mom, that not only did my mother adopt two more children (a total of 4), but my mother ran a Day Program (now closed due to the impact of COVID) that served individuals with DD and now she works as an Executive Administrator for a Home Health Care Agency who is certified to provide services for individuals with DD. Mindy Flora is absolutely phenomenal!"
Thank you so much, Mindy for all that you do for the developmental disabilities' community! We are lucky to have you on the BCBDD team!
Is there someone from the BDBDD that has changed you and your family's lives? Maybe there is someone that is doing remarkable things in our community off the clock? Please take a moment to nominate this person as we want to hear about the great work, they're doing for the DD community! Submissions for March's Employee Spotlight of the Month are due by Friday, March 10. Fill out the form below to nominate a BCBDD employee!
Employee Spotlight - BCBDD