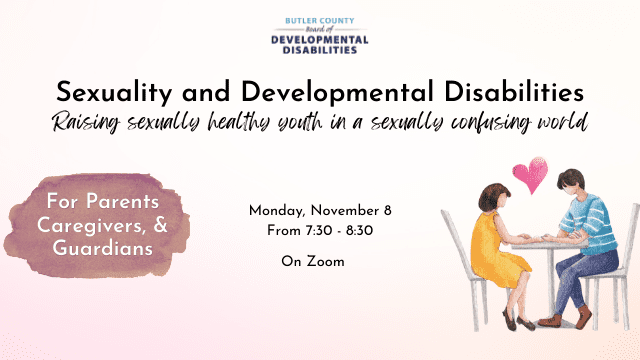 Sexuality & IDD – training for parents, caregivers, & guardians
Monday, November 8 from 7:30 – 8:30 p.m.
Parents, guardians, and caregivers are invited to join us for this exclusive, 1-hour training led by Colleen Mercuri-Johnson, MSW, LISW-S that answers important questions about raising your child with an intellectual and developmental disability. Raising sexually healthy youth in a sexually confusing world can be challenging. We're here to help!
This virtual session will be a questions & answers forum tailored specifically to your needs.
Topics often discussed: 
Becoming "askable"
Developing communication skills when addressing healthy relationships and sexuality
Sexuality education 101 and resources for having "The Talk"
Mixed messages around touch and talk
Social media safety
Consent
Colleen Mercuri-Johnson, MSW, LISW-S is the founder of Hope Tree Consulting LLC.  She holds a Certificate in Traumatic Stress Studies from the Child Trauma Center at Justice Resource Institute.  She provides consultation to teams supporting individuals with complex trauma histories and is a co-lead for the Southwest Regional Trauma Informed Care Collaborative, an initiative through Ohio Mental Health and Addiction Services and Ohio Department of Developmental Disabilities. An experienced trainer and mental health therapist, Colleen specializes in working with individuals who have experienced complex trauma, as well as individuals with intellectual and developmental disability (IDD). She speaks on co-occurring mental health and IDD including treatment for problematic sexual behaviors, the impact of trauma and the healing power of connection, sexuality and healthy relationship development across the lifespan.  She is contributing author of the National ARC's National Center on Criminal Justice and Disability white paper Sex Offenders with Intellectual/Developmental Disabilities: A Call to Action for the Criminal Justice Community. 
---
Register Now
Sexuality and IDD for parents, caregivers, guardians
| Dates | |
| --- | --- |
| November 8, 2021 | 7:30 pm 8:30 pm |