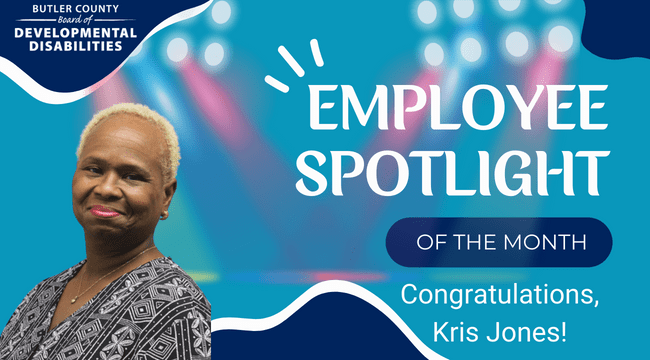 January's Employee Spotlight Winner: SSA Kris Jones
As promised, this year, we decided to pay tribute to the incredible staff we have here at the BCBDD by starting a new series on social media to highlight these amazing staff members called "The Employee Spotlight of the Month!" Every month, we will spotlight a new employee so that we can share with the community the wonderful things our employees are doing every day!
Congratulations to Kris Jones, January's Employee Spotlight winner! Kris is a Service and Support Administrator (SSA) who consistently advocates for the individuals that she serves. Over the holidays, Kris went above and beyond for a family on her caseload when they were in dire need of Ensure for their son. Below is what the mother of the family had to say about Kris' act of kindness…
"I want to take this opportunity to tell you how much I appreciate Kris Jones as my son's case worker. My son is strictly tube fed. Due to digestive issues he can only have vanilla ensure. The last couple of months there have been back-order issues with his supplier. I was having a hard time finding the right formula and getting pretty worried about it. My son's independent aide reached out to Kris to see if she had any ideas how we could get the ensure. She proceeded to bring some to our home 2 times. I was very touched by that. I think Kris went above and beyond to find the formula for my son. I am very grateful for all she does."
Thank you so much, Kris for all that you do for the developmental disabilities' community! We are lucky to have you on the BCBDD team!
Is there someone from the BDBDD that has changed you and your family's lives? Maybe there is someone that is doing great things in our community off the clock? Please take a moment to nominate this person as we want to hear about the great work, they're doing for the DD community! Submissions for February's Employee Spotlight of the Month are due by Monday, February 20. Fill out the form below to nominate a BCBDD employee!
Employee Spotlight - BCBDD