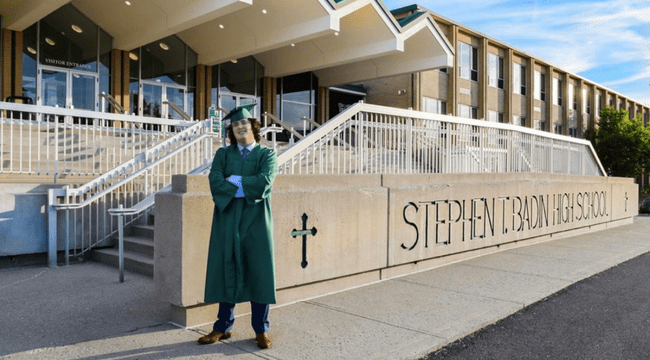 Badin Grad Receives Multiple Academic Scholarships to Attend Marshall University
Ben Shanks, a Hamilton resident and Badin High School graduate, has proven that dedication and determination pays off! Shanks is now a freshman at Marshall University where he earned multiple academic scholarships after graduating from Badin with honors. Ben's journey to success, though, wasn't always easy.
"Ben is amazing," says Amy Wolf, service and support administrator (SSA) for the Butler County Board of Developmental Disabilities. "He has grown so much in the years I have worked with his family …The sky is the limit for Ben."
Ben, who was diagnosed with ADHD and autism, has not only exceeded Wolf's expectations but has also achieved goals that his mother, Beth Shanks, didn't even know were possible as Ben just finished his first summer class at Marshall University with a 96 percent!
"Beth is such an amazing advocate for Ben. She is a great support for him and has really been there every step of the way. She has encouraged every goal he has ever had and its incredible to see where he is now," Wolf said.
Ben attended St. Ann Catholic School and then Stephen T. Badin High School all while struggling socially, especially during his 7th – 9th grade years, according to Beth. "Ben struggled to make and maintain friendships with his peers, but was very comfortable with adults," she said.
Despite Ben's social challenges, he graduated from St. Ann and received the Timothy Hare Memorial Scholarship and the Alan Flegal Memorial Scholarship. Once Ben received such prestigious academic accolades, Beth knew that he had a bright future ahead of him
After Ben graduated from St. Ann, he enrolled at Stephen T. Badin High School, where he received support from the Academic Support Program and grew tremendously during his 10th – 12th grade years, according to Beth.
"The Badin Academic Support Program also helps students navigate both the academic and social aspects of high school. I attribute Ben's academic achievements to Bill Valerius and the Academic Support Program at Badin High School," Beth said.
Bill Valerius, Badin High School's Intervention Specialist, assisted Ben with communicating both orally and in written form and said Ben was constantly challenging himself to grow.
"Bill Valerius saw in Ben, what I saw in Ben," Beth said. "A student who is gifted academically, but struggles socially… He helped Ben successfully navigate high school and supported him through the transition to college."
Beth says Valerius was the key to Ben's success. "Ben is an outstanding young man," Valerius says. "Ben wanted to educate all those around him on Autism so all students could face whatever challenges are presented to them, to know how to find the support needed and to be successful in life. Ben is a great young man who I am very proud of."
As Ben successfully navigated his way through Badin's academics, he also gained a close-knit group of friends that he still keeps in touch with today. Ben's ability to grow socially gave him the opportunity, that he says he is most proud of; being chosen as April's Student of the Month for Badin's Senior class. Badin's Student of the Month is a student whose actions exemplify what it means to be a Badin Ram based on school spirit, positive attitude, strong work ethic in class, good character and leadership skills.
Ben says that one of Badin's best qualities is the people. "The students and the staff were kind and easy to get along with. I always had someone to talk to," Ben said. "My favorite teacher was Chuck Mignery who taught World History. Mr. Mignery and his World History class introduced me to my love of History and influenced me to become a History major at Marshall."
Ben ended up graduating from Badin with an Honors Diploma which means he earned a GPA greater than 3.5 on an unweighted 4.0 scale and a score of a 27 or higher on the ACT.
Together with the Honors Diploma, Ben received the following academic scholarships and grants to attend Marshall University in Huntington, West Virginia:
From Marshall University
Zeta Beta Tau Fraternity Scholarship
John Laidley Scholarship
Honors College Scholarship
Academic Achievement Tuition Waiver
Local Scholarships
The Hamilton Community Foundation Shirley M. and Harold N. Leppert Memorial Scholarship
The AK Stephenson Foundation Scholarship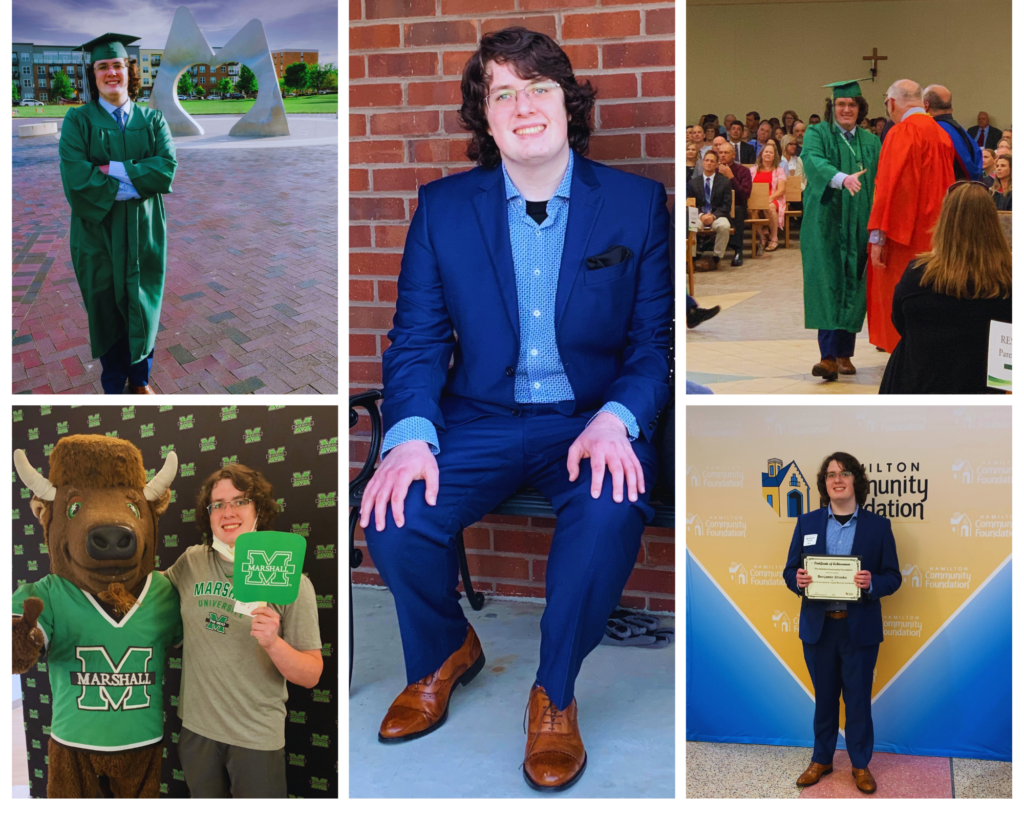 Ben is now officially a Freshman at Marshall University where he received an invitation to the Marshall University Honors College. Ben will be pursuing a History degree.
"Ben attended classes at Marshall University both the summer between his Junior and Senior year at Badin, and again the summer before his Freshman year. Ben is successfully attending a full load of classes, living independently in the dorm and is active socially," Beth said.
Ben was also accepted into and receives support from The College Program for Students with Autism Spectrum Disorder – West Virginia Autism Training Center. According to Beth, the program has helped Ben navigate both the academic and social aspects of college life. "It is a tremendous support to Ben at school and for his family at home," Beth said.
Thus far in Ben's college career, he has found that college is a lot better than he thought it would be!
"College is a lot of fun and you get a chance at being truly independent. There are more students at college so you have a better chance to find people with the same interests," Ben said. "My favorite part about college is the people. The professors are amazing and the other students are fun to hang out with and share my own interests. I like going to video game events put together by the video gaming club at Marshall. I like going to movies, going out to eat and hanging out at the student center. My favorite class at Marshall so far was Cultural Anthropology. It taught me a lot about the inner workings of humanity and how each little thing can affect things on a major scale."
Ben and those that have seen him make leaps and bounds socially and academically throughout his life couldn't be more proud of what he has achieved so far! When asked who Ben has looked up to throughout his journey, he simply replied, "Beth Shanks, my mom. She helped me with homework and helped me stay on track to succeed. She also shows interest in things that interest me, like watching Marvel movies together."
Congratulations Ben on all of your achievements! We are excited to see you thrive and excel at Marshall University!
Stay up to date on all things BCBDD by visiting our Facebook, Twitter, Instagram, and Youtube Channel!