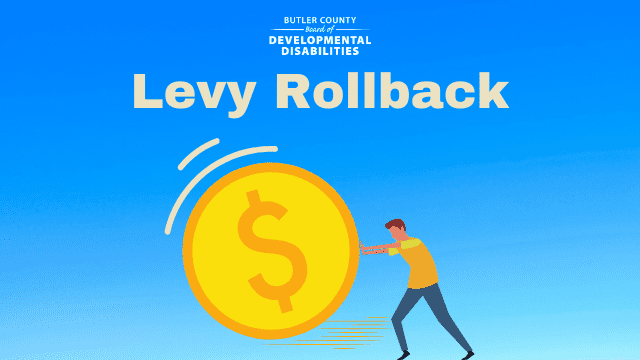 After Two Years of Levy Rollbacks, Butler County Board of Developmental Disabilities Resumes Full Collection of Levy Dollars
For the past two years, the Butler County Board of Developmental Disabilities has given back .5 mills of their 2.0 mills continuing levy through a temporary rollback. At the September board meeting, the board voted to resume full collections of that levy beginning in 2023.
For homeowners, that means they'll owe about $17.50 more in property taxes per home valued at $100,000. For BCBDD, the impact is a difference of $3.6 million.
Due to the Board's diligence in keeping a balanced budget, reduced spending due to the pandemic, and extra income from stimulus funding, the Board was able to return money to the homeowners in 2021 and 2022. "With that stimulus funding coming to an end and as service levels return to normal, the BCBDD cash reserves will not allow us to safely continue with a rollback," said Lisa Guliano, Superintendent of the Butler County Board of Developmental Disabilities.
The Board's estimated revenue for 2023 is $27,331,226 with estimated expenses at $32,543,051. The Board's carry over budget allows for the board to safely spend more than it will take in but cannot afford the continued loss from the rollback. Spending into cash reserves is typical for a levy funded agency as the income is fixed and calculated on property tax values in the year the levy was approved.
"As an agency, we are diligent with our tax dollars," said Lisa Guliano, Superintendent for the Butler County Board of Developmental Disabilities. "Over 20 years ago in 2000, taxpayers voted in favor of the 2.0 mills levy so that we could fulfill our mission to support people with developmental disabilities so they can successfully live, work, and learn in the community. We're glad we were able to give back to homeowners and we appreciate their continued financial support."